'My brakes have gone': Cyclist died after crashing into dry-stone wall on steep descent, inquest hears
Investigators unable to determine exact cause of crash that killed August Atkinson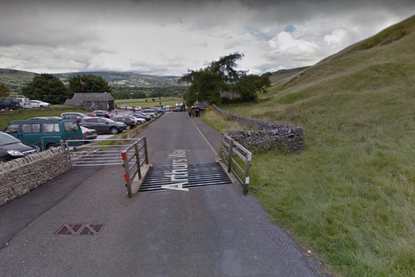 (Image credit: Google)
A cyclist who died after colliding with a dry-stone wall had shouted how her brakes had broken just moments before crashing on a high-speed descent in the Peak District, an inquest has heard.
August Atkinson was descending Winnats Pass in Derbyshire on April 12, 2014 when she apparently lost control of her bike on its steep 25 per cent gradients, hitting a wall at the bottom of the pass at around 40mph and being pronounced dead at the scene.
The Mirror reports how Ms Atkinson had only ridden her Genesis Equilibrium "a handful of times" before heading out for what was meant to be a 25-mile ride, but which turned into a 40-mile ride after a wrong turn, with university friend Kieran Patel.
>>> Three club cyclists injured in collision with car in Huddersfield
Mr Patel told Chesterfield Coroner's Court that Ms Atkinson had noticed an issue with the quick release lever on her front brake shortly after starting the ride, but had fixed the problem before continuing, with the pair coming towards the end of the ride when they came to descend Winnats Pass.
"I guess we had a little bit of apprehension about going down Winnats Pass, but nothing major. Going down I was cycling in front. I was constantly using my brakes on and off," Mr Patel said. "August was behind me, coming down steadily, my speedometer said I was going at about 20mph.
"Then, August came past me on the right-hand side. She was getting faster; She must have been travelling at 30 to 40mph. She shouted 'My brakes have gone'. She was freewheeling, she couldn't stop."
Other witnesses described how Ms Atkinson managed to make it around the left-hand bend midway down the pass, before veering off to the right-hand side after seeing traffic blocking the narrow cattle grid near the bottom. She then then left the road and hit a dry-stone wall at around 40mph, suffering serious injuries and being pronounced dead at the scene.
>>> Charity cycling group has all 11 bicycles stolen in 'callous theft'
Despite Ms Atkinson's shouts, forensic investigators said that they could not find any major fault with the brakes on her bike, although her rear tyre was slightly under-inflated at the time of the crash.
"We could not pinpoint what caused August to lose control. There are multiple issues," said PC Ian Phillips.
"She may have been affected by tiredness. And the brakes may have overheated, increasing her stopping distance. And the under-inflated tyre may have affected her ability to control the bike.
"Something affected her ability to bring the bike to a safe speed. We don't know exactly what happened."
Peter Nieto, Derbyshire's assistant coroner, told Ms Atkinson's relatives that he though her death had been the result of an accident, although reserved his conclusion until a later date.
Thank you for reading 20 articles this month* Join now for unlimited access
Enjoy your first month for just £1 / $1 / €1
*Read 5 free articles per month without a subscription
Join now for unlimited access
Try first month for just £1 / $1 / €1