NATIONAL 24 WON BY EAMONN DEANE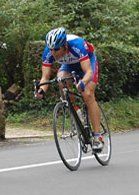 COVERING over 25 miles more than his nearest rival, Eamonn Deane won the National 24-Hour Time Trial Championship organised by Mersey Roads Club at Farndon, Cheshire, on Sunday.
Deane - who won the National 12-Hour Championship nine years ago - covered 501.04 miles according to the provision result, and had to be helped from his bike after a big effort from the 48-year-old in his first ever 24-hour event.
Second place went to Twickenham CC?s John Warnock with 475.45 miles, while third was Jose Pinon-Shaw (Preston Wheelers), who was in second spot and just one mile down on Deane at the half way stage before falling away in the closing hours and finishing with a distance of 472.79.
Best woman was the legendary Lynne Taylor (Walsall Roads CC) who covered 38 miles more than last year to take fourth spot overall with a superb 459.29 miles.
She was just 2.16 miles off breaking the women?s competition record which has been held by Christine Roberts since 1993.
National 24-Hour Ch?ship.-
1 Eamonn Deane (Bournemouth Jubilee Wheelers) 501.04 miles
2 John Warnock (Twickenham CC) 475.34
3 Jose Pinon-Shaw (Preston Wheelers) 472.79
4 Lynne Taylor (Walsall Roads CC) 459.29
5 Steven Massey (Derby Mercury C) 452.90
6 Ian Silvester (San Fairy Ann CC) 446.92