New cycle parking hubs promised for London stations as number of cyclists rises
Cycle superhubs are set to open in Hounslow West and North Greenwich next month, with more planned for Waterloo and other suburban stations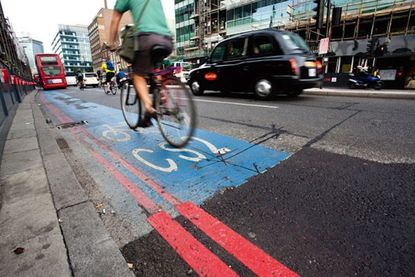 Commuters in London will soon be able to park their bikes in one of several 'cycle superhubs' at key suburban stations to the north, west and east of the city.
Around 8,000 spaces are needed at Waterloo station - the capital's busiest mainline station - where a new superhub should be open for 2018/19.
Next month, commuters using Hounslow West and North Greenwich will reportedly benefit from improved cycle parking, with similar schemes scheduled for Tottenham Hale, Abbey Wood, Barking and Romford in the next three years, according to a report by Transport for London.
>>> Cambridge station's new CyclePoint will have space for almost 3,000 bikes (video)
In the report it was shown that the number of riders in the capital is now equivalent to one fifth of the people who use the Underground on a daily basis.
TfL's strategy director Ben Plowden, said in the report: "Cycling is now a major mode of transport, with daily trips equating to 10 per cent of all bus passenger trips in London, or one fifth of all Tube passenger trips.
"This is just less than the number of trips on the DLR and Overground combined."
>>> Zac Goldsmith: 'I'll rip up London's cycle superhighways if they don't work'
Transport for London challenged the next Mayor to further improve the capital's cycling infrastructure to ensure cycling remains a "very cost-effective form of mass transit".
By 2026 TfL wants to see 1.5 million daily trips made by bike - approximately double the number that is currently being made.
Thank you for reading 20 articles this month* Join now for unlimited access
Enjoy your first month for just £1 / $1 / €1
*Read 5 free articles per month without a subscription
Join now for unlimited access
Try first month for just £1 / $1 / €1