NO OLYMPIC PURSUIT BID FOR CANCELLARA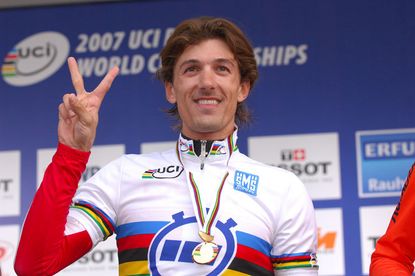 Fabian Cancellara has ditched his tentative plans to challenge for the individual pursuit title at the Olympic Games in Beijing.
The Swiss rider had considered trying to qualify for the Games but the logistics have proved impossible because of the UCI's new qualifying system.
Switzerland's national track coach Markus Nagel explained the reasons behind the world time trial champion's decision.
"We looked very carefully at the possibility because Fabian wanted to go for a medal on the track as well as on the road," said Nagel this morning.
"We talked about how we could make it possible but qualification is very difficult for us because we don't have a Swiss team in the team pursuit, so Fabian would have to qualify by finishing in the top five in the UCI rankings.
"To do that he'd need to finish fourth in two World Cups and possibly get a good result in the World Championships.
"If it was just a case that he needed to get a certain time to qualify for selection then we would have been able to go to the Copenhagen World Cup and try for that.
"But he simply has no time to ride two World Cups [Los Angeles and Copenhagen] and then the World Championships because he wants to prepare properly for his objectives on the road.
"He has a team training camp with CSC in January, then he wants to prepare for Milan-San Remo and Paris-Roubaix in March and April.
"If he had said 'I want to go for the track' we would have to give it 100 per cent for the track. That's not possible, so he is going to concentrate on the time trial and road race in Beijing."
RELATED LINK
Cancellara's Beijing bid?
Thank you for reading 20 articles this month* Join now for unlimited access
Enjoy your first month for just £1 / $1 / €1
*Read 5 free articles per month without a subscription
Join now for unlimited access
Try first month for just £1 / $1 / €1