OLYMPIANS DOMINATE NATIONAL TRACK CHAMPIONSHIP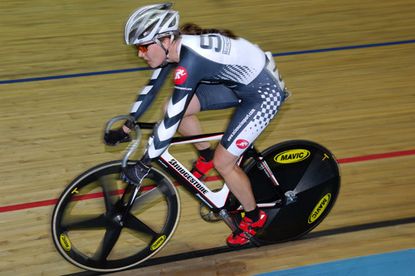 OLYMPIANS Victoria Pendleton, Chris Newton and Steven Burke each had a new set of National Championships jerseys and medals to put on display at home after a week of action at Manchester's National Velodrome.
And, while Matthew Crampton came away with four titles, there were several other stories to come from the annual track event.
Unfortunatly, the one big disappointment of the event was the lack of numbers, both riders and spectators, especially with track cycling on such a high after the Olympics and Paralymics in Beijing.
Pendleton won gold in the Women's Sprint in beating Leeds' Anna Blyth, then joined with the 20-year-old to take the Team Sprint before taking the Kerin on Saturday night, again beating Blyth into silver.
And afterwards the Olympic gold medalist said: "That was hard work. It seems a while since I've done a Kerin but it was good and I can't complain.
"It has been a good week. I've won three out of four events I've entered so that is a good result as I've not had a great deal of training since I won (gold). I haven't been on a track bike so I'm pretty happy I've managed to pull through."
Newton (Rapha Condor Recycling) thrashed the opposition in the Points Race to record a mark and margin of victory which are believed to be national records.
The Olympic bronze medalist stormed to victory in the Scratch Race earlier in the week and then notched up 110 points on Friday night, which was 39 more than silver medalist Mark McNally (100% ME).
Burke won a brilliant Men's Individual Pursuit with an outstanding ride which now puts him in a leading position for the British team at this year's World Cup, which opens on the Manchester track in October.
Burke (100% ME) rode four minutes 25.014secs in beating Rob Hayles (Halfords Bikehut) by 2.21secs.
Crampton was in tremendous form although Craig Maclean (Plowman Craven) was certainly the one to feel frustrated by the Science in Sport.com rider.
Maclean was second in the gold medal Men's Sprint ride-off which Crampton won 2-0 and the second race victory being by just 13 centimetres.
And the silver again went to Maclean as Crampton beat him in Saturday's Men's Kerin.
Crampton said: "The Keirin was a bit messy but everyone sort of moves on for the final and gears up. It was close and fast which some of the racing here hasn't been which is a bit of a shame, really."
For VC St Raphael rider Sarah Storey, Saturday night was another historic day as she became the first disabled woman to win a national able-bodied individual crown at the National Championships in Britain.
In doing so, Storey, 30, who lives in Manchester and claimed gold in the Beijing Individual Pursuit in a world record three minutes 36.637seconds, also came first in the 1992 Paralymics in rowing.
But, on Saturday, she stormed to victory over Halfords Bikehut rider Emma Trott in the Women's Individual Pursuit and said later: "The old legs were ready for a rest and I didn't know how it work out there."
See this week's Cycling Weekly for more on the National Track Championships.
Thank you for reading 20 articles this month* Join now for unlimited access
Enjoy your first month for just £1 / $1 / €1
*Read 5 free articles per month without a subscription
Join now for unlimited access
Try first month for just £1 / $1 / €1