PARALYMPICS: ALL GOLD FOR TEAM GB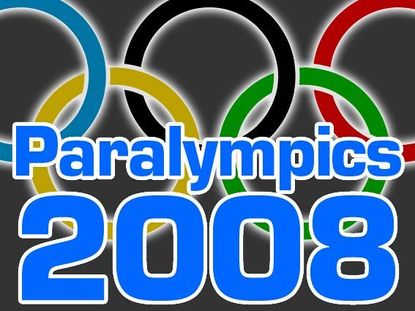 The final day of the track programme in Beijing saw Britain?s cyclists win another three gold medals to leave the velodrome with 12 golds and one silver.
Team GB dominated the Laoshan track, winning all but one event entered, to keep British cycling firmly in the headlines in the post-Olympic media honeymoon period.
Attention now turns to the road events, with the time trials on Friday and road races on Saturday and Sunday. Darren Kenny has three golds in his kitbag and two more in his sights. Don?t bet against him.
MEN?S TANDEM SPRINT (B & VI)
Anthony Kappes and tandem pilot Barney Storey beat the Australian pairing in two straight rides in the final having disposed of Argentina and Japan in the qualifying heats.
The British duo powered their custom-built ?Secret Squirrel? tandem to a new Paralympic record of 10.536 for the flying 200m in qualifying and remained untroubled throughout the event, with two-nil victories in every round.
1 Anthony Kappes & Barney Storey GBR
2 Ben Demery & Shaun Hopkins AUS
3 Gavin Kilpatrick & Michael Thomson PLT
WOMEN?S PURSUIT (LC1/2 & CP4)
Having seen husband Barney take his second gold of the Games, Sarah Storey set a new world record in the pursuit final against US rider Jennifer Schuble.
Storey finished out of the medals in Monday?s 500m time trial despite recording the fastest time. A factoring system based on level of disability left her fifth behind Schuble, but setting a new world record in qualifying for the pursuit, then smashing it by four seconds in the final, proved enough for Storey to take gold by two tenths of a second.
Beijing is the fifth Paralympics for former swimmer Storey. She has been winning gold since competing at the ?92 Games in Barcelona aged 14. Friday?s road time trial gives the 29-year-old from Manchester another great chance to add to a remarkable medal tally.
1 Sarah Storey GBR 3:36.637 (WR)
2 Jennifer Schuble USA
3 Jingping Dong CHN
MEN?S TEAM SPRINT (LC1-4 & CP3/4)
The team sprint trio of Mark Bristow, Jody Cundy and Darren Kenny closed the day?s racing with yet another British gold. They qualified fastest then upped the pace in the final with a sub-50 second ride to beat hosts China.
1 Great Britain
Mark Bristow, Jody Cundy, Darren Kenny 49.323
2 China
Kuidong Zhang, Lu Zhang, Yuanchao Zheng 50.480
3 Czech Republic
Jiri Bouska, Jiri Jezek, Tomas Kvasnicka 52.379
ROAD EVENTS
FRIDAY 12 SEPTEMBER
Men's individual time trial (all categories)
Women's individual time trial (all categories)
SATURDAY 13 SEPTEMBER
Men's road race (various categories)
Women's road race (various categories)
SUNDAY 14 SEPTEMBER
Men's road race (various categories)
Women's road race (various categories)
BBC TELEVISION COVERAGE
The BBC is giving comprehensive coverage to the Games, with weekday live coverage on the red button and broadband, and a one hour highlights show on BBC2. Weekends switch between the red button and BBC's 1 and 2.
FRIDAY 12 SEPTEMBER
1000-1600 BBC Red Button
1900-2000 BBC Two
SATURDAY 13 SEPTEMBER
1000-1230 BBC Red Button
1300-1630 BBC One (shared with World Athletics Final)
SUNDAY 14 SEPTEMBER
1000-1230 BBC Red Button
1300-1630 BBC Two
RELATED LINKS
Five golds and a silver on third day
Paralympics update (Monday, September 8)
Paralympic cyclists go for gold
Thank you for reading 5 articles this month* Join now for unlimited access
Enjoy your first month for just £1 / $1 / €1
*Read 5 free articles per month without a subscription
Join now for unlimited access
Try first month for just £1 / $1 / €1