Parties present their cycle policies at first Big Cycling Debate
Boardman says slow progress is being made as Britain's politicians spell out their stance on cycle funding ahead of May's general election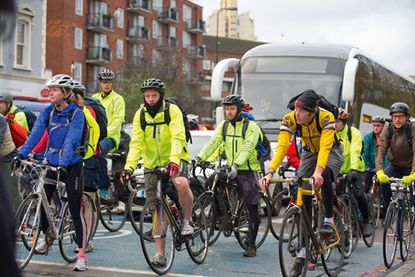 Britain's politicians are inching almost imperceptibly towards making a commitment to long-term cycle funding, following Britain's first ever pre-election cycling debate this morning.
The debate, which saw Britain's three main parties set out their cycling manifestoes at the Times headquarters in central London, was also attended by Chris Boardman, who said he was hopeful about the progress, albeit one happening at a snail's pace.
Of the three major parties only the Lib Dems have committed to spending the £10 per head per year that is widely believed to be the minimum required to meaningfully increase cycling levels in the UK.
Lib Dem MP Julian Huppert, who also co-chairs the All Party Parliamentary Cycling Group, was also alone among the three in setting out a target for cycling levels. His party wants to see 10% of journeys by bike by 2025, 25% by 2050.
He said: "We are committed to £10 per person per year rising to £20 per person per year."
He continued that funding, along with better infrastructure, and justice for cyclists, can be found by reallocating a "small fraction" of the DfT's budget.
He added: "There's a chance to transform our cities from places that are designed around motor cars to places that are designed around people, places that we want to be, that we want to live. It's a core Liberal Democrat value and it's something we look forward to delivering."
>>> Superhighways, Crossrail and Quietways: A complete guide to London cycleways
Labour's Lilian Greenwood, shadow rail minister, wouldn't commit to a £10 per head per year funding for cycling, or to a percentage of the transport budget when asked by Boardman.
"The stop-start nature of funding and bidding is not what we want. What we want is long-term funding certainty, so we can't sign up to that commitment, but I know that under Labour cycling and walking investment strategy will be clearly funded and funded for the long term," she said.
However, she said Labour will "build on" the recent Infrastructure Act, which legally obliges government to set out budgets and targets for cycling.
She said: "Labour has committed to deliver a long-term investment strategy to increase cycling and walking rates just as the DfT has for road and rail."
In addition she said Labour is committed to "cycle proofing of all transport related schemes, improve HGV regulations, support cycle training for young people and review how the justice system treats vulnerable road users."
Furthermore, she said: "Everyone is a road user, and our roads need to work for all, but too often people don't feel safe to walk or cycle. Only 2% of journeys are made by bike in the UK. We need action to tackle the barriers to getting more people travelling by bike and on foot and that means action on infrastructure, travel, safety and perceptions of travel."
>>> 'Dutch-style' cycle routes for Manchester's Oxford Road
The Conservatives' Robert Goodwill, the current cycling minister, proposed to carry on as they have been, making local councils responsible for increasing cycling levels, rather than setting targets from central government. He said the Tories have increased cycling spending from £2 to £6 since 2010.
He said: "We've invested in safer junctions, segregated cycle ways, new cycle paths and links between homes, businesses, hospitals and green spaces and when we made £6bn available for local authorities to maintain local highways up to 2021 we said that £400m of that should be made available to improve walking and cycling infrastructure."
He added bike parking at rail stations has tripled.
Goodwill pointed out £78m was made available under the coalition in 2013 for eight cycle ambition cities, with a further £114m added in November 2014. He added: "I won't be satisfied until we have hit the same level of spending everywhere in the country."
>>> Not just London: Five big UK cycling projects outside the capital
Chris Boardman said despite the welcome large sums of money being given to cycling under this government, it is still being treated as a charitable cause.
Boardman also struck an optimistic note, however. "The most important thing is that we're actually here having this conversation in the biggest newspaper in the country and talking about what we're going to do for cycling. What's being said is edging millimetre by millimetre in the right direction, and it's taking time, but that's a positive. And this change to the infrastructure bill is massive - now we cannot do nothing, we're legally required to do something and that's a foundation stone I think."
The big next change, he says, is to get the ongoing budget commitment to cycling.
Thank you for reading 20 articles this month* Join now for unlimited access
Enjoy your first month for just £1 / $1 / €1
*Read 5 free articles per month without a subscription
Join now for unlimited access
Try first month for just £1 / $1 / €1