Passing judgement: How 'Operation Close Pass' is bringing bad drivers to book
With traditional methods of reducing cycle casualties failing on the roads of Birmingham, three smart-thinking West Midlands police officers may have come up with the answer: Operation Close Pass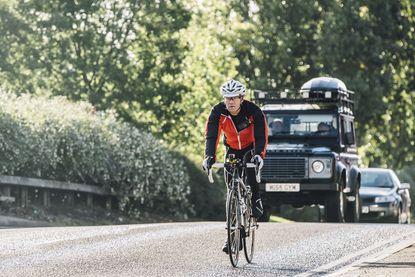 (Image credit: Daniel Gould)
It's cold and a northerly wind whips the cyclist's breath away before it can linger in the low morning sunlight.
The two-lane road is seething with traffic. Some switch lanes to overtake, other less considerate drivers squeeze past too close for comfort, putting the rider at risk.
There is no reason for it. The cyclist is doing nothing wrong; wearing red, and black clothing, he's even wearing a white helmet, and the bright flashing light on the back of his standard road bike is lost in the sunlight illuminating him from behind.
>>> West Midlands Police targeting of 'close pass' drivers a success in improving cyclists' safety
While this is Birmingham, the same scenario is being played out all over the country. However, there is one difference between this rider and the rest of us.
This is PC Mark Hodson and this is Operation Close Pass, a West Midlands Police initiative to educate drivers of the dangers of passing cyclists too closely.
How it works
The A4540 is a main commuter road into Birmingham and, having ridden into work for his 7am shift, PC Hodson's job is to ride a 320-metre circuit and see what happens.
Any vehicle passing too closely is recorded by a camera mounted on his handlebars and he radios a colleague to stop and speak with the driver.
It doesn't take long. On the first circuit a grey VW Transporter van is stopped and the driver offered the choice of a 10-minute educational input or prosecution. He opts for education.
Issued today by PC Chris Brock, the input uses a road layout printed on a large grey mat to illustrate cyclists' road positioning and the effect close passes have on their safety.
On that mat a bike stands 75 centimetres from the printed kerb, 1.5 metres further out another line shows the minimum acceptable passing distance.
By the time PC Brock finishes with the campaign's strap line, 'Give space, be safe', most drivers seem convinced, though one inevitably asks what is being done about cyclists jumping red lights.
"Where cyclists are seen committing offences they will be dealt with," Brock responds. "However, we have had no drivers killed or injured as a result of the actions of cyclists."
The chilling logic proves persuasive.
"We're dealing with the same people we deal with for serious collisions," PC Hodson whispers, watching on. "Someone who has never come to police attention, but makes daily mistakes with their driving and gets away with it until that fateful day.
"They're not bad people, they're just poor drivers."
Startling statistics
PCs Hodson, Brock and colleague Steve Hudson launched the operation in late summer, running it in conjunction with their regular duties.
Not only do they have more than 20 years' combined traffic policing experience, they are all keen cyclists and regularly commute for their shifts. "It's all guilt-free doughnuts!" grins Hodson.
"We've spent years talking to cyclists," explains Steve Hudson.
"We've gone to cycling forums, worked with Bikeability, run Exchanging Places taking riders round lorries, but none of these had an impact on our statistics."
The operation is a partnership between the police and the city council's Cycle Revolution scheme, which aims to increase the number of riders on Birmingham's roads.
However, the figures do not encourage bikes into town. Over the last four years 530 cyclists have been killed or seriously injured in the West Midlands area, 230 of them in Birmingham alone.
"That's unsustainable," Hudson continues. "In an area the size of West Midlands, Birmingham is a blip, yet it accounts for nearly half the KSI [killed and seriously injured], so we had to do something."
Mark Hodson chips in: "According to national stats the vast majority of those collisions were caused by the injudicious action of the driver.
Either the driver hasn't seen them at a junction, passed them too close, or hasn't seen them at all." In other words, if cyclists are not to blame, why target them?
"We knew the biggest barrier to cycling was close passes," continues Hudson. "So we looked at how we could target that safely and educate drivers.
Then we went to the council with a scrap of paper, told them what we wanted and they funded it. We could not have done this without them."
Watch: Five commuting tips
Mind the gap
There is no statutory overtaking gap in the UK, instead Rule 63 of the Highway Code advises drivers to allow cyclists the same room as they would a car. However, the distances printed on the mat are far from arbitrary.
"Nationally taught standards say the secondary position, the one you're happy to be overtaken in, should be between half a metre and a metre [from the kerb]," explains Hudson. "We took the step of going between the two at 0.75 metres. There you should be able to keep a fairly straight and consistent line.
"One and a half metres, the width of a large car door, is measured from the wheels [of the bike], but the distance from my shoulders is only about a metre. I can nearly reach one and a half metres, and when you point that out drivers agree it's not that far."
"We're using Sect 3 of the Road Traffic Act," interrupts Hodson. "The same legislation used for third lane hogging and they're not endangering anybody, so with evidence where somebody has endangered somebody else by getting too close, it's easy to prosecute if you've got the camera evidence."
A statutory minimum gap was introduced in South Australia last October, and it is illegal for drivers to pass within one or 1.5 metres, depending on the speed limit.
However, measuring the gap is imprecise. According to a South Australia Police spokesperson, officers use "experience to gauge the distance between the bicycle and vehicle". There have been just two prosecutions since an education phase finished in January.
The West Midlands figures compare favourably to those Down Under. Since Operation Close Pass began last September, 145 drivers have received the educational input, nine have been prosecuted, including one who refused the education, and one driver had their licence revoked following a roadside eye test.
Step in the right direction
While not all Birmingham-based riders we spoke to had noticed a difference in driver behaviour, all supported the initiative, most calling for its expansion.
"It's excellent, innovative and absolutely necessary," Birmingham cyclist and recently retired chair of Cycling UK's Board of Trustees, David Cox OBE told us. "We need to encourage cycling in cities but the lawlessness on the roads puts people off and this is a step in the right direction."
Incidents on their regular routes have reduced to such an extent the team have recently spread their wings to other parts of Birmingham, and hope to expand to other parts of the West Midlands and respond to local cyclists' concerns.
Other forces have taken an interest; a Police Scotland representative was present when Cycling Weekly visited, and only last week the team held a close pass seminar for police forces from all over the country.
After nine circuits ridden today 15 motorists have been spoken to, and none will be prosecuted. The kit is crammed into two patrol cars and we head off to warm up with coffee and a doughnut.
"The idea that if drivers expect to be caught and dealt with for an offence they will change their behaviour, seems to be working and is one we will concentrate on," Hodson says. "We want to create a scenario where we're happy for our kids to ride to school or your partner doesn't worry you got to the end of the commute. We haven't got that at the moment."
Early anecdotal evidence suggests Operation Close Pass is on the right track to achieve that, however. If their apparent success is rolled out nationwide, these three police officers' commitment and innovative approach may have made a positive difference for all the nation's cyclists.
Thank you for reading 5 articles this month* Join now for unlimited access
Enjoy your first month for just £1 / $1 / €1
*Read 5 free articles per month without a subscription
Join now for unlimited access
Try first month for just £1 / $1 / €1
Owen Rogers is an experienced journalist, covering professional cycling and specialising in women's road racing. He has followed races such as the Women's Tour and Giro d'Italia Donne, live-tweeting from Women's WorldTour events as well as providing race reports, interviews, analysis and news stories. He has also worked for race teams, to provide post race reports and communications.