South Australia proposes one-metre overtaking legislation
Proposed legislation to force drivers to leave a metre gap when overtaking cyclists is supported by Richie Porte and Anna Meares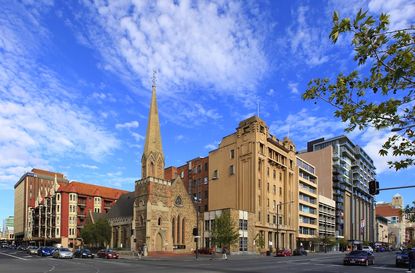 Cyclists in South Australia have been given a boost by a proposed new legislation which will see drivers forced to leave a one-metre gap when overtaking.
The new legislation, which could also see an end to fines for cycling on the pavement, comes in response to a report by the state's 'citizens' jury', which was set up after concerns were raised about interactions between cyclists and motorists.
Currently in South Australia, which hosts the Santos Tour Down Under, only children under 12 are allowed to cycle on footpaths, with offenders subjected to a $45 fine.
>>> Australian cyclist walks away from a horrific crash (video)

Team Sky rider, and Australian native, Richie Porte told the Australian Associated Press: "We know that space matters when passing bike riders and it's good to see the government refining existing laws to provide clarity for drivers when overtaking bike riders,"
While Adelaide resident, and double Olympic track cycling champion, Anna Meares tweeted:
The mother of Australian track cyclist Amy Gillett, who died after being hit by a car while training with her international teammates in Germany called the new legislation "a watershed moment"
"My heart is filled with pure joy with the government's commitment to implement safe passing distance laws in Amy's home state. It's such a watershed moment 10 years after her death," Mary Safe told AAP.
>>> "What is something annoying that a cyclist might do?" asks Australian game show

The minimum passing legislation will go before parliament at the earliest opportunity, while proposals for allowing cyclists to use pavements are set to be tabled in June.
Thank you for reading 20 articles this month* Join now for unlimited access
Enjoy your first month for just £1 / $1 / €1
*Read 5 free articles per month without a subscription
Join now for unlimited access
Try first month for just £1 / $1 / €1