Pat McQuaid and Hein Verbruggen under focus by cycling commission
UCI president Brian Cookson says that no one will be free from scrutiny by the Cycling Independent Reform Commission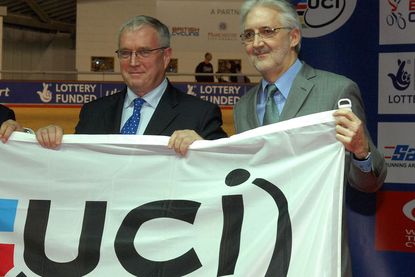 A new cycling commission could pass evidence on to criminal investigators, which includes information it gains on former presidents Pat McQuaid and Hein Verbruggen. In a conference call, current president Brian Cookson said that no one is free from his new commission.
"If the commission discovers criminal or illegal behaviour by anyone, then it will be able to pass that information on to the relevant authorities," Cookson told Cycling Weekly and other journalists.
"So although this is a [sporting] commission, it will obviously have the duty to pass that on that information on whoever might have been involved whether a licence holder, a current or past cyclist, a member of the entourage, or a representative of the UCI."
Cycling's governing body, the Union Cycliste Internationale (UCI) announced today that a new independent commission would begin work. The Cycling Independent Reform Commission (CIRC) will investigate the period from 1998 through 2013. Before and as part of the recent Lance Armstrong doping investigation, individuals made claims of internal corruption at the UCI.
Armstrong donated $125,000 to the UCI in 2002, a time when he was winning seven Tour de France titles and under scrutiny. His former team-mates Floyd Landis and Tyler Hamilton claimed that Armstrong told them that the UCI helped cover up his EPO positive from the 2001 Tour of Switzerland.
His helper at the time, Emma O'Reilly claimed that Armstrong's team faked a back-dated medical certificate at the 1999 Tour to explain steroids found in his urine. Hamilton confirmed this in a US Anti-Doping Agency (USADA) investigation in 2012 and Armstrong said in an interview that Verbruggen suggested the back-dated idea.
Cookson campaigned on change. When he took office, he began to create an independent commission to investigate cycling's troubled period from the Festina Affair through the Armstrong scandal. He said that it would look into these claims of internal corruption.
The UCI set aside 3m Swiss Francs or £2.04m of its own money for the investigation and created a one-year timeline for the three-man commission based in Lausanne.
"The money has to come from the UCI," added Cookson today. "We are certainly not giving an open-ended budget. I'm optimistic that the commission can complete its work in the time scale and within the budget given."
Swiss lawyer Dick Marty chairs the commission with Ulrich Haas and Peter Nicholson. Marty said today that he wants to hear from as many people as possible and that the commission may offer reduced bans for those that cooperate.
Marty encouraged McQuaid, president from 2005 to 2013, and Verbruggen, 1991 to 2005, to come forward with any information. He said the commission is unable to discipline them but they could still be in trouble.
"They might find an interest in coming forward to the commission and we certainly share that same interest," Marty said.
"The past UCI presidents are not current licence holders so we can't take discipline against them. If we find infractions, we will write them down in the final report and submit it to the UCI, who will be in the position to make a decision."
Cookson added, however, that the commission is obliged to give any evidence of criminal activity to relevant authorities. So, although the former presidents might escape the commission, they could face criminal investigations at home.
Cycling Independent Reform Commission says it will offer reduced suspensions to anyone that can co-operate in its mission to clean
Thank you for reading 5 articles this month* Join now for unlimited access
Enjoy your first month for just £1 / $1 / €1
*Read 5 free articles per month without a subscription
Join now for unlimited access
Try first month for just £1 / $1 / €1