Peter Sagan: 'The Pope asked me to pray for him'
Sagan also presents Pope with bike and signed jersey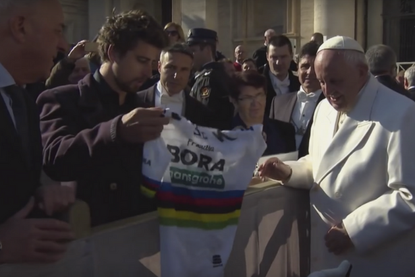 (Image credit: AFP/YouTube)
After travelling to the Vatican to present the Pope with a rainbow jersey and custom Specialized bike, Peter Sagan has said what the two great men discussed when they met on Wednesday, with the Pope asking for help from the three-time world champion rather than the other way round
"Pope Francis asked me to pray for him," Sagan revealed to Gazzetta dello Sport after travelling to the Pope's weekly audience in St Peter's Square.
"I replied that I will do it for sure. The Pope prays for each one of us, for the whole world, and that means he needs strength. That strength that comes from the fact that others pray for him."
>>> 'I finally had a real job to do': Peter Sagan helps to pack away flamme rouge at Tour Down Under
Sagan, a devout Catholic, travelled to the Vatican with his wife, son, and parents after returning from the Tour Down Under where he took his first victory of the season on stage four.
The trip was arranged by Bora-Hansgrohe bike sponsor Specialized and Volkswagon Italia, with Sagan presenting Pope Frances with a specially-painted Specialized Venge in the white and gold colours of the Vatican.
Watch: Top 10 riders of 2017 - the discussion
http://www.youtube.com/watch?v=Z9M_ajQMNy4
The meeting clearly went well, with Sagan saying that he had enjoyed his brief conversation with the pontiff.
"I like Pope Francis, he's nice," Sagan continued. "He conveys difficult ideas with simple words. He is an example, an
important man for the world. Even those that don't believe know the Pope and through him, if they want, they can discover God."
Sagan was reportedly intending to ask the Pope to baptise his son Marlon, but seems to have content with seeing his son coped with his first trip abroad.
"This was Marlon's first trip and so we wanted to see how he behaved. He slept during the flight and when we visited Rome. No crying, no noise" the Slovakian rider continued.
"When it's time for us to sleep, he sleeps. Everything is great so far…. I can't understand how I managed to deserve a baby son like that."
Thank you for reading 20 articles this month* Join now for unlimited access
Enjoy your first month for just £1 / $1 / €1
*Read 5 free articles per month without a subscription
Join now for unlimited access
Try first month for just £1 / $1 / €1