Six new 'substantially segregated' cycle routes planned in London
Proposals met with scepticism by former cycling commissioner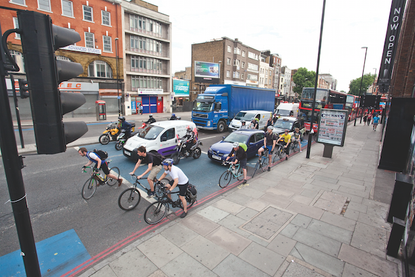 London mayor Sadiq Khan has announced the creation of six new cycle routes in the capital which will concentrate on nine boroughs with "some of the highest potential for cycling", although the plans have been criticised by a former London cycling commissioner.
Design work on the new routes will begin immediately, with the routes likely to be 75 per cent on main roads where they will be "substantially segregated" and the rest on quieter roads.
>>> Former England rugby star's tweet about close passes sparks frenzied response on social media
"I've committed to invest record amounts in making cycling easier and safer for Londoners, and I'm delighted that work is now beginning on designing the next generation of high-quality cycle routes across the capital," said Khan.
"Working closely with the boroughs, we're providing new routes in both inner and outer London, including in areas that haven't previously seen serious investment in cycling infrastructure."
The six routes will run from Lea Bridge to Dalston, Ilford to Barking Riverside, Hackney to the Isle of Dogs, Rotherhithe to Peckham, Tottenham Hale to Camden, and Wembley to Willesden Junction, with most intending to connect with current and future cycle superhighways.
However the mayor's plans have been viewed with scepticism by former London cycling commissioner Andrew Gilligan, who has been a frequent critic of Khan's efforts to promote cycling and described the proposals as a "new empty promise".
>>> Riding in the winter can be grim, as these cycling stories show
"There's no commitment to segregation or, as noted, to actually doing them, no dates, and budget is £142m for 22.5 miles of route - £6.3m/mile, or just over half what our segregated superhighways cost, allowing for inflation," Gilligan tweeted.
"The spending figure is the key. It seems relatively low given all the big promises of money we've had (£142m is less than one year's worth of Sadiq's promised budget) - and implies that most of the routes, if they happen, will be fairly low-intervention."
Khan also reaffirmed his commitment to building a new bridge for cyclists and pedestrians between Rotherhithe and Canary Wharf, which could link the proposed new routes in Hackney and Peckham.
Thank you for reading 20 articles this month* Join now for unlimited access
Enjoy your first month for just £1 / $1 / €1
*Read 5 free articles per month without a subscription
Join now for unlimited access
Try first month for just £1 / $1 / €1