REACTION: IT'S A DREAM TO WIN GOLD, SAYS COOKE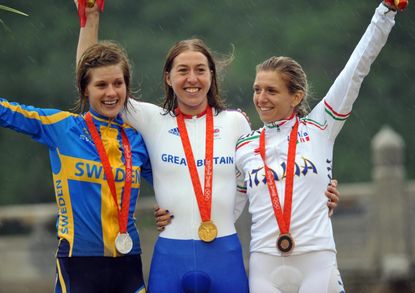 A gold medal in the women?s road race confirmed Nicole Cooke?s status as the best all-round rider in the world and vindicated the decision made by her and her team to race lightly this season in order to focus on the Olympics.
The move from Raleigh Lifeforce to the British-run Halfords Bikehut set-up on the eve of such an important season was a calculated risk, but it paid off.
As did the tactical plan on the day. Cooke, noted in the past as an aggressive rider who cannot stop herself from attacking or reacting to attacks by others, rode with a steely-eyed pragmatism. Her eyes were solidly fixed on the gold medal throughout the race.
It helped, of course, that she had back-up from Sharon Laws and particularly Emma Pooley, who softened up the major rivals with a dangerous attack at the start of the final lap.
Before the road race, British Cycling had not named the riders who would take part in Wednesday?s time trial, even suggesting it was possible they would not take up the place. That was not likely to be the case and with one gold medal safely in the bag, it has been revealed that both Cooke and Pooley will ride.
Pooley has been working specifically on her time trialling because the course is hilly and will suit her, while Cooke has nothing to lose now she?s won the road race. Another medal is not be out of the question.
Swipe to scroll horizontally
Nicole Cooke, gold medal winner
It's a dream for me to win gold. I don?t think it?s really sunk in yet. It?s so exciting for me.
Before the race, we had our plan, which has been going more than 12 months in terms of what we were going to do today. Sharon, Emma and I knew we were all good riders, but we knew our best chance to be successful was to ride together as a team, to ride to our strengths.
When Pooley attacked, it was a very important part of the race. It meant I could ride defensively, allowing me to save myself, which put the other teams on the back foot. There?s a very good spirit with us and we?re a very good cycling team.
There wasn?t anything in my mind towards the finish, just concentrating on the here and now. We were getting information that the peloton was about 15 seconds behind. I glanced, but I couldn?t see anything.
But there was no point in worrying. It was just about thinking of doing what I could in my group, sharing the pace, trying to motivate everyone. And everyone worked really well.
Dave Brailsford, Team GB performance director
?We've focused the whole year on this and this win shows what a brilliant athlete she [Cooke] is. A lot of people doubted her throughout the year when she wasn?t going to as many races.
It was a brilliant ride by the whole team. And it?s easy at moments like this to forget the people who made the difference. The front of the gold medal is Nicole?s, but the back belongs to Sharon and Emma. Laws and Pooley take a lot of credit for this, and set it up.
We never doubted Nicole Cooke in a finish like this. She was going to win it all the way.
Sharon Laws, Team GB rider, 35th at 53 seconds
It would have been a better for me if I hadn?t crashed. We were trying to set it up in the second lap, so I was trying to stay close to Emma, and took the corner too wide. Going 70kph in the pouring rain wasn?t what we envisaged. I got a few grazes, nothing serious.
But it?s a fantastic result, and I?m really pleased. It?s awesome that Nicole won. It was her goal for the year.
Emma Pooley, Team GB rider, 23rd at 31 seconds
When we went away, we had a proper gap, and were out of sight for a while. The Italian I was with was incredibly strong. I thought we might stay away, but they got us back, and I started to work for Nicole.
It?s a team race and if you work together you are more likely to get a good
result than if you don?t. It?s really satisfying to help someone win a medal because you know you?ve helped.
I knew Nicole had made the break, and I had a lot of faith in her sprinting, more than if I?d been away.
Shane Sutton, Team GB coach
The race went perfect, apart from the small mishap when Sharon fell. But that?s bike racing. Emma softened it up for us and Nicole was sat right at the front, did a great job there, and looked great on the climbs.
We thought the conditions were going to be far warmer than they were. It?s worked in our favour, because Nicole is one of the toughest bike riders in the business.
This is something she?s worked on and planned for a long time. She hasn?t over-raced this year, and she?s really got her stuff together as far as preparation goes. The gold is the end product
Julian Winn, Team GB and Halfords Bikehut manager
All three girls are world class riders, and all three contributed to the ultimate result.
Coming into the finish, we told her to lay off before the bend and stay on the inside, in case anyone fell. That was the only thing we were nervous about.
Nicole was the best finisher in the group, but we were still a bit nervous. She was very cool into the finish, and never looked flustered. She waited and waited, and rode a very clever race.
Swipe to scroll horizontally
Positive test for cyclist at Olympic Games
Bettini chasing second Olympic gold
Romero poses nude for ad
British quartet eyeing new world record
As Olympics approach two new drugs emerge
Swipe to scroll horizontally
Analysis: women's road race
Gold for Nicole Cooke in Women?s road race
Reaction: It?s a dream to win Gold, says Cooke
Women's Olympic road race picture special
Sanchez gives Spain gold in thrilling men?s road race
Who is Samuel Sanchez?
Tactical analysis: Reading the men?s Olympic road race
British riders suffer in hot and humid Olympic road race
Rebellin misses out on golden birthday
Brailsford confident ahead of women?s road race
Swipe to scroll horizontally
OLYMPIC GAMES 2008: GUIDE
Olympics cycling results>>
Cycling event schedule>>
Great Britain rider profiles>>
Cycling event guide>>
Photo gallery>>
British Olympic cycling medal winners>>
Thank you for reading 20 articles this month* Join now for unlimited access
Enjoy your first month for just £1 / $1 / €1
*Read 5 free articles per month without a subscription
Join now for unlimited access
Try first month for just £1 / $1 / €1