READERS' POLL AWARDS 2007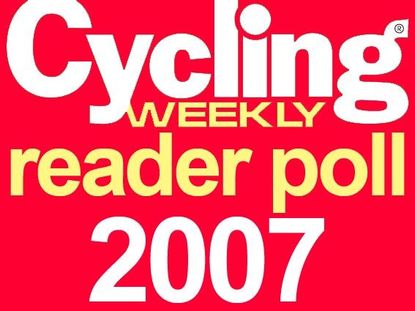 Get The Leadout Newsletter
The latest race content, interviews, features, reviews and expert buying guides, direct to your inbox!
Thank you for signing up to The Pick. You will receive a verification email shortly.
There was a problem. Please refresh the page and try again.
FORGET the Oscars, the Grammys or even the BBC?s Sports Personality of the Year (at least cycling gets a mention here) ? these are the Weeklies.
It?s Christmas, a time to look back on the past 12 months through rose-tinted spectacles, or at least a sherry-fuelled fug. What was great? What was terrible? What was mundane and instantly forgettable? It?s all here in the Cycling Weekly readers? poll.
We asked the questions on our website, you ? our loyal and respected readers ? answered. And if you didn?t answer, you made some sarcastic comments about the sport and your favourite weekly cycling magazine. Just to prove we read every single entry, we'll be printing some of the most cutting jibes as well as the names of the winners.
So, without further ado, here are the things that made 2007, a year to celebrate/forget/look back on with a damp sense of regret* [delete as applicable]
Swipe to scroll horizontally
BEST CYCLING WEEKLY COVER STORY
1 Tour de France in London
2 Michael Rasmussen scandal
3 British glory at World Track Championships
A runaway success in a category not even Cycling Weekly can lose! The Tour de France Grand Départ was the undisputed highlight of the year. The Tour, starting here, in London. Remarkable.
More than a million turned out for a fantastic weekend ? and the racing was pretty incredible too. Fabian Cancellara ? what a guy. More of him later.
From the sublime to the infuriating. Runner-up was our coverage of the Michael Rasmussen scandal. By the time the forgetful Dane had been exposed for ?doing a Christine? the Tour had been dragged into a pretty sorry mess by Alexandre Vinokourov.
Contrary to popular belief all news is not good news, doping stories do not please journalists or sell copies of a specialist magazine, although the Rasmussen case did give our embittered writers a chance to sharpen their quills before dipping them into poisoned ink. What? He deserved it.
In third place, our track stars? dominance at Majorca grabbed the attention they so richly deserved. We know that not all of you ?get? what?s so great about track racing but hey, we?re all cyclists, and if there was ever a time to swot up on your Chris Hoys and Vicky Ps, now is it. They?re going to win a medal or two in Beijing.
Honourable mention
Thanks to the senders of ?All are great?. Are you sure, though? Even that one with the fat bloke with a beard on the cover? To those who said ?All look the same? and ?None?, thanks for your praise ? we go the extra mile for you. And ?The one about drugs? is a great nomination but could you narrow it down a bit? ?The one about World War Colnago C50 Found On Moon? ? we think it was the Sunday Sport that did that one.
Swipe to scroll horizontally
1 Mark Cavendish
2 Cadel Evans
3 Fabian Cancellara
A landslide victory for Mark Cavendish, who won a heck of a lot of races in his first year as a professional and swore like a navvy when his white Oakleys got stolen after his crash somewhere in darkest Kent.
It?s easy to forget he?s only 12, or something, and his victories this year show just how quickly people take success for granted. So all those who are tempted to utter a critical word in 2008 ? pack it in. The lad is going to be world class ? he?s well on the way already. So let?s not hear any churlish comments like: ?Yeah, but he hasn?t actually won six Tour stages in a row yet has he, so what?s he done??
Cadel Evans, the incredible following man, got a surprising number of votes. He?s like Marmite, is Cadel. You either love him or you hate him. One thing is certain though ? you can't miss him. He?s the bloke in second wheel. Boom Boom! And when he speaks he sounds like Dame Edna Everage. In third was Fabian Cancellara, who according to factually-dubious website Wikipedia, is made out of granite.
Honorable mention
Paolo Bettini ? well, if you?re only going to win one proper race all year you may as well make it the Worlds. Honorable unmention to Alberto Contador ? Tour champion and hardly anyone voted for him. Why on earth not, we ask ourselves?
Swipe to scroll horizontally
1 Slipstream?s Argyle
2 Discovery Channel?s globe
3 T-Mobile?s magenta
BEST BRIT
Rapha-Condor
We knew you?d see sense. Argyle is, quite literally, going to be big in spring 08. It?s made its way seamlessly from the fairways to the front of the peloton. And if it?s good enough for David Millar, it's good enough for us (after all, who can forget his other fashion classics such as wearing jeans on the podium and the Oakley Over The Tops ? shudder).
If Slipstream don?t win much in 2008, they can at least disorientate their rivals with their dazzling, dizzying jerseys. Second was Discovery?s globe, although one reader added the caveat ?before they went green? ¬¬? yeah, way to save the planet, fella. T-Mobile proved pink is not for girls ? it?s for yellow-bellied German telecommunications companies who don?t like it when the newspapers write nasty stories about them. Over here, Rapha-Condor. Who can argue with it? It?s stylish, it?s classy, it costs about four hundred quid. It must be good.
Swipe to scroll horizontally
MOST NOTEWORTHY CYCLING ACHIEVEMENT
1 Mark Cavendish?s debut season
2 Bringing the Tour to London
3 Paolo Bettini?s second World Championship win
Another for Cav, who famously said that had it not been for cycling he?d still be a ?fat banker on the Isle of Man?. Oh how we laughed when a rival journalist misheard the second word and put it into print.
Eleven wins, more than McEwen in his debut season, says all you need to know. If he wasn?t British we?d be awe-struck but as he is, we can?t believe our luck.
The Tour in London really was an achievement, wasn?t it. Well done to Red Ken and the guys and gals at Transport for London. They made it happen ? and even the Daily Mail didn?t have a bad word to say about the Tour. It gave them something else to write about other than asylum seekers eating swans.
Paolo Bettini?s worlds win was a great ride, but all that fuss the week before didn?t do him any favours.
Honorable mentions
A great number of riders patted themselves on the back for riding various Gran Fondos, the Etape and super tough sportives. Well done all. Vicky Pendleton and Shanaze Reade and Jonny Bellis got a mention for their world champs medals. Rabobank for sacking Rasmussen ? but they could have saved themselves a lot of bother a lot earlier, and they didn?t get struck down by a conscience until the cat was out of the bag. CSC and T-Mobile for their strong anti-doping stance. Richard Hammond and his bike for thrashing Jeremy Clarkson in Top Gear?s race across London. Wiggo?s Tour break, Geraint for finishing the thing and pro cycling for surviving despite the scandal. Long may it continue.
Swipe to scroll horizontally
1 Campagnolo?s electronic gears
2 Garmin Edge 705
3 Biological profiling and blood passports
A runaway victory for Campag?s vision of the future. Electronic gears have arrived before hover cars and food in pill form. How right you were to vote for this Italian combination of style and effortless function. Of all the products we?ve seen in the past 12 months, Campag?s development groupset has been the most exciting, exotic and most talked about. Despite seemingly being ready for production, Campag hasn?t made an announcement about when it?ll be part of the range, which is a real shame. We love the fact it weighed little more than a standard Record groupset, automatically trimmed the front mech as you moved across the block and had a variable shift speed, all of which add genuine functionality to your bike ? if you're too weak or lazy to change gears without assistance.
The Garmin Edge brings Sat-Nav to cycling. It?s a trainer, navigator and cycle computer in one and it?s not for anyone who thinks Silicon Valley is a great singletrack trail.
Biological profiling and blood passports are new for ?08 and may help clean up the sport. Science. Is there anything those boffins can?t do? Next they'll be making a genetically-modified rider out of a pack of moulding mince in the back of the freezer.
Honorable mentions
The Tour of Wessex sportive-Premier Calendar combo, HGH (thanks for that sarky), and the Eroica sportive in Italy also got a good mention.
Swipe to scroll horizontally
1 SRAM Red
2 Shimano Ultegra SL
3 Campagnolo's Ultra Torque chainset
SRAM Red was certainly an interesting choice in this category. Spotted on various riders? bikes through the course of the summer, the first official sighting was at the start of the Tour on David Millar?s bike. Red was the must-have item at the recent trade shows and the buzz has clearly been passed on to you, the potential purchasers. Groupsets have been in seriously short supply, with many big-name pros yet to try out an entire groupset.
We were exceedingly impressed by the updated Shimano Ultegra SL groupset. Available in just Ice Grey ? it says on the box ? it?s been an instant hit with many bike manufacturers, many of whom have enthusiastically added it to their ranges. Based on the venerable groupset of old, new Ultegra sheds the grams without lowering performance or longevity.
Campag?s Ultra Torque chainset came in third. As we?ve found with a number of groupset tests this year, the new Ultra Torque cranks have given Campagnolo the shot in the arm they needed, not just to bring them up to date but also pushing the opposition to deliver something better.
Swipe to scroll horizontally
1 Specialized Tarmac SL2
2 Colnago Extreme Power
3 Trek Madone
The Specialized is a slightly controversial bike at number one. A super oversize frame makes the SL2 an awesome machine to look at. Whether it?s the wins for Tom Boonen or the company?s heritage, it?s been a big hit, but we were less than convinced at the launch because the handling was too stiff for us. But you loved it and you can?t argue with the stunning looks, whether it?s the standard version or the king of the sprints issue they?ve created for Tom If only they?d make a limited edition of that green bike.
The Colnago Extreme Power won our Race Bike of the Year prize this year and it?s good to see so many agreed with us. An incredibly capable bike it combines great handling, looks and weight, but it?s the sort of bike you?d want to keep for a life time, such is its timeless construction.
The Trek Madone ? same name, different bike. Trek?s top-flight race bike has become a comprehensive range of bikes over the years. The option of the more relaxed geometry, it?s a bike mere mortals can access too. Perhaps winning the greatest stage race in the world helps the reputation.
Honorable mentions
?Who cares?? says a tech-no-phobe who?s probably bluffing and is home right now polishing the bearings from his bottom bracket. ?My new tandem? was another answer, though it's not going to win Paris-Roubaix for you is it ? and not just because tandems aren't allowed. Mind you, we?d like to see Tom Boonen and his new girlfriend get jiggy with some tandem action. What?? We can say that, can?t we?
Swipe to scroll horizontally
MOST EXCITING TRACK EVENT
1 World championships
2 Revolution
3 Chris Hoy world record attempt
We lumped all the mentions for the World Championships in Majorca together and it was a convincing winner in this category. There was just so much to celebrate with enough gold medals to keep Paul Sherwen and his Ugandan gold mines busy digging for the winter [that joke doesn?t work ? they still give away the same number of gold medals even if the Brits don?t win them ? Ed].
Ten years ago, when the World Class Performance Plan was just a twinkle in Peter Keen?s eye, who would have thought it possible?
The Revolution series goes from strength to strength, distilling the spirit of the continental Six-Day into an evening of action-packed excitement. We can?t wait until London and Glasgow have their velodromes built and Revolution can go nationwide ? with an event in Newport for good measure.
In third was Chris Hoy?s brave world record attempt in La Paz, Bolivia. It was high, it was hot and even though Hoy fell short in the kilo bid, it made for a great TV documentary.
Honorable mentions
?None? was totally predictable from the miserablists who still won?t accept track cycling rules. ?Track cycling is a different sport. It is to roadies as speedway is to motorcyclists ? not relevant? was a fuller, more eloquent but no less wrong variation on the theme. You won?t be thinking that after the Olympics.
Swipe to scroll horizontally
1 Tour de France prologue
2 Tour de France final time trial
3 World Championships
No surprise that the prologue in London was rated the most exciting time trial of the year. Most of you were probably there. To see the world?s best whizz past all those landmarks ? without paying the congestion charge, we might add ? was a rare thrill. Okay, so Cancellara made it a bit one-sided but at least Andreas Klöden didn?t win.
For those who hadn?t given up on the farcical Tour by the end, the final time trial to Angôuleme was a distant runner-up. A scandal-hit Tour got a ?thrilling? finale it scarcely deserved with the final yellow jersey still up for grabs. Predictably Contador turned in the time trial of his life ? like we didn?t know that was going to happen ? leaving Evans to squeak his way into second place. Still, at least Levi didn?t actually win the stage. Doh!
Third, the World Championships. Was that even a race? It was all over the minute Cancellara rolled down the start ramp.
Honorable mentions
?None? again, a popular answer this year. ?Time trials are exciting?? ? he has a point. ?Time trials are only occasionally exciting when part of a grand tour.? ?Was there one?? And a surprise mention for the Eneco Tour?s final day, which actually was a surprise but as it was on telly on a weekday afternoon we assumed only the unemployed and infirm would have been home to see it. After all, if you set the machine to record Eurosport you always end up with two sets of tennis. Whoever voted for the Tour de France stage 13 abomination in Albi, won by a cheat, needs to seek help.
Swipe to scroll horizontally
MOST EXCITING ONE-DAY RACE
1 Paris-Roubaix
2 Men's elite World Championships
3 Tour of Lombardy
A swamping victory for another epic Paris-Roubaix. It was a race that proved cycling can still create surprises. For a start the weather was hot and summery, the cobbles dusty and dry. An early break went, which ended up deciding the race, and Stuart O?Grady?s aggression and edge-of-the-seat solo ride to the velodrome was one of the moments of the year.
The Worlds road race was an absorbing affair and the finale was superb. Shame that one of CW?s correspondents who was in Stuttgart missed it all because he was over the other side of the course, miles from the finish line or a television set, when it finished. He denies he was shopping for lederhosen.
The Tour of Lombardy was in third ? your correspondent can?t comment as he was on holiday that weekend but apparently it was a belter. Little chap called Cunego won. You know, babyish face, won the Giro a while back, loves Jim Morrison. Yes, that?s him.
Honorable mentions
The usual spectator-friendly favourites were here, Het Volk, the Tour of Flanders and the Lincoln Grand Prix. The Melton Mowbray CiCLE Classic scored well, as did the women?s road race at the Worlds, which had a phenomenal last lap. The Eroica scored highly too, although the sportive experience knocked socks off the actual race.
Swipe to scroll horizontally
1 Tour de France
2 Giro d'Italia
3 Paris-Nice
It?d take a special race to beat the Tour de France. And even with a hideous drug scandal (make that two, no three, no four!) nothing could stop you voting for it.
Perhaps it?s because it gets the most coverage. The result was worth than meaningless in the end but it?s impossible to deny it was gripping. Every day chucked up a new scarcely-believable story. And every day they seemed to chuck someone else out.
In second, the Giro d'Italia. Now, you?ve got to be 'avin a larff, as they say down here in Croydon. The Giro was a drearfest won by another rider of ill-repute.
Paris-Nice, now that was a cracking race. They varied the route, sent it through the Massif Central to avoid the snow, mainly, but it made it extremely exciting. And Contador was a deserving winner, attacking every six minutes, it seemed.
Honorable mentions
Please don?t propose the Vuelta... Oh, there it is, you?ve gone and done it. Honestly, have you no taste? The Dauphiné Libéré did well again, chiefly because it?s now on telly here.
Swipe to scroll horizontally
MOST EXCITING ROAD RACE OVERALL
1 Tour de France
2 Paris-Roubaix
3 World Championship road race
Again the Tour tops it but, if they?re reading, the cheese-eating purveyors of offal and arrogance will be puffing themselves up and strutting about like peacocks again. Top two to the French. For heaven?s sake don't tell ASO. Doesn't bode well for the UCI and it?s ludicrous ProTour palaver either, does it? Still, the World Championships did well to sneak into third place. That was won by Bettini, who spent all week arguing with Pat McQuaid. Whoops.
Swipe to scroll horizontally
1 Barloworld
2 T-Mobile
3 Rabobank
Fair play to Barloworld, they did have a brilliant year ? and a great Tour in particular. A couple of stage wins, from Robert Hunter and Juan Mauricio Soler, who also took the king of the mountains jersey. Yet more proof that you don?t need to be in the ProTour to be a successful team.
T-Mobile didn?t win an awful lot but you liked the cut of their jib. Perhaps it was having Roger Hammond and Mark Cavendish, perhaps it was the attempt to clean up. Frankly, after the sponsor pulled the plug we feel like stripping them of second place as quickly as Bjarne Riis was stripped of his 1996 Tour win. So, in about 2017 we?ll come back to this and declare Rabobank the runner-up.
Ah, Rabobank, team of Mr Forgetful from Confused Town, Denmark. No, Italy! Oh, sorry, I mean Mexico. Ah, whatever, at least he didn?t win it. And the Dutch bankers ? and no, that?s not rhyming slang ? had the last laugh when Denis Menchov, not usually the sort of chap to raise a smile ? won the Vuelta. Having said that, a lot of Rabobank?s votes came for sacking Razzer.
Honorable mention
Team GB ? quite right too. Unibet.com ? surely a vote of sympathy. Cofidis for doing the right thing and retiring from the Tour after Cristian Moreni tested positive. Predictor-Lotto ? we saw that coming. Team 100% Me. And Astana. Ha ha, you jest, sir.
Swipe to scroll horizontally

1 Mark Cavendish
2 Shanaze Reade
3 Andy Schleck
Another romping victory for Cav ? earned in the same manner as his bunch sprints by bursting past everyone else without so much as a ?by-your-leave? to make the others look a little pedestrian.
Shanaze Reade ? is she a BMXer, is she a track sprinter? I don?t know but she?s going to be a multiple world and Olympic champion. She?s the only one to get close.
Of the continental types, Andy Schleck and his very long thin arms fared best by a long way.
Honorable mentions
Geraint Thomas missed out on third place by just one vote. If only he?d got someone in his family to vote he could have been there, name up in lights.
Swipe to scroll horizontally
MOST IMPRESSIVE TRACK RIDER
1 Victoria Pendleton
2 Chris Hoy
3 Bradley Wiggins
Absolutely no contest. Queen Victoria took it by miles. How she sprints that fast with her hair in a very un-aerodynamic little grey bun and with that long lacy dress is anyone?s guess. No, but seriously folks, Pendleton is a superstar. Multiple world titles already under her belt, an Olympic medal beckons and after that she could have a flourishing television career. Have you heard her in the commentary box when she?s been on the BBC? A natural, she is.
Chris Hoy will be cycling?s Sebastian Coe in ten or 15 years? time. He?s a champion on the bike and a fine ambassador off it. It took guts to even think about attempting the kilo world record. In third place is Bradley Wiggins ? the Modfather of the Boards ? and his sideburns. A colleague joked that he saw Wiggo with a little pair of hair straighteners in the pits at the Ghent Six. For a while I wasn?t sure whether he was joking or not.
Honorable mentions
Iljo Keisse got a couple of votes but then so did Archie Bucket.
Swipe to scroll horizontally
MOST IMPRESSIVE TIME TRIAL RIDER
1 Fabian Cancellara
2 Bradley Wiggins
3 Jason McIntyre
Almost everyone voted for Cancellara, which is not a surprise seeing as there?s no one on the planet who can get near him when he?s on form. The rest of the nominations were very much fighting over the crumbs but Wiggins edged Jason McIntyre into silver. It seemed very, very harsh indeed that David Millar ? the new national champion ? didn?t score better. He did win the Paris-Nice prologue too, you know. And the guy who voted for Alf Engers, perhaps your entry got lost in the post.
Swipe to scroll horizontally
MOST IMPRESSIVE ROAD RIDER
1 Mark Cavendish
2 Cadel Evans
3 Alberto Contador
If votes in Cycling Weekly?s readers? poll meant anything, they may as well give the Tour?s green jersey and the rainbow jersey to Cav now. He won by six bike lengths, despite Evans? attempts to follow him pedal rev for pedal rev. The Aussie clearly has a lot of fans who admire his gutsy determination if not his charisma. Contador did well too, but not as well as you?d expect a Tour winner to do.
Honorable mentions
David Millar ??for returning to the sport, riding with dignity and being a spokesman for clean sport?. Well said, that man. Linus Gerdemann got a few votes, but then so did Danilo Di Luca, so what does that prove. Marianne Vos did well for the laydeez [sorry], as did ?Paola? Bettini, who appears to have changed sex without informing the relevant authorities (or signing any official documents!)
Swipe to scroll horizontally
1 Michael Rasmussen
2 Alexander Vinokourov
3 Christine Ohoruogu
We can barely hear over the chorus of boos and hisses. A close-run thing this. Rasmussen was the obvious villain, with his dodgy shaved head and pea eyes. Ruined the Tour, he did, with his lies and deceit. How he could sit there and continue to lie is beyond me. No moral fibre.
As for Vino, well when he was discovered to have drunk someone else?s blood, we were livid [are you sure this is right? ? Ed] And he had the temerity to joke about it afterwards? Still, at least we?ve seen the back of him now as he?s retired (definitely not so he?s not subject to out-of-competition tests between now and July when his ban ends and he can return to racing in time for the Olympics. Oh no).
Great to see a non-cyclist score so well. Christine O got more votes for this than she did for the Sports Personality of the Year award. Good.
Honorable mentions
Ivan Basso, too many to mention, all of them ? that?s a bit harsh ? Basso again, Bruyneel, Cofidis for pulling out of the Tour ? you can?t please some people - Dick Pound, the UCI, Patrik Sinkewitz and the usual clamour for the editor?s head too. Oh it?s all good fun.
So, as you drain your wine glasses and salute the cream of 2007, all that remains is for the DJ to start spinning those discs ? or press the middle button on his iPod to select ?That Cycling Do? playlist ? to get the party started. Try not to vomit on the stairs like last year, eh?
See you all in 2008.
Thank you for reading 20 articles this month* Join now for unlimited access
Enjoy your first month for just £1 / $1 / €1
*Read 5 free articles per month without a subscription
Join now for unlimited access
Try first month for just £1 / $1 / €1
Get The Leadout Newsletter
The latest race content, interviews, features, reviews and expert buying guides, direct to your inbox!
Sports journalist Lionel Birnie has written professionally for Sunday Times, Procycling and of course Cycling Weekly. He is also an author, publisher, and co-founder of The Cycling Podcast. His first experience covering the Tour de France came in 1999, and he has presented The Cycling Podcast with Richard Moore and Daniel Friebe since 2013. He founded Peloton Publishing in 2010 and has ghostwritten and published the autobiography of Sean Kelly, as well as a number of other sports icons.