Ride With... Fusion CC
Simon Warren joins the Dronfield-based Fusion Cycling Club for a lively jaunt in the Peak District - Photos by Henry Iddon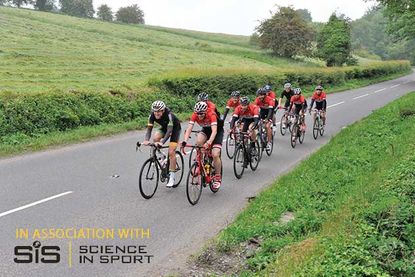 Members: 50
Formed: 1986
From: Dronfield, Derbyshire
Website: www.fusionccd.webs.com
I was initially due to join the Fusion CC at the end of March but the 'Beast from the East' put a stop to that, dumping a foot of snow overnight so I was glad to hook up with them on this morning, even though we were surrounded in thick fog.
Meeting at the Rutland Arms in Holmesfield at 8am on Sunday I found their club secretary Dan Sudbury, who introduced me to the members and ran through the plan for the morning.
Generally there are two runs on a Sunday: a slower one, mostly comprised of the club's elder members; and a faster ride, which I'd be joining. They both leave the same spot then split apart before converging at the Eyam Tea Rooms a couple of hours later.
We started by heading west to Owler Bar then rode through the gloomy conditions across the tops of the moors to eventually drop down the sweeping fast decent into Beeley.
Father and son
One of the first riders I talked to was Steve; in fact he came and talked to me, and instantly gave my bike the once over, intrigued to see what I was riding and thankfully it met with his approval, especially the lack of disc brakes.
>>> Find a cycling club near you
Steve had some success as a youngster and had proudly told me he'd had his name on the cover of 'the comic' back in the 60s. Also on the ride was Steve's son Richard, who although loving his riding now, wasn't always as keen as a teenager and was prone to hiding and concocting elaborate excuses to avoid his dad dragging him out in dire weather.
After about 30 kilometres we turned north and working our way towards Youlgreave headed onto a brilliant little climb that I'd never ridden before with a wonderful sharp left-hand bend that had us all heaving out of the saddle.
In fact this route was packed with tiny little climbs to constantly test the legs and shortly after Youlgreave we dropped down to cross the River Lathkill where we sped across the small stone bridge, and bang, hit the next one.
I was sitting second wheel behind Tom, one of the club's strongest riders and he clearly knew exactly what was coming as he carried his momentum to sprint up the lower slopes as I floundered in my big ring. Once in the right gear I chased him down, and as I was closing in, club member Darren came flying past to summit before the both of us.
When a bloke with hairy legs whizzes past you on a hill they usually have a bit of 'history' and it turns out Darren was a very strong climber having placed seventh in this year's 'Sheffrec Magnificent Seven' event.
Tom, astride is beautiful pink 'Tom Dumoulin special' Giant was also sharp up the hills and had not only completed an Everest attempt but also ridden 10,000m of climbing in a single 24-hour period to qualify for inclusion in the High Rouleurs Society.
>>> Ride With... Ludlow Cycling Club
Tom added that he never raced much, just rode lots and always rode fast because he always had to get back to the family, which was one reason he loved coming out with the Fusion CC because it fitted his lifestyle perfectly.
Working hard
Heading north past Bakewell and Ashford-in-the-Water, we arrived in Great Longstone to begin the climb of Longstone Edge. It's a testing ramp over 2km long which usually offers stupendous views out over the villages below. However, today the fog was so dense we could only just see past the edge of the road.
From here the ride would normally head straight into Eyam with a hotly contested sprint for the village sign but today our route master Adam had squeezed in another nasty little climb to ensure we worked hard for our slice of cake.
Arriving at the Eyam Tea Rooms we caught up with three generations of Fusion riders including the two 'magnificent seven' members Trevor and Ray (see 'Club history') and also the club's double Olympian Les Morton, who represented Great Britain in 1988 and 1992 — not in cycling though, but in the 50km race work.
After a satisfying pit stop all that was left was to plod back up the climb of Froggatt — but not the route I am used to. No, today Adam had diverted us up the nasty Moorlands Lane, a short, sharp back route that joins the main A625 at the top just to add a bit more spice to what had been a truly brilliant morning on the bike.
Club history
In 1985, a group of seven riders — the core of which worked for the Fusion engineering company in Dronfield — decided to organise a 100-mile charity ride in aid of Sheffield Children's Hospital which proved a great success.
A year later, with help from the company's sports and social section, a cycling club was formed, affiliated to the CTT and CTC. Over the years members were attracted from further afield and as the Fusion company changed, the club became independent but retained its name.
Of the 'magnificent seven' who created the club, two of them still regularly ride: Trevor Davies and Ray Chivers, who were both out today.
Main promotion
The club has promoted an open 10 in the past but are giving it a miss this year as they concentrate on building the club membership so they have enough hands to successfully stage another one. So aside from racing, the big annual club event is the Cleethorpes ride, which is a 160-mile round trip to the coast and back.
Member Q&A: Dan Sudbury, club secretary
Can you tell us why you joined the Fusion CC?
DS Although I could have joined one of the big clubs in Sheffield I wanted something on my doorstep so when I found out about Fusion I hooked up with them and it's been great.
How did you become club secretary?
DS Well, I guess there was stuff that needed doing in the club — new kit, better organisation — so I started to pick up bits here and there and then ended up running it.
Can you tell us about the demographic of the club?
DS We cater for all sexes and ages and our rides cater for different speeds of rider, with slower members going out with the old stalwarts and us 'younger' guys setting a faster pace. As you can see we are mostly of a very similar age, which may be due to the population of Dronfield.
If we were in the city centre we may have had more student members but out here there are more young families who have left the city looking for more space. With us all pretty much in the same boat we tailor our rides for people who need to be back for lunch, who haven't the time to be out until two or three in the afternoon.
We we set off at 8am on a Sunday so we can still cover a decent distance though, and fit in the cafe stop, of course.
Ride highlights: Fusion CC
1 Mawstone Lane
Heading north into Youlgreave, this narrow and rough little lane starts with a wonderful 500-metre climb complete with a severe left-hand hairpin at about halfway that will force you to push extra hard on the pedals.
2 Longstone Edge
Formed of two and a half kilometres of climbing set on an average gradient of seven per cent, Longstone Edge is a testing climb, especially after crossing the cattle grid, but all effort is rewarded by fantastic views out to your right as you climb, if it's not foggy.
3 Froggatt 'the hard way'
Froggatt is the traditional long steady climb 'back home' to Sheffield out of the Peak District but today it was made that little bit harder by starting on the steep Moorlands Lane out of Froggatt village and joining the steady ascent on the main road a third of the way up way up.
Favourite cafe: Eyam Tea Rooms
Although the Fusion CC frequent many cafes, depending where their rides take them, the Eyam Tea Rooms is a firm favourite and not just because it offers a 10 per cent discount for club members. With 40 seats inside and 24 out there's more room for a large group and a selection of cake that would keep Marie-Antoinette happy. On top of that they serve breakfasts, light lunches and have an alcohol licence. The Square, Eyam, Hope Valley, S32 5RB.
Thank you for reading 20 articles this month* Join now for unlimited access
Enjoy your first month for just £1 / $1 / €1
*Read 5 free articles per month without a subscription
Join now for unlimited access
Try first month for just £1 / $1 / €1