Ride With… Marlow Riders club
We soak up the joie de vivre of a Buckinghamshire cycling club born out of a birthday ride to Paris - Photos by Rupert Fowler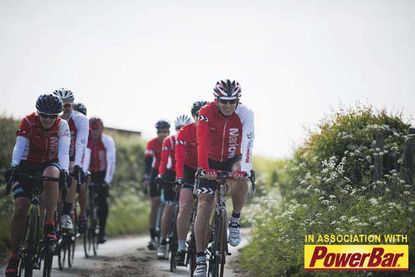 (Image credit: Rupert Fowler)
Get The Leadout Newsletter
The latest race content, interviews, features, reviews and expert buying guides, direct to your inbox!
Thank you for signing up to The Pick. You will receive a verification email shortly.
There was a problem. Please refresh the page and try again.
Based: Marlow, Buckinghamshire
Members: 200
Formed: 2010
Meets: Marlow Sports Centre, Saturday and Sunday mornings, and Tuesday and Thursday evenings during the spring and summer months
Website: http://marlowriders.org.uk/
Twitter: https://twitter.com/marlowriders
Many clubs speak of an all-inclusive ethos that, regardless of your cycling background — be you fresh off the stabilisers or a seasoned whippet with an envy-inducing palmarès — will see you welcomed into the fold with open arms and never left behind. For Marlow Riders this friendly approach is so important it's become their strapline.
'Cycling for all' is their slogan, and when, at the commencement of our ride this week, vice-captain Ken McCrorie hands me a bag of club goodies which includes a mug, a neck buff and a keyring, each bears their motto in black and white. The bar has been raised.
Today I'm heading out with the Leopards, and before you hurriedly flick back to the front page to check you haven't accidentally clasped hold of a copy of National Geographic, I should explain that the club is divided into groups denoted by big cats — these include: Lions (beginners), Easy Tigers (social rides with less emphasis on hills), Jaguars, Leopards, and Cheetahs (obviously the fastest group).
Kite watching
So we slink out of Marlow Sports Centre and into the Chilterns for a semi-brisk bimble in the midst of a glorious spring morning.
With today's ride taking place in an Area of Natural Beauty, it isn't long before we are encompassed by just that — natural beauty — and after heaving in unison up one of the route's more precipitous appointments — much of this part of the Chilterns comprises long shallow drags — we come to a pause and take in the vista which has opened up before us.
Umpteen shades of green belonging to neatly nibbled fields, dense thickets and sporadic woodland clumps are bordered by a blue sky, and, given our location, it's taken for granted that the sky is spotted with the impressive form of red kites, swooping in and out of the shot.
>>> Find a cycling club near you
Apparently, for those affiliated with the club, this particular spot affectionately goes by 'Ken's favourite place' — for reasons fairly easy to fathom. "It's just a fantastic view," says McCrorie, who back in 1998 was the Formula Three world powerboat racing champion. "It's a very special place for me which I love to share with
my fellow members."
Continuing on our ride I learn that as a result of the Chilterns' picture-postcard beauty it has featured as a location for many well-known television and Hollywood productions. The list of shows shot here is a long one and includes The Vicar of Dibley, shot in the tiny village of Turville, and Midsomer Murders, filmed across the region. Brad Pitt even made his way to the Chilterns to film part of the big-budget movie Fury.
Birthday ride
The final miles of the route I spend riding alongside Jonathan Smith, the club's very own superstar. His
claim to fame? He's the Marlow Riders' founder, of course. Smith goes on to tell me the story of the club's first unofficial ride.
"The club was set up as a result of me wanting to share my 60th birthday with many of my friends, sitting down in Paris enjoying some good food, which I would pay for on one condition, that they would cycle there with me. The seed was sown and many had to buy bikes before they could even start the cycle training which began in January 2010 on a weekly basis on Saturday mornings. The first ride was only 22 miles long but the distances grew, as did the number of riders who turned up over the next few months.
"By the time my birthday came round in August, 43 friends were fit enough to ride the 250 miles from London to Paris."
And so bonds were forged, thigh muscles were tempered, and the Marlow Riders went from strength to strength.
History
It all started seven years ago when founding member Jonathan Smith invited several of his friends to join him for his 60th birthday in Paris. The only catch was that they all had to cycle there, although they did have several months to train. So they arranged group training rides, led and coached by Jonathan.
Everyone enjoyed it so much that they decided to continue riding after the birthday celebrations. Word got around, and other people wanted to come out on the rides too, and Marlow Riders was born.
One of the early members was Willi Moore, who was an Olympic silver medallist in 1976. Moore moved to North Wales last year, and has recently, along with Smith, been awarded life honorary membership. Their success was so profound that after a couple of years Marlow Riders decided to run their own sportive, the Marlow Red Kite.
The idea was to encourage people from far and wide to come and enjoy the fabulous countryside around Marlow and the event has continued to go from strength to strength, selling out in the last three years, with this year being the sixth running of the event.
Achievements
Early member Willi Moore was an Olympic silver medallist in 1976.
The annual Red Kite Ride, now in its sixth year, has raised £34,000 for charity.
Thirty club members took on the iconic climb of Sa Calobra, Majorca, including one 78-year-old member.
Marlow Riders club run
Ride highlights
1 Marlow town
Look up 'quaint' in the dictionary and you'll see a little picture of Marlow town centre. Well, you won't — but you will love this charming little settlement's bunting-bedecked streets.
2 Pheasant's Hill, Frieth
Affectionately known by club members as 'Ken's favourite place' you'll look out onto a beautiful expanse of pasture and woodland, another example of quintessential British countryside.
3 Turville
The Chilterns is a hotbed of film and television locations, and just a click or two away from the route is the village of Turville where The Vicar of Dibley sitcom was filmed.
Favourite cafe
At the Chequers pub they were more than prepared for our visit, as evidenced by several trays of baked goods and jugs of tea and coffee. There was plenty of room in the large garden at the rear. The Chequers, Fingest Lane, Henley on Thames, RG9 6QD. Tel: 01628 482053
Thank you for reading 20 articles this month* Join now for unlimited access
Enjoy your first month for just £1 / $1 / €1
*Read 5 free articles per month without a subscription
Join now for unlimited access
Try first month for just £1 / $1 / €1
Get The Leadout Newsletter
The latest race content, interviews, features, reviews and expert buying guides, direct to your inbox!