RIVAL SPRINTERS SET NEW RECORD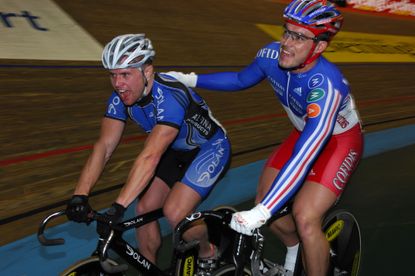 CRAIG MacLean and Arnaud Tournant set a new record in the event?s trademark kilometre Madison time trial at Revolution 16 at Manchester Velodrome last night.
Stopping the clock on 55.164 seconds, the two rival sprinters knocked over two seconds off Ed Clancy and Mark Cavendish?s old figure of 57.457 seconds set at Revolution 6 in 2004.
Clearly it was a fast night on the Manchester boards as Dutch sprinters Teun Mulder and Tim Veldt were the first to better the record with 55.633. Despite not making the cleanest of handslings, MacLean and Tournant then upped the ante with their effort, leaving final starters Cavendish and Clancy with their work cut out. Although the young pair did improve their old mark with a time of 56.646, it wasn?t good enough to hold onto the record.
In other events Clancy, Cavendish and Rob Hayles all took wins. MacLean claimed victory in the sprint while a strong team French team did a 1-2-3 in the Keirin and then capped the evening by triumphing over a British-Dutch coalition in the team sprint.
Former World Champion Vicky Pendleton was also back in action last night, having not raced the series all season. She cleaned up in the women?s omnium, setting her fastest flying 200m for the Manchester track and winning each of her match sprint rounds.
RESULTS
Sprint.- Craig MacLean (Great Britain) 11.538 beat Arnaud Tournant (France); 3, Tim Veldt (Holland).
Team Sprint.- France (Matthieu Mandard, Mickael d?Almeida, Arnaud Tournant) 46.412 bt Great Britain/The Netherlands (Craig MacLean, Teun Mulder, Tim Veldt).
Revolution Keirin.- Dave Daniell (Great Britain) 11.074; 2, Steve Hill (GB ODP); 3, Josh Hargreaves (GB ODP).
Invitation Keirin.- Matthieu Mandard (France) 10.547; 2, Mickael d?Almeida (France); 3, Arnaud Tournant (France).
1km Madison Time Trial.- Arnaud Tournant and Craig MacLean 55.164; 2, Tuen Mulder (Holland) and Tim Veldt 55.633; 3, Ed Clancy and Mark Cavendish (T-Mobile) 56.646.
Devil-Scratch Race.- Ed Clancy; 2, Rob Hayles (Team KLR); 3, Tony Gibb (Plowman Craven RT).
10km.- Rob Hayles; 2, Mark Cavendish; 3, Mark McNally (GB ODP).
15km Scratch.- Mark Cavendish; 2, Ed Clancy; 3, Alex Dowsett (100% Me).
Women.-
200m time trial.- Victoria Pendleton (Great Britain) 11.443; 2, Anna Blyth (Great Britain) 11.606; 3, Christin Muche (Germany) 11.992.
Team Sprint.- Great Britain (Victoria Pendleton, Anna Blyth) 34.931 bt Germany/France (Christin Muche, Virginie Cueff) 35.961.
Omnium.- Victoria Pendleton 5pts; 2, Anna Blyth 7; 3, Christin Muche 10.
Thank you for reading 5 articles this month* Join now for unlimited access
Enjoy your first month for just £1 / $1 / €1
*Read 5 free articles per month without a subscription
Join now for unlimited access
Try first month for just £1 / $1 / €1
Snowdon Sports is a long-established independent sports news agency, which supplies editorial to a range of media outlets - such as Cycling Weekly - as well as sports governing bodies. Snowdon Sports often covers results at Cycling Time Trials events in the UK and has long been a source of information and imagery to Cycling Weekly.