Road racing not banned in South Yorkshire, police insist after cancellations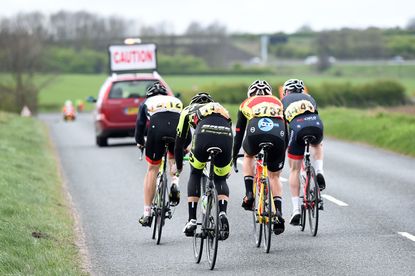 (Image credit: Andy Jones)
Following the cancellation of several road races in South Yorkshire, the local police service are insisting that races are not banned in the county.
All road races have been suspended due to safety concerns, following complaints about the races and an incident involving a cyclist and a combine harvester, according to the Doncaster Free Press.
British Cycling Yorkshire admitted the incident in question had 'not helped' but says the cancellations are so that organisers can meet with police to discuss the issues.
South Yorkshire Police said: "To clarify we have not banned road racing in South Yorkshire.
"Concerns and complaints have been made to us about safety issues surrounding these races.
"A decision was made by us, British Cycling and Highways to suspend road races, until we meet next week to review the safety of these races.
"We want everybody to be able to enjoy these races, however, our main concern is the safety of the cyclists and public in South Yorkshire."
A British Cycling Yorkshire statement read: "[The suspension] is so South Yorkshire Police can get around the table with British Cycling Yorkshire and relevant highways and organisations for the road race courses in South Yorkshire and to agree what will happen going forward."
Rutland Cycling Club's Tumby's Road Race was one of the races cancelled over the weekend, despite the efforts of BC Yorkshire trying to get it to go ahead.
Thank you for reading 20 articles this month* Join now for unlimited access
Enjoy your first month for just £1 / $1 / €1
*Read 5 free articles per month without a subscription
Join now for unlimited access
Try first month for just £1 / $1 / €1