RUSSELL FIGHTS BACK IN BATTLE OF THE BROTHERS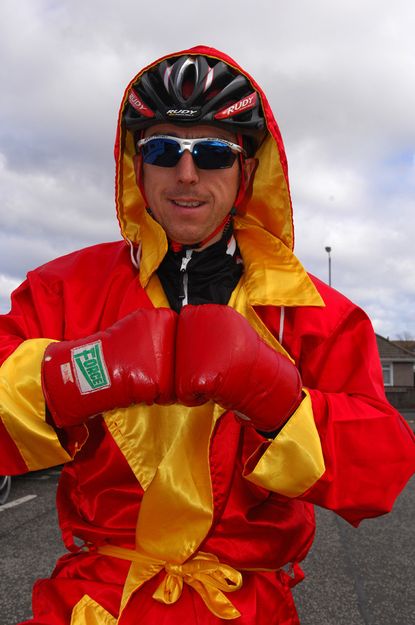 We probably should have realised Russell Downing meant business when he showed up at the Girvan wearing a pair of boxing gloves and a cape.
With family honour on the line, is it any wonder he's taking Cycling Weekly's season-long Battle of the Brothers competition seriously?
And he needed to do something special to get back into the contest following Dean's comprehensive win at the Bikeline a fortnight ago.
Our only quibble is with the wording on the back of his cape, which read 'Italian Stallion'. Surely everyone now knows Russell is the Pinarello Prince and Dean is the Rapha Raider.
To pick up the story so far, Dean utterly trounced Russell in the opening event, the Bikeline Two-Day, winning overall. To stretch the boxing analogy to breaking point, Dean had him on the ropes and Russell's head was lolling from side to side as he capitulated under a flurry of punches.
So to the second battleground. The Girvan. A chance for Russell to level the scores. And he did so in style.
He won the opening two stages and defended his overall lead in the face of serious opposition on the second and third days.
It's the day after the Girvan. You've just ridden yourself into the ground all weekend to win the overall title. What do you do?
A. Reward yourself with a rest day.
B. Go out for a four-hour ride in the cold, arriving home just as the first flakes of snow begin to fall.
If you're Russell you'll have answered B.
"His morale is quite high today," says his brother, Dean. "He's still crazy, though."
And Russell is very quick to point out that while he was out riding his bike for four hours, his brother Dean stayed at home on the computer.
Russell and Dean are currently sharing a house, intensifying the rivalry. "It's great to be back racing against him every week," said Russell. "We've been in the same team before and last year I raced in America [for Health Net] and only came back every now and then.
"To be honest, my motivation took a bit of a hit. I was pretty disheartened with America, so now it's great to come back and battle against him and the other guys.
"We're sharing a house for a while too, so there's no way he can do any secret training without me knowing about it.
"Mind you, I've totally cracked him today, going out for four hours while he's been on his computer."
With the scores level, they head for the weekend's Tour of the Reservoir, which offers one of the brothers a chance to gain a slight advantage before there's a month-long pause to hostilities.
"Have you seen my brother Dean? He's nicked my Easter egg."
Swipe to scroll horizontally
The story so far...
Round 1, Bikeline Two-Day Dean wins overall. 1-0 to Dean
Round 2, Girvan Russell wins two stages and the overall 1-1
The verdict
If this race were to be represented by Easter eggs, Russell had a giant brand-name egg filled with sweets sitting in a novelty coffee mug bearing the logo of a famous chocolate maker, while Dean had a dented Creme Egg with the fondant sucked out.
Next up...
Round 3, Tour of the Reservoir Sunday, March 30
Swipe to scroll horizontally
"After the Bikeline I started to feel really good in training, I got my new Pinarello Prince bike and everything just clicked into place this weekend," said Russell Downing after his Girvan win.
"I really wanted to have a go on the first stage and Malc [Pinarello team-mate Malcolm Elliott] gave me a fantastic lead-out.
"He gave me another brilliant lead-out in the crit too. We actually had two teams within the team, some guys supporting me and a couple of guys working for Pete Williams, who was going for the sprints.
"Winning both stages on the first day put me in a strong position but we had to put the team on the front for the next two days.
"It was a difficult race to control because there were loads of little time gaps. It wasn't like there was a group of riders all 20 seconds behind. I had a bit of trouble knowing who was a threat and who wasn't.
"On the day Rob Partridge and Dale Appleby [both of Rapha] got away, I wasn't sure how far back Rob was. In the end it split up and there were five from Rapha, four from Plowman Craven, three Kinesis and just me and Malc. The Kinesis boys have really impressed me. They've got a great young team together there.
"In the end we managed to peg the leaders and at the end I kept the lead by four seconds from Rob.
"On the final day I was less worried about Rob jumping away and getting the four seconds, because I could watch him. The threat would have come from further back.
"It could have been Kristian House, Dean, Evan Oliphant or Simon Richardson. I was left on my own for the final 30 miles. There were the climbs of Hadyard and Nick o' the Balloch and after them I was on my own. They [the other Pinarello riders] were annoyed at the finish that they weren't there to help, but they'd done so much great work earlier on.
"Evan attacked on the last climb and I went with him. Then it regrouped and Kristian House went. I knew he was more than a minute back so I let him go, knowing he probably wouldn't get more than 50 seconds.
"I gave it everything in the last three miles and then sprinted hard. It was nice to win it like that, in style, having been made to work hard for it."
Swipe to scroll horizontally
CW?S SUPER TEAM CHALLENGE
In the other big competition, Rapha-Condor-Recycling maintained their supremacy despite a strong recovery from Pinarello.
Russell Downing plundered 16 points for Pinarello, thanks to his overall win and two stages.
But Rapha kept their noses in front thanks to Rob Partridge's stage win and second place overall, and Kristian House's stage win.
So after something of a false start, Pinarello look like they are beginning to get going.
Rapha have lost two riders - Chris Newton and Dale Appleby - with broken collarbones and Ben Greenwood is not yet back at full fitness, so they should be there for the taking.
Meanwhile, there were slim pickings for Plowman Craven at the Girvan. They scored one point courtesy of Simon Richardson's third place overall despite being very aggressive in the race.
We can only imagine words will be said before the Tour of the Reservoir...
LATEST STANDINGS
1. Rapha-Condor-Recycling 22pts
2. Pinarello 16pts
3. Plowman Craven 9pts
HOW TO SCORE POINTS
Premier Calendar events 1st - 10pts, 2nd - 5pts, 3rd 1pt
Premier Calendar stage wins 3pts
International one-day races and National Championships 1st - 15pts, 2nd - 7pts, 3rd - 3pts
RELATED LINK
Girvan report: Russell Downing clinches it
Thank you for reading 10 articles this month* Join now for unlimited access
Enjoy your first month for just £1 / $1 / €1
*Read 5 free articles per month without a subscription
Join now for unlimited access
Try first month for just £1 / $1 / €1
Sports journalist Lionel Birnie has written professionally for Sunday Times, Procycling and of course Cycling Weekly. He is also an author, publisher, and co-founder of The Cycling Podcast. His first experience covering the Tour de France came in 1999, and he has presented The Cycling Podcast with Richard Moore and Daniel Friebe since 2013. He founded Peloton Publishing in 2010 and has ghostwritten and published the autobiography of Sean Kelly, as well as a number of other sports icons.