Ryder Hesjedal's clockwork Cervelo: UCI checks Garmin-Sharp bikes
Internet video clip of Garmin rider Ryder Hesjedal's stage seven Vuelta crash led to stories of his 'motorised' Cervelo - UCI examines Garmin-Sharp team bikes in response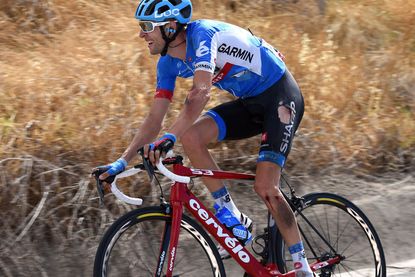 (Image credit: Graham Watson)
"I must admit, when I clicked on the link and watched the video that went with the story, I was almost convinced myself that something funny was going on," laughed Garmin-Sharp sports director Bingen Fernandez.
Like thousands of others, he had seen the video clip of Ryder Hesjedal's crash on stage seven which appeared to show the Canadian's Cervelo bike spinning round under some mysterious force, its back wheel still driving. Obviously there was no other explanation - it had to be some kind of small engine in the bottom bracket, it was clearly the most obvious explanation.
"In the end I had to laugh," said Fernandez, but a lot of media have come along today to ask about the story that ran in l'Equipe and Marca." Behind him, Australian rider Nathan Haas started up. "Yeah! The media! You guys, making stuff up again for a story, you're all the same. And you can quote me!" laughed the Aussie. As Dan Martin stepped off the Garmin bus, he shouted to his mechanic, "Hey, I've lost the keys to my bike, have you any spare keys for my bike?"
At the Giant-Shimano bus parked next to the Garmin camp, Warren Barguil wheeled his bike from behind the tape and 'revved' his handlebars, pushing the bike quickly forward, like it was taking off under its own (motorised) power. He was laughing too.
Everyone was laughing except the UCI Commissaires on the race. "Apparently they got a lot of messages from the public, so they had to come and investigate," said Fernandez, "they came this morning and said that they had to look at the bikes. I think they were almost embarrassed, but they came along and had a look anyway." And they found nothing.
No doubt the internet rocket scientists will claim the UCI found nothing because they were paid off not to look too closely, because they were in on it, obviously.
"Actually the tarmac that day was really, really slippy," noted Fernandez, "I was passing the bunch to get up to Dan at one point, not doing more than about 30 or 40mph and as I accelerated past the Belkin car, we just started a four-wheel drift, we were going sideways. The Belkin guys looked at me like I was insane, I had to go and speak to them later, but I wasn't going fast at all, it was just so slippery that day."
So, super slippery tarmac or small engine concealed in the bottom bracket of a Cervelo race bike which over 20 people are sworn to secrecy about? Hmm, what's that Occam's razor theory?
https://www.youtube.com/watch?v=L0uGFYHzHJM
Thank you for reading 20 articles this month* Join now for unlimited access
Enjoy your first month for just £1 / $1 / €1
*Read 5 free articles per month without a subscription
Join now for unlimited access
Try first month for just £1 / $1 / €1