San Francisco Bay Area cyclist suffers life-threatening injuries in car collision
52-year-old man rushed to nearby hospital on Monday afternoon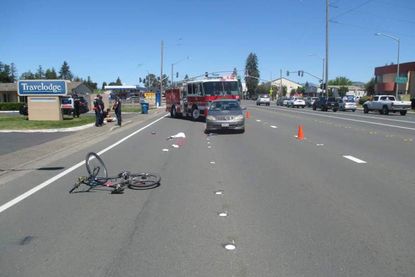 Just north of San Francisco, a 52-year-old Santa Rosa, California man was involved in a collision with a car Monday afternoon, sustaining life-threatening injuries according to police.
Darrell Lee Spurlock was found unconscious at the scene of the accident after 12:20 pm PST, near the intersection of Santa Rosa and Colgan Avenues, and transported to the nearby Memorial Hospital by ambulance.
Santa Rosa Police investigators said Spurlock was riding westbound, leaving the Santa Rosa Marketplace Driveway at 1850 Santa Rosa Avenue, merging with the northbound traffic lanes and then crossing the two center southbound lanes of the street. Adjacent to a busy 101 freeway entrance and exit, Santa Rosa Avenue has three lanes heading both south and northbound at the intersection with Colgan Avenue.
The driver of the gold Toyota Corolla that struck Spurlock, 25-year-old Cody Austin Gibbs, also of Santa Rosa, was headed southbound on Santa Rosa Avenue when the incident occurred.
According to the Santa Rosa Police Department, Spurlock was reportedly crossing into the first lane when he was struck by Gibbs' Corolla.
Although it's not clear the speed at which Gibbs was driving, Spurlock was not in a crosswalk when merging into the southbound lanes.
Images from the crash indicate Spurlock struck the front windshield of the car, landing in the middle of the two righthand, southbound lanes on Santa Rosa Avenue.
Police reported that Gibbs has a valid driver's license, stayed at the scene and is cooperating with authorities attempting to investigate the accident.
Spurlock's injuries include major head trauma and his current condition at Memorial Hospital is unknown.
The police department is also requesting that anyone who may have witnessed the accident to contact Officer Jeff Woods of the Santa Rosa Police Department Traffic Bureau at (707) 543-3636.
Thank you for reading 5 articles this month* Join now for unlimited access
Enjoy your first month for just £1 / $1 / €1
*Read 5 free articles per month without a subscription
Join now for unlimited access
Try first month for just £1 / $1 / €1