Seven cycling movie ideas that should really make it to the cinema
We recently asked Cycling Weekly readers to come up with a pitch for a great new cycling movie. Hollywood, are you ready?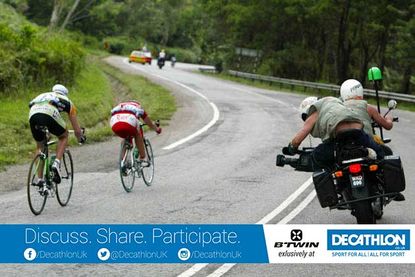 (Image credit: Yuzuru Sunada)
Get The Leadout Newsletter
The latest race content, interviews, features, reviews and expert buying guides, direct to your inbox!
Thank you for signing up to The Pick. You will receive a verification email shortly.
There was a problem. Please refresh the page and try again.
Although there have been several great – and some truly bad – cycling movies over the years, there are still plenty of blockbuster-worthy plots that have never made it on screen.
We asked Cycling Weekly readers to come up with some cycling movie plotlines, and nominate who would play the leading character(s). We present a selection of the answers, in association with B'Twin.
Can you come up with a pitch for a cycling movie? Who would star in the leading role? Tell us in the comments section below.
Blazing Saddles 2.0: Revenge of the Mamils. When crackpot anarchists seize control of the UCI and threaten to ban all timed sportives "because they are racing really and you should get a licence", retired USAF Major 'Minor' Gains is not going to have his training routine and plans for the season ruined.
He rides, yes rides in a military jet, helicopter and last five miles on a bike with missiles on it to Switzerland to restore peace and justice for all. He is supported by his trusty domestique, played by Alan Carr, and his beautiful daughter, played by Jennifer Lawrence, who is also in Europe for some vague reason.
Fools are going to be crushed, careers ruined and corporate hospitality areas left disrupted when The Rock switches iron for Lycra and makes it rain tears.
Darcy Gunning
>>> Quiz: How many WorldTour teams can you identify from their bikes?
Tubs Versus Clinchers: Tom Hardy (tubs) and Daniel Craig (clinchers) duke it out to find out once and for all which is the one true tyre.
Jon Elliott
Deliveroo — The Movie. A Deliveroo rider unwittingly delivers a takeaway to the head of the national cycling team. The boss is impressed with how hot his lamb bhuna is, so offers the young lad a shot at stardom. He makes his debut in the velodrome at the Tokyo Olympics and wins gold in the omnium.
James Franco
How about Transformers, where Rapha-clad nerds on Pinarellos turn into Slovak ninjas on S-Works and save the world from running and swimming?
James Baggott
Christian Bale works in a frame-makers in downtown Pontypridd toiling away machining lugs worthy of the finest exotica, while on the weekends he follows the keirin circuit in Japan, betting all his spare cash and losing everything.
Then one day the top-ranked racer turns up in Newport for an international event but his bike doesn't make it and he ends up winning on a frame made on the side by Bale, catapulting the lowly lug-machinist to global stardom. Christian Bale is The Frame Machinist.
Steve Bowman
http://www.youtube.com/watch?v=laIqXhjn60E
Young ne'er do well (played by Charlie Heaton) from a sink estate is a bicycle thief. On his latest raid, he steals the bike of an older man from his estate (Christopher Eccleston), who is down on his luck, divorced, etc. Eccleston gives chase in his car and eventually catches Heaton.
We learn Eccleston was once an Olympic cyclist and coach before falling out with the authorities and recognises potential in Heaton. He persuades him to let him coach him in exchange for not pressing charges. With some ups and downs (pressure from mates to fall into old ways) Heaton qualifies for the Olympics. After missing out on the medal race, he his reinstated after a competitor is disqualified and goes on to win gold.
Steven Jones
Dude, Where's My Bike? Nuff said.
Steven D Purnell
Thank you for reading 20 articles this month* Join now for unlimited access
Enjoy your first month for just £1 / $1 / €1
*Read 5 free articles per month without a subscription
Join now for unlimited access
Try first month for just £1 / $1 / €1