Seven things to do at the Cycle Show 2014
We take a look at seven features you should check out at the Cycle Show 2014 at the NEC Arena in Birmingham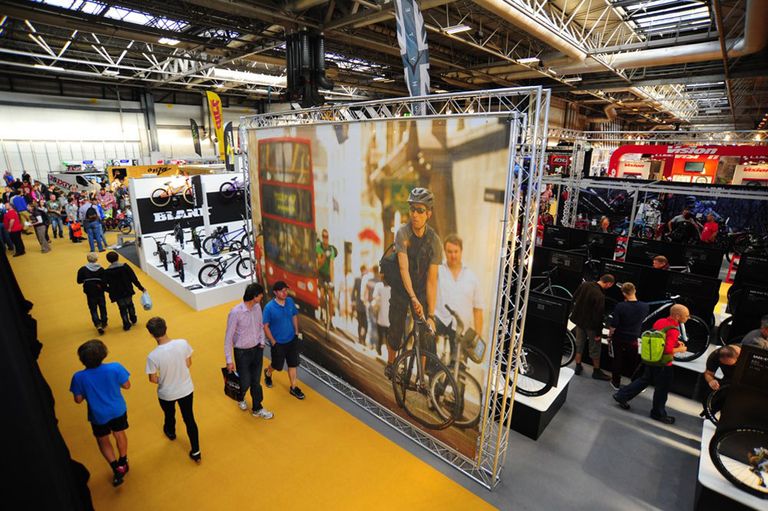 1. Check out Wiggo's weapon
Pinarello's UK distributors have an exact replica of the Bolide Sir Bradley Wiggins rode to the world time trial title in Ponferrada on Wednesday. If the bold and breezy Union Flag paintjob doesn't do it for you (we've been told by a source close to Pinarello that Luigi the painter had a few sleepless nights during the Scottish independence referendum), then behind lies the original stealth missile in all its bare carbon glory. Imagine that on the club evening 10? Or just sell the kids and make it a reality…
2. Be amazed/appalled by a big moustache
Even more ridiculous than Movember, the looks this bike was getting throughout trade day ranged massively from slack-jawed wonderment to sneering contempt. Whatever you think of e-bikes, this 'snow bike' was definitely French e-bike manufacturer, Moustache's biggest crowd puller.
Designed by Phillip Starck, a man also renowned for his classic citrus squeezer and available from posh shops such as Surrey supercar dealer, Romans, prices are yet to be revealed for the Bosch-powered, fat-tyred, bear-skinned leviathan. We'll hazard a very wild guess at around £9,500.
www.moustachebikes.com
3. Book a bike fit
Modern bike fitting is becoming increasingly complicated with lasers replacing plumb lines and laptops superseding tape measures. Top manufacturers such as Trek with its Precision Fit rig and Specialized with the ultimate extension of its Body Geometry range are both on hand to offer advice along with experts from the likes of Guru and Retul.
4. Do a bit of colouring-in
In addition to helping you get a bike that fits, Trek can even help you fulfil your wildest, most tasteless fantasies when it comes to the colour of your bike. We could have gone for the subtle style of Jens Voigt's farewell bike, but chose instead to create this work of great beauty. Based on the superb Émonda, this took just minutes using Trek's web-based Project One system that also allows you to choose bespoke components, wheels, etc. We'd give you a full breakdown on spec and cost but we bottled it when it came to submitting our options for a consultation with a Trek dealer. Mostly for fear of psychiatric help being suggested as a final extra.
www.trekbikes.com/int/en/collections/custom_project_one/
5. Go and visit a tailor
Sarto has been making frames for several big-name manufacturers for the last 50-odd years. Non-disclosure agreements mean they can't reveal which ones, but we can tell you that Campagnolo-branded Sarto frames were used for a recent top-end groupset launch. If there's a finer endorsement of an Italian frameset, we've yet to work out what it is.
Sarto — meaning 'tailor' in Italian — will hit the frameset-only market head-on for 2015, with a range of six very different road frames and a TT frameset all designed and built in Italy. As the brand's name implies, all will be available as bespoke, made-to-measure framesets. Prices are upwards of £3,000 — pretty reasonable for a hand-built Italian frame made to your own unique size and geometry.
www.impactct.co.uk
6. Be blinded by science
There are myriad opportunities to be baffled by technology at the show. We were impressed with the science involved in creating Vittoria's new wheel range with the use of a new 'wonder material' in some of its top-end carbon wheels. Graphene, a pure form of carbon just one atom thick, has been used throughout the carbon weave to reduce weight, improve rigidity and increase durability.
Gram for gram, graphene is 100 times stronger than steel and conducts heat with incredible efficiency making it perfect for carbon braking surfaces, both in terms of consistent performance and longevity.
Vittoria's new wheel range covers everything from shallow-section alloy training clinchers to super-tough all-mountain mtb hoops right through to droolworthy deep-section tubulars. They even come with a QR code that's unique to each set. Nothing on Vittoria's website yet, but here's a teaser video.
http://www.youtube.com/watch?v=CHa_YjXOi44
7. Go and look at a famous person
New Hour Record holder Jens Voigt will be making an appearance alongside Trek on Saturday at at 13.00 on Saturday, where he'll be holding a Q&A session. He's already invited his Twitter followers to come and find him for a selfie, so there's an opportunity to get a new Facebook profile picture if that's what you're in to.
Meanwhile, TV personality Davina McCall will be at the Beacon Bike stand on Saturday, as well as team pursuit world champion Joanna Rowsell who'll be hanging around with Wattbike.
More information on everything happening this weekend at the Cycle Show is available on their official website.