Shimano and SRAM feel the pinch from declining sales
In the last few days, both component behemoths have reported declining year-on-year sales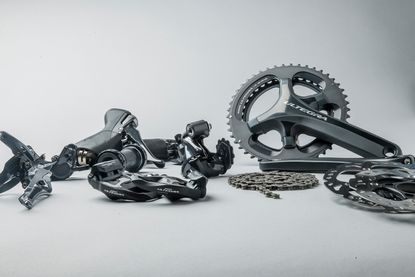 Both Shimano and SRAM have recently reported the effects of reduced component sales, with Shimano announcing its first quarterly revenue decline year-on-year since 2009.
>>> SRAM Red AXS 12 speed groupset launched
Shimano 105 groupset review
In its Summary of Financial Results (opens in new tab) published on 26 April, net sales in Shimano's bicycle division were shown to be down from 81 billion yen (£500m) to 65 billion yen (£400m) and the company's overall operating income including its fishing and other divisions was down by over 30% in contrast to 63% growth in the same period last year.
Shimano suggested in its statement that an uncertain economic outlook and declining consumer confidence in Europe, the US and Japan were major contributors and that these had led to high component inventory levels at OEMs. Although the company stated that inventory of complete bicycles in Europe remained appropriate, there were higher inventories in Japan, China and North America, resulting in a 20% global decrease in Shimano's bicycle component sales.
And soft sales at SRAM too
Meanwhile, according to Bicycle Retailer (opens in new tab), SRAM - which also owns the Quarq and Zipp brands amongst others - has announced that soft sales over the last 12 months have led it to lay off around 40 people from its worldwide workforce of 3500, although SRAM says that this will not impact manufacturing or product development. In the first quarter its sales were down around 10% year-on-year and SRAM's president Stan Day says that the previous quarters had also shown soft sales.
≥≥≥SRAM eTap Reviewed
Day did say that although total volume of sales to OEM manufacturers was down, there was an increase in spec of products sold, with eTap doing well. Day also mentioned SRAM's Zipp brand as a highlight.
Thank you for reading 5 articles this month* Join now for unlimited access
Enjoy your first month for just £1 / $1 / €1
*Read 5 free articles per month without a subscription
Join now for unlimited access
Try first month for just £1 / $1 / €1