'Significant step forward in athlete welfare': British Cycling forms new riders' group
British Cycling announces formation of a Rider Representative Commission (RRC), featuring 16 riders currently on the Great Britain cycling team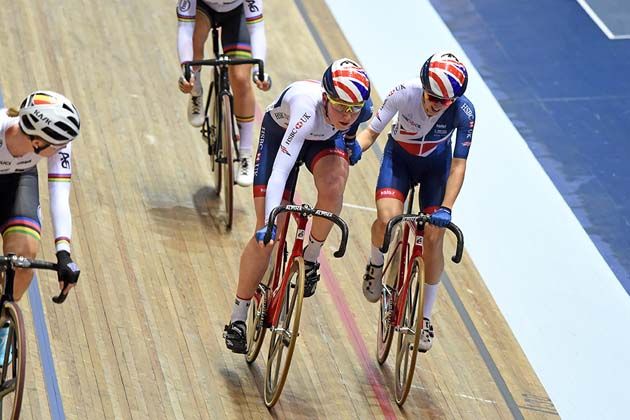 (Image credit: Andy Jones)
British Cycling says that it has made "another significant step forward in the improvement of athlete welfare" with the announcement of the formation of a Rider Representative Commission (RRC).
The RRC is formed of 16 current Great Britain cyclists, who will represent the views of riders to various parties within British Cycling, including its board.
The list of riders comprises those from track, road and BMX, and includes some of GB's Olympic and Paralympic champions, including Katie Archibald, Ed Clancy, Elinor Barker, Neil Fachie, Helen Scott and Sophie Thornhill.
The formation of the RRC comes as part of an on-going transformation of BC in the light of allegations of bullying and sexism.
"The purpose of the RRC is to represent the views of the riders to British Cycling's board, the Executive Leadership Team and Great Britain Cycling Team's Senior Leadership Team," said British Cycling performance director Stephen Park.
"This will help to ensure that all areas of British Cycling can best support the riders' needs, be directly informed about the rider experience and ensure the views of the riders are being heard with the relevant actions being considered.
"Ensuring athletes have a voice in the decision making process across all the Olympic and Paralympic sports is high on UK Sport's agenda and I'm pleased we have been able make good progress in establishing our own commission."
http://www.youtube.com/watch?v=Ns_uqzVGYAw
Park says that the RRC will enable riders to play a key role in making decisions and "have their voices heard on a wide range of topics".
"Essentially, the riders have been empowered to provide input on decisions that affect them, such as equipment design and provision; major competition planning and team selections to name just a couple of examples," said Park.
>>> British Cycling's former chair Jonathan Browning also steps down as non-executive director
BC chief executive Julie Harrington said that the RRC signals progress in the re-shaping of the organisation's management.
"The Rider Representative Commission demonstrates further progression against our 39-point action plan to address the findings of the Cycling Independent Review.
"We now have an appropriate mechanism for athlete representation to the senior management, as well as an engagement process to hear and take account of the views of all athletes.
"I'd like to thank the riders who have agreed to be involved in the commission and the senior management for welcoming the initiative so openly as we strive to become a world leading governing body."
British Cycling Rider Representative Commission 2017-8
Katie Archibald (Women's Track Endurance)
Elinor Barker (Women's Track Endurance)
Alice Barnes (Women's Road)
Sophie Capewell (Women's Track Sprint)
Ed Clancy (Men's Track Endurance)
Ellie Dickinson (Women's Track Endurance)
Kian Emadi (Men's Track Endurance)
Neil Fachie (Men's Para-cycling Track Sprint)
Quillan Isidore (Men's BMX)
Mel Lowther (Women's Road)
Katy Marchant (Women's Track Sprint)
Pete Mitchell (Men's Para-cycling Track Sprint)
Ryan Owens (Men's Track Sprint)
Helen Scott (Women's Para-cycling Track Sprint)
Callum Skinner (Men's Track Sprint)
Sophie Thornhill (Women's Para-cycling Track Sprint)