Six reasons why cycling in Wales is brilliant
Wales has plenty to offer to cyclists - from amazing scenery and challenging parcours to friendly locals and excellent culinary delicacies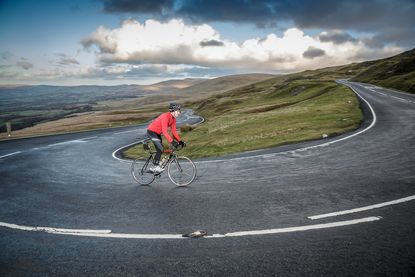 (Image credit: Jesse Wild/Cycling Weekly)
There are LOTS of hills
According to the latest Strava Insights statistics, released at the start of 2016, riders in Wales clocked the longest average rides and also racked up the most average metres of climbing on each ride.
Whether you ride in the north, south, east or west of the country there are plenty of climbs to get your legs going. A lot of them are ridiculously steep as well.
There are miles of coastal routes you can ride
Riding by the sea is excellent and if you ride in Wales then there are plenty of places to get you seaside fix.
Many sections of the Wales Coast Path are suitable for cyclists - although probably not for those on road bikes - and some of them are on the National Cycle Network.
The 18-mile section between Kidwelly and Bynea takes you up the Millennium Coastal Path in Carmarthenshire and gives some pretty spectacular views on a good day.
You can do some 'proper climbs'
While many parts of the UK specialise in short and extremely steep climbs, in Wales you can find a few long'uns.
Welsh cakes
Geraint Thomas raves about them, and there's a good reason why - they're delicious.
What's more, there's a decent amount of sugar in them, and you always have to eat at least three, so they'll probably be good as mid-ride snack.
You can learn a new language
Modern road signs in Wales are written in both English and Welsh, so it's your chance to keep your mind active on your ride and learn a new language.
The problem with learning the Welsh language this way, though, is that some of the words are quite long, so you'd have to stop each time you see a road sign in order to see what it says.
You can ditch the road bike for some off-road action
While it's fun to ride up some of the climbs in Wales, sometimes you just want to go downhill or take advantage of the off-road action in the country.
There are a host of mountain biking facilities there, including Bike Park Wales, near Merthyr Tydfl, which is great if you're a seasoned pro on the fat tyres or even a complete novice.
Thank you for reading 20 articles this month* Join now for unlimited access
Enjoy your first month for just £1 / $1 / €1
*Read 5 free articles per month without a subscription
Join now for unlimited access
Try first month for just £1 / $1 / €1