Spanish authorities investigate source of Contador's mystery meat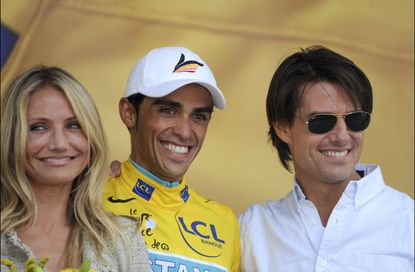 Spanish media have reported both Alberto Contador and the authorities are investigating the source of the contaminated meat which allegedly caused him to test positive for a tiny amount of clenbuterol.
"We've done everything we can," Contador told Spanish tv station TeleMadrid.
"We've even been back to the same shop in Irun" - on the Spanish border - "where the meat was originally bought, bought some more and taken it to a lab for analysis."
"The problem is that not all the meat comes from the same place and the labs are normally not as specialised as the ones that carry out anti-doping investigations. As is well known only four labs in the world can detect the amount of clenbuterol that was discovered in my system."
Sports daily MARCA also reports that the Spanish authorities are carrying out their own unspecified investigation into where the meat had come from.
Given Contador has not named which butcher's shop his friend Jose Luis Lopez Cerron bought the meat in, yesterday Irun was apparently crawling with journalists visiting all 37 butchers in the medium-sized border town to try and find out which one it was. None succeeded.
Several meat-producing and agricultural associations, anxious to clear their name, have called for action to be taken against both the butcher who sold the meat and against the beef producer.
They also want to know if the meat came from Spain - which Cycling Weekly understands is thought to be unlikely - although there was an oubreak of sickness affecting dozens of Spaniards in the early 1990s caused by excessive doses of clenbuterol in meat.
Contador has also admitted that the first thing he thought about when he was told that he was positive was to give up racing, but that despite being "deeply disappointed" by what happened he "wants to wait and see how everything works out."
Which will be how long? According to Contador's interview in MARCA, he expects a further development to take place in the next two weeks. Meanwhile he remains provisionally suspended.
Meanwhile more details have emerged on the agreement to keep the Contador case under wraps - an agreement wrecked when the case was leaked to the German media.
According to Spanish newspapr El Pais, there was a meeting between the UCI, Contador and his representatives at the end of August in the town of Puertollano. Contador agreed to the provisional suspension and the UCI began their own investigation into the case. It was only when the German tv station ARD got wind of the case that first Contador and then the UCI, some hours later, decided to go public.
Thank you for reading 20 articles this month* Join now for unlimited access
Enjoy your first month for just £1 / $1 / €1
*Read 5 free articles per month without a subscription
Join now for unlimited access
Try first month for just £1 / $1 / €1