No Stopping Nutt: Strava long-distance record hunter passes 3000km
Richard Nutt continues bid to log the most miles ridden during June on Strava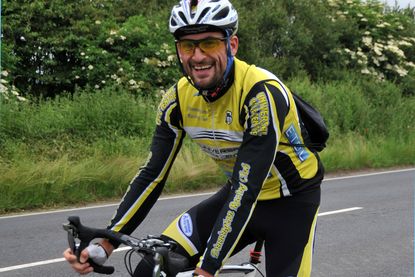 (Image credit: Chris Sidwells)
As it passes the halfway stage, the Strava June MTS challenge battle is turning into a real dog fight, with Britain's Richard Nutt and Canada's Dave Pecuch swapping the lead for most of last week.
Both have broken through the 3000 kilometre barrier, with Pecuch just edging Nutt with 3261.0 kilometres to 3146.9km, as of this morning (Monday, June 16). Adam G from Fort Collins in Colorado is coming up fast though, with 3141 kilometres for third place, which makes it pretty tight at the top.
Pecuch, Nutt and Adam G have what is effectively a breakaway going at the moment, because fourth placed Cycle_dr1 is 402.7 kilometres behind the third placed rider. The leading lady is still Cindy Parsons from Suffolk, with 2202.1 kilometres.
Nutt is still doing two weekday rides, one before and one after work, whereas his closest rivals seem to be getting more rides into each day. I met Nutt on this morning's ride. It was 7.15 am and he'd been out since 3.33am, after doing a 300 kilometre ride the day before, Sunday. The wonderful thing though is he still had company. Local riders Gary King and Stephen Ellis each put in a shift to pace Nutt before continuing their own rides to work.
"The help I've had is fantastic," Richard says. "My cycling friends have been amazing, getting up early to ride with me, and setting a steady pace to help keep my average speed up so I can do more miles in the time I've got. The support I've had is tremendous."
But it's not just local cyclists helping Richard, the cycle trade have got behind him too. Dave Williams of DHW Agencies, the Kuota importers, has supplied Richard with a new Kuota frame, and High-5 and Clif Bar have given him loads of sports nutrition. Both have been life savers.
"I'm eating everything at the moment. It's like I can't fill myself. But overall I'm doing okay, better this morning than I was during last week, because I had a deep sports massage last night. I'm going to take the next two Thursdays off work, so I can put 300 kilometres in on each one. I'm determined to get the highest mileage now, not just for me but for everyone who's helped me," he told me before pedalling off to claim some more kilometres.
It's a sobering thought that in just 15 days Nutt is only 518 kilometres short of the entire 2014 Tour de France distance, and they get three weeks and two rest days to do it.
Yorkshireman Richard Nutt is second in Strava's June mileage chart with 1845.8km cycled so far this month
Richard Nutt from Rotherham looking to clock up the most kilometres during June on ride logging website Strava
Thank you for reading 10 articles this month* Join now for unlimited access
Enjoy your first month for just £1 / $1 / €1
*Read 5 free articles per month without a subscription
Join now for unlimited access
Try first month for just £1 / $1 / €1
Freelance Journalist & Author
Chris has written thousands of articles for magazines, newspapers and websites throughout the world. He's written 25 books about all aspects of cycling in multiple editions and translations into at least 25
different languages. He's currently building his own publishing business with Cycling Legends Books, Cycling Legends Events, cyclinglegends.co.uk, and the Cycling Legends Podcast