British rider goes for Strava world record
Richard Nutt from Rotherham looking to clock up the most kilometres during June on ride logging website Strava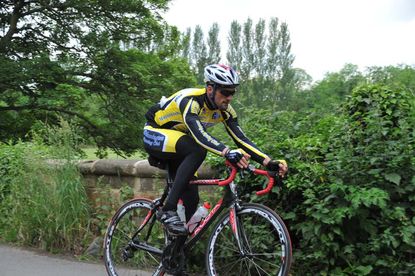 (Image credit: Chris Sidwells)
June is the month with the longest days, the most hours of daylight; the most opportunity to ride, and Rotherham's Richard Nutt intends to take it. He's also trying to set a Strava world record in the process.
Nutt is an experienced road racer with a number of wins and good performances. He's a member the Dinnington Racing Club, but doesn't do road races anymore because he says; "I'm self-employed now and can't really afford the time off work if I get injured in a crash, but I still want to challenge myself, which is why I'm doing this."
'This' is Strava's June Monthly Training Series (MTS). Strava does one every month but June is special, June gives more opportunity to ride and the leader board already has people from all over the world racking up mega miles, with Richard Nutt on top.
As of this morning, Wednesday June 4, Nutt has clocked up 712.6 kilometres in five rides. Dave Pecuh of Montreal, Canada is in second place with 620.2km, and Steve Steel from Cumbria is third with 607.5km. An incredible 101,013 people are taking part around the world, and together they've done 6,346,740 kilometres, although that changes by the minute throughout each day.
The current standings can be viewed on Strava.
We met Nutt during his evening ride yesterday, and he explained how and why he's doing it.
"I got involved last year and finished eighth in the world out of nearly 100,000, so if I could do that this year with more joining, I'd be happy. But last year I got a bit disheartened during the first week and only did about 300 kilometres. I had to pick it up a lot after that."
He's well ahead this year, mainly due to giving himself a hell of a start with a 400-kilometre ride on day one. "Yeah, that was a bit mad. I set off at 2.15 in the morning and rode in the dark for quite a while.
"It was beautiful to see the sun rise though. Then I met the club and did about a 100 miles with them, then did the rest on my own. I'm using roads in the Trent Valley a lot, riding up one side of the river and down the other. I rode to Scunthorpe twice on Sunday, I bet not many people can say that," he says.
Nutt hasn't stopped work while he takes the MTS challenge. His weekday routine is "70 kilometres before work then 120 afterwards, a bit more if I can. If I keep that up and do more at weekends I'll do a good total."
Explaining why he's doing it, Nutt says; "I ask myself that sometimes. I set off on my own and think what are you doing? Then you warm up and settle down and start enjoying it. It's a challenge too, it's seeing what your body is capable of."
We'll be catching up with Richard throughout the month to bring you news on how he's doing. You can follow Richard on his Strava page.
Thank you for reading 5 articles this month* Join now for unlimited access
Enjoy your first month for just £1 / $1 / €1
*Read 5 free articles per month without a subscription
Join now for unlimited access
Try first month for just £1 / $1 / €1