Surrey County Council to debate banning cycling on A24 because there's an adjacent cycle path
A driving instructor will be given three minutes to explain to the council why he thinks cyclists should be banned from a stretch of the A24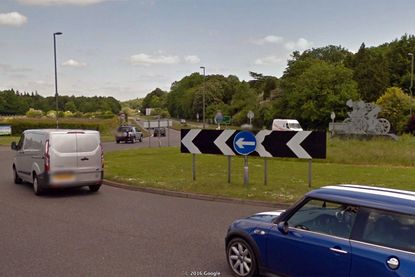 (Image credit: Google Earth)
Surrey County Council will discuss next week if cyclists should be banned from riding on the A24 between Leatherhead and Dorking.
A petition by driving instructor Martin Davies to prohibit cyclists from riding on the road has collected more than 300 signatures and so will be debated by the elected council on November 9, when Davies will have three minutes to explain his reasoning.
He says that because of the adjacent cycle path, there is no reason why cyclists ought to be on the road, and that they should instead be restricted to only riding on the dedicated path. He has called on the council to install no cycling signs on approach to the road.
>>> Cyclist killed in collision with lorry in London named as Italian prince
The petition, set up in August that provoked an angry backlash from local cyclists, pleads with the council to "make it illegal for cyclists to use the A24 dual carriageway between Givons Grove roundabout, Leatherhead and Ashcombe Road, Dorking".
The reasons he cites is because the road "is very dangerous for all road users, especially the cyclists" and that "there is a very good cycle lane off to both sides of this road that many cyclists already use therefore it is clearly fit for purpose."
>>> Lorries that pose a danger to cyclists to be banned from London
He also claims that it's "quite dangerous for anyone to cycle on a dual carriageway without any hard shoulder. The whole issue for me is that cyclists don't use the cycle paths that are set back from the road that are much safer for people to cycle on.
"I know I got a lot of abusive responses so it backfired a bit on me but it's all about their safety. If there are better cycle lanes this would make it safer for both cyclists and drivers."
Thank you for reading 5 articles this month* Join now for unlimited access
Enjoy your first month for just £1 / $1 / €1
*Read 5 free articles per month without a subscription
Join now for unlimited access
Try first month for just £1 / $1 / €1