Surrey's remedial work makes Leatherhead cycle lane worse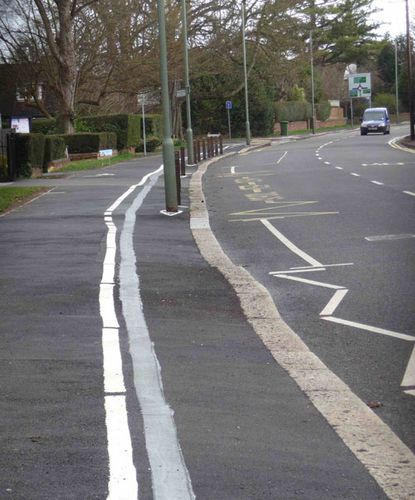 Remedial work has made a badly installed and potentially dangerous Surrey cycle path near a school a lot worse. The story and photographs of the Epsom Road, Leatherhead cycle path which falls well short of complying with government guidelines appeared
last week on Cycling Weekly's website
.
Surrey County Council blamed the contractor for placing the white line in the wrong place and acted quickly to remedy the situation.
But the original line has been painted out using a grey paint which on "a wet or damp day has a surface friction coefficient only slightly higher than black ice! "
That's according to the Mole Valley Cycling Forum. They say: "Overall there is not one centimetre of this route that meets any of the minimum standards in design guides specified in Surrey's contract documents."
Cycling Weekly who sent a reporter to the scene can confirm the painted out line was slippery to the touch on a damp day and poses a danger to cyclists and pedestrians alike.
Critics include the Chairman of Cycling England Phillip Darnton who was asked if he would tolerate such works in Woking, another Surrey town, designated a cycling development town.
After being invited to view the photographic evidence, Darnton said: "What a wonderful example of a piece of nonsense. You can be sure that the cycling towns are not doing anything like this! The whole point of the cycling towns is to ensure that we create convenient, complete and well joined up infrastructure not things like this. Clearly Leatherhead has got a lot to learn from Woking."
The cycle lane is positioned at the roadside edge of a wide walkway and verge and is intended to be two-way! Yet it is barely wide enough for one bike. Indeed, where it passes traffic lights at a crossing, barriers on the pavement reduced the original line to less than handlebar width!
Our reporter counted 18 posts standing in the cycle lane, which comprise street lights and other signs, along its length, estimated to be between 200 and 250 metres. Each of the posts has white chevron markings painted on the ground either side!
National guidelines for a one-way segregated cyclists/pedestrian route call for a 5-metre wide space to be equally divided, thus: 2-metre wide cycle path, or 1.5-metre absolute minimum. The Leatherhead cycle lane even it were one-way falls well short of this standard and it's two-way, remember?
Mole Valley CF say Surrey's engineers have shown little interest or knowledge in such guidelines.
There is a need, they say, for an independent inspectorate of roads, a UK wide enquiry into why so many Local Authorities continue to get cycle planning so wrong.
For Surrey is not alone in this. Across the country there is ample evidence of woefully inadequately designed cycling facilities. Reading in Berkshire has its fair share, too, inspiring the blog http://crapreading.livejournal.com/
Surrey's problems have not been confined to transport. The damning Frater report published in July 2009. though obstensibly concerned with the Children's and Adult's Services, said there was a "whole system failure" which needed fixing "organisation-wide". It described Surrey County Council as "superior and arrogant" in its dealings with partners and borough councils, "lacks vision, direction and strategy".
Before...
... After
On a more positive note, the author of the report concluded that from what " he has seen and heard from the new Leader and Chief Executive...the County Council would recover its position within a couple of years."
In the meantime, Mole Valley Cycle Forum say they were not consulted last year on the Leatherhead plans.
Cycling Weekly has requested comment from Surrey's engineering department and for council leader Dr Andrew Povey to respond to Cycling England's comments.
Related links
Is this the UK's most ridiculous cycle lane?
Thank you for reading 5 articles this month* Join now for unlimited access
Enjoy your first month for just £1 / $1 / €1
*Read 5 free articles per month without a subscription
Join now for unlimited access
Try first month for just £1 / $1 / €1
Keith Bingham joined the Cycling Weekly team in the summer of 1971, and retired in 2011. During his time, he covered numerous Tours de France, Milk Races and everything in-between. He was well known for his long-running 'Bikewatch' column, and played a pivotal role in fighting for the future of once at-threat cycling venues such as Hog Hill and Herne Hill Velodrome.