SUSTRANS CHALLENGES GOVERNMENT FIGURES WHICH SHOW DECLINE IN CYCLING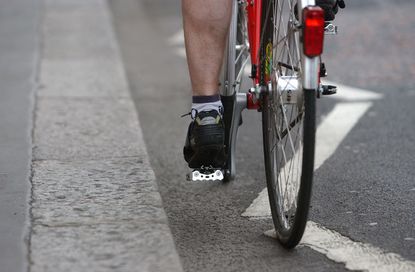 Here we go again. The Department for Transport is once again putting it about that cycling is in decline - a ?six per cent decline in cycling since 2006?. Can they be right? Where do they do their counts? Exclusively on thundering A roads?
Our own eyes, and bike shop sales, appear to tell us differently. Cycling is booming on all roads except, perhaps, on A roads. There are more cycling trips on the National Cycling Network than ever before.
And therein lies the problem. The DfT number crunchers don?t do traffic-free routes, where millions of journeys by bike and on foot are made every year. Sustrans, who created the NCN, have repeatedly asked the DfT to extend their monitoring to these routes.
DfT figures also show pedal cycle fatalities to have decreased by seven per cent from 146 in 2006 to 136 in 2007. That?s a decline we welcome, although strangely, it ties in the so-called decline in numbers.
But what are we to make of the DfT?s claim that the number of seriously injured cyclists has increased by six percent, from 2,296 in 2006 to 2,428 in 2007?
We should take no comfort that cycling is in ?decline? yet serious injuries are on the increase!
As Benjamin Disraeli is reputed to have said: ?Lies, damned lies and statistics.?
DfT turns blind eye to National Cycle Network
Adrian Cope, Director of Sustrans Research and Monitoring Unit, said: "The Department for Transport (DfT) doesn't take into account people cycling on those sections of the National Cycle Network that are free from motorised traffic, even though they continue to be our busiest - during 2007 these sections carried 82% of all journeys on the Network.
Sustrans own monitoring service on the NCN for 2007 provides interesting reading.
? Increase in number of trips from 2006 to 2007: 4.7%
? Total number of walking/cycling trips: 354 million
? The eighth year in succession that usage has increased (and it is growing much faster than network extending in length)
? Since 2000 usage has quadrupled (during same period NCN has grown from 5,000 miles to just over 12,000 miles)
? Those sections of Network that are free from motorised traffic continue to be the busiest. During 2007 these sections carried 82% of all journeys on the Network, even though they account for only a third of the Network overall
? However, the sections of Network that saw the most growth in usage during 2007 were those that are road-adjacent and on-road which saw usage increase by 6.5%.?
Thank you for reading 10 articles this month* Join now for unlimited access
Enjoy your first month for just £1 / $1 / €1
*Read 5 free articles per month without a subscription
Join now for unlimited access
Try first month for just £1 / $1 / €1
Keith Bingham joined the Cycling Weekly team in the summer of 1971, and retired in 2011. During his time, he covered numerous Tours de France, Milk Races and everything in-between. He was well known for his long-running 'Bikewatch' column, and played a pivotal role in fighting for the future of once at-threat cycling venues such as Hog Hill and Herne Hill Velodrome.