TALES FROM THE BROOMWAGON: FRIDAY, JULY 13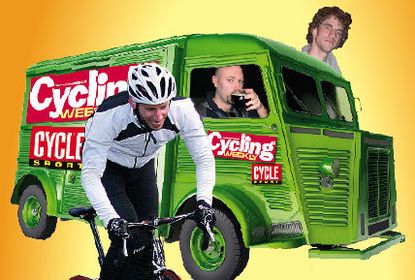 Get The Leadout Newsletter
The latest race content, interviews, features, reviews and expert buying guides, direct to your inbox!
Thank you for signing up to The Pick. You will receive a verification email shortly.
There was a problem. Please refresh the page and try again.
Friday
Day 7 - St Pereuse - Bourg-en-Bresse
Highlight of the day was undoubtedly Bradley Wiggins' epic breakaway although a truly magnificent meal of Bourg-en-Bresse chicken with pureed potatoes almost eclipsed it, to be fair.
After last year's disaster-laden trip, where we lurched from crisis to crisis, this Tour has gone worryingly well so far. All that has gone wrong so far is that a jar of cornichons, purchased to liven up the daily ham and cheese baguette, tipped over and leaked vinegary liquid all over the fridge. Even that smell was nothing compared to the milk which spilled into a concealed tray and set into a pungent cheese over the course of two days.
Having Sat Nav really helps. Fun, and occasionally satisfying, though map-reading is, it is far more easier to type your destination into the Tom Tom - or Doris as I call her - and listen to the soothing voice direct you left, right and straight ahead.
She's made the odd mistake, has Doris, but you can forgive her that when she saves you an hour driving one way then the other looking for a campsite.
We stopped in a little village called Givry in time for lunch and to hear from someone in the office that Wiggins was out on the attack and had a lead of more than 15 minutes.
Simon handed out a load of Wiggins face masks to the children at a primary school but, sadly, the sight of a couple of dozen little Brads was denied to us because they seemed more interested in the rubbish chucked out by the publicity caravan.
Brad gave us a wave as he passed us and our big board, which has the logo of our sister magazine Cycle Sport, painted on it. For a brief moment I was transported back to the great days of being purely a fan and, unprofessional though it may sound, I yelled encouragement as loudly as I could. Well, if you can't holler for a Brit who's out front on his own in the Tour, when can you?
It was probably inevitable Wiggins would be caught but as he crossed the line, three minutes down, he was mobbed by the Press corps, although he was hogged by a sycophantic French television reporter who was wearing a blue linen jacket, cravat and matching handkerchief in his breast pocket.
After he'd done another interview with French TV, I grabbed a couple of minutes with him. After a couple of minutes a woman in a Cofidis t-shirt came up to us and said "No more questions." Wiggins carried on talking. I started to ask another question. "No. No more," said the irritating, self-important public relations goon. "It's okay," said Wiggins, who, to his credit ignored her and carried on talking.
Everyone knows that the Tour de France is a hectic event and, with more than 2,500 media people on the race, demand vastly outstrips the time the riders have available.
But PR people make the matter worse. Instead of engaging in normal, grown-up conversation with a fellow human being, the PR people want to control journalist-rider relations. They want to dictate the number and type of questions. They are pre-programmed to say no. They do not listen to perfectly reasonable requests.
Many is the time when we've finally caught up with a rider who has been blissfully unaware of our requests for his time and the numerous rebuttals from these paid kill-joys.
They say that journalists - and sports journalists particularly - only write because they cannot take part. It is a jibe we take on the chin and, perhaps, there is an element of truth in it - although the days when I dreamed of riding the Tour de France died when I discovered I was destined only to be a very average teenage cyclist. Oh, and when I discovered the wonders of the pub.
But if we are frustrated sportspeople, what are the PR goons? I only ask because their behaviour so often smacks of jealousy and frustration that their lack of discernible talent means the only thing left to them is to embark on a power trip of such stultifying limitations.
Rant over.
Now to the chicken. Parts of Bourg-en-Bresse are pretty scrappy - the finishing straight was next to some very shabby looking appartment blocks - but the square flanked by the Hotel de France is a little oasis of pleasant architecture.
The region is famous for its chicken - the red, white and blue cockerel is even the symbol for the entire nation. The Hotel de France's taken on the famous poulet Bresse was amazing. I've never tasted chicken like it - not even at KFC!
It was seriously good. Think of the tastiest organic chicken you've ever had from the best farm shop you know and then distil the flavour to a powerful chickeny peak and you're almost there.
Now, if they could only make it into nuggets....
THE LOWDOWN
Where we stayed: Camping Municpal de Challes, Bourg-en-Bresse
Rating: 0 Tents. Worst. Campsite. Ever. Little more than a car park full to overflowing with camper vans. They claimed not to have received our reservation until we kicked up a bit of a fuss. The toilets and showers were grubby.
What we ate: The Bourg-en-Bresse chicken at the Hotel de France swooped in to save the day.
Kilometres driven: 221km (total so far 976km)
PREVIOUS TALES FROM THE BROOMWAGON:
Thursday, July 12: Nearly a week done already. And nothing's gone wrong
Wednesday, July 11: As days following the Tour de France in a lumbering camper van go, Wednesday was about as close to perfect as you can get.
Tuesday, July 10: Back to Pierrefonds, scene of the great missing dinner disaster
Monday, July 9: Half-wheeling, grumpy campsite staff and greasy takeaways
Sunday, July 8: The day when the Tour went to Kent, and the boys went to Ghent
Saturday, July 7: Three men in a sweaty, underpowered van following the Tour
Friday, July 6: Ignore all other imitations - this is the original Idiots In A Camper Van Tour blog
Thank you for reading 20 articles this month* Join now for unlimited access
Enjoy your first month for just £1 / $1 / €1
*Read 5 free articles per month without a subscription
Join now for unlimited access
Try first month for just £1 / $1 / €1
Get The Leadout Newsletter
The latest race content, interviews, features, reviews and expert buying guides, direct to your inbox!
Sports journalist Lionel Birnie has written professionally for Sunday Times, Procycling and of course Cycling Weekly. He is also an author, publisher, and co-founder of The Cycling Podcast. His first experience covering the Tour de France came in 1999, and he has presented The Cycling Podcast with Richard Moore and Daniel Friebe since 2013. He founded Peloton Publishing in 2010 and has ghostwritten and published the autobiography of Sean Kelly, as well as a number of other sports icons.