TALES FROM THE BROOMWAGON: WEDS, JULY 11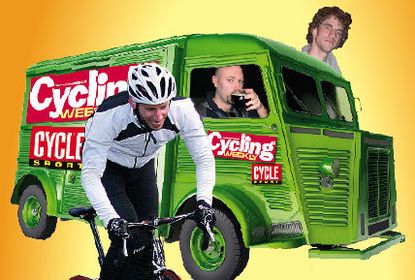 Get The Leadout Newsletter
The latest race content, interviews, features, reviews and expert buying guides, direct to your inbox!
Thank you for signing up to The Pick. You will receive a verification email shortly.
There was a problem. Please refresh the page and try again.
Wednesday
Day 5 - Pierrefonds - Avallon
As days following the Tour de France in a lumbering camper van go, Wednesday was about as close to perfect as you can get. Not everything went right, of course. For example we parked up next to a rotting fox carcass and at the end of the day we had to divert to a campsite some 60 kilometres away from our intended destination because it was getting late and certain people were becoming concerned about missing dinner.
But apart from that, we were alright.
We went to the start town in Villers-Cotterets and spent 40 minutes waiting for riders to emerge from their team coaches. After a few years covering bike races you realise there is only one strategy that works when it comes to trying to grab a word with riders before the start. There's no point buzzing around like a fly because you are guaranteed to be in all the wrong places at the wrong times and miss everyone. All you can do is wait.
Had a chat with Rolf Aldag, who was effusive about Mark Cavendish's ability to learn quickly. Towards the end of the conversation, I explained about Cycle Sport's I Support Drug Free Sport campaign and that his admission that he had taken EPO had been a courageous step.
"I wish I hadn't done it [EPO, not confessing]," he said. "When you are 40 years old you look back and realise your mistakes. I don't want these guys [the T-Mobile riders] to feel about their careers the way I do about mine."
"You can't change the past, but you can change the future," I said.
"Will you explain that to the German media, then? They won't let it go."
At this point two members of a German TV crew approached.
"Every day it's the same questions. I am happy to answer but it gets very tiring," Aldag added.
"Hey, give the guy a break, eh?" I said with a smile.
"We're just being thorough," said the German TV reporter.
"Well why don't you pop over to the Astana bus and ask what their policy is?" I replied.
After the crowds had cleared and we'd stocked up on food - and emergency tins of cassoulet for the Broomwagon - we headed down the motorway to catch the race towards the finish.
Again they were behind schedule so when we pulled up a couple of hundred metres from the 15-kilometre to go banner, they were still almost an hour away.
We had a first stab at setting up the satellite dish and, amazingly, we got a picture, although the only snag is that the living battery the television is supposed to run off is dead, so the engine has to be running for us to get a picture. That won't do much for our carbon footprint.
Simon was given a hand by a helpful French guy who told him which direction the satellites in the nearby village point, and that was a handy starting point.
We re-wrote our agenda when it became clear we wouldn't get all the way south to St-Pereuse before 9pm, so we detoured to Avallon and found ourselves in a plot next to a British camper van.
Dinner was an unexpectedly rich affair. Ed had snails and declared that "apart from one phlegmy one and one gritty one they were very nice". My view on snails is that anything that has to be drowned in that much garlic butter to make it palatable should be avoided. Simon had foie gras and I opted for the murettes d'oeufs Bourguignon, which turned out to be three cholesterol-busting poached eggs in Bourguignon gravy. It was unbelievably rich and I didn't dare finish my third egg. Ed had it instead.
The cheese course was pungent. One particular cheese - called Le Bullet which looked like a red volcano - tasted like farmyard, and had the sort of aroma that suggested it should be handled with radioactive proof gloves. Add to that a glass of Cognac and a beer that had to be downed very quickly because the taxi pulled up just as they were delivered to our table and it's fair to say we overdid it.
It was an uncomfortable night in the Broomwagon.
THE LOWDOWN
Where we stayed: Municipal du Roche, Avallon
Rating: Three tents, perfectly adequate in a lovely lakeside setting and with a very friendly and helpful owner
What we ate: An amuse bouche, eggs in gravy, duck breast, cheese. At the Hotel des Gourmets, Avalon
Kilometres driven: 295 (total so far 592km)
PREDICTION GAME LATEST
For those who are following the REAL competition in the Tour de France, it was another stage victory for Siimon. The rules can be found here.
In a nutshell, each player picks three riders and is awarded points equal to their finishing position. Player with the lowest number of points wins - 25 bonus points are deducted for picking the stage winner.
STAGE 4
Simon 22 points: Hushovd 1st, Zabel 4th, Eisel 42nd
Ed 30 points: Napolitano 5th, Seb Chavanel 9th, McEwen 16th
Lionel 39 points: Hunter 2nd, Cavendish 10th, Feillu 27th
Nigel 49 points: Forster 7th, Boonen 8th, Pozzato 34th
PREVIOUS TALES FROM THE BROOMWAGON:
Tuesday, July 10
Monday, July 9: Half-wheeling, grumpy campsite staff and greasy takeaways
Sunday, July 8: The day when the Tour went to Kent, and the boys went to Ghent
Saturday, July 7: Three men in a sweaty, underpowered van following the Tour
Friday, July 6: Ignore all other imitations - this is the original Idiots In A Camper Van Tour blog
Thank you for reading 20 articles this month* Join now for unlimited access
Enjoy your first month for just £1 / $1 / €1
*Read 5 free articles per month without a subscription
Join now for unlimited access
Try first month for just £1 / $1 / €1
Get The Leadout Newsletter
The latest race content, interviews, features, reviews and expert buying guides, direct to your inbox!
Sports journalist Lionel Birnie has written professionally for Sunday Times, Procycling and of course Cycling Weekly. He is also an author, publisher, and co-founder of The Cycling Podcast. His first experience covering the Tour de France came in 1999, and he has presented The Cycling Podcast with Richard Moore and Daniel Friebe since 2013. He founded Peloton Publishing in 2010 and has ghostwritten and published the autobiography of Sean Kelly, as well as a number of other sports icons.