Team GB pursuit riders answer fans' questions (video)
Philip Hindes's latest video sees Ed Clancy, Owain Doull and Steven Burke answer their fans questions ahead of the Rio 2016 Olympics. Keep scrolling for more clips in this videos of the week Olympic special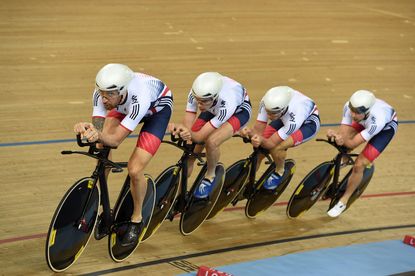 (Image credit: Andy Jones)
In this latest behind-the-scenes video from Team GB track sprinter Philip Hindes, he makes his way into the accommodation of the team pursuit squad.
With Ed Clancy as quiz master, Owain Doull, Steven Burke, Hindes and Clancy himself all answer questions that have been posted by fans in the comment sections on previous videos on Hindes's YouTube channel.
The Liège-Bastogne-Liège fact about Clancy is particularly interesting.
Reports have suggested that the pursuit riders, including Sir Bradley Wiggins, have broken the world record in their final preparations for Rio. If true, they could be on for the win which would gain Wiggins his fifth gold and eighth Olympic medal in total.
Bardet and Alaphilippe training in Rio
Fresh off the Tour de France, where they were on rival teams, Romain Bardet and Julian Alaphilippe have joined forces to compete for France at the Rio 2016 Olympic Games.
After his impressive second place overall at the Tour, Bardet will be one to watch for the win in the road race on Saturday August 6 as a course with climbing and a decisive descent will suit him as well as anyone.
In this video, Alaphilippe shows off his cyclocross skills with a ride, dismount and jump over a drainage ditch.
Drifting skills
https://www.facebook.com/KishayComputer1/videos/vb.411891885531368/1226365304084018/?type=2&theater
I dread to think how many tyres they get through in an average month, but these kids appear to be having a great time drifting their bikes.
Specalized's colour changing frame
I'm not sure what the practical purpose of a bike that changes colour could be, but this is still pretty cool.
The temperature reactive paint will be on some bikes used at the upcoming Olympics, where the daily temperature in Rio should be around the 22C mark that changes the bike's hue.
Your essential guide to the Olympic cycling events
The men's and women's Olympic Games road races take place this weekend, August 6 and 7, with the time trials following a few days later.
This video gives you the low down on the events ahead of Rio 2016 kicking off.
Team GB riders share their early Olympic memories
For athletes going to the Olympics, whether it's their first visit or not, will have memories from previous events thanks to the people they watched and were inspired by when they were younger.
They're not all cycling memories, either. Just mostly.
Thank you for reading 20 articles this month* Join now for unlimited access
Enjoy your first month for just £1 / $1 / €1
*Read 5 free articles per month without a subscription
Join now for unlimited access
Try first month for just £1 / $1 / €1