'Testing hasn't become irrelevant': WADA science director defends anti-doping process after Froome case
WADA's director of science defends anti-doping process in wake of Froome verdict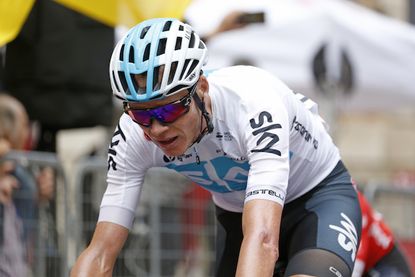 (Image credit: Yuzuru SUNADA)
Olivier Rabin, the World Anti-Doping Agency's director of science, has defended both the decision to dismiss the case against Chris Froome and the robustness of anti-doping controls, telling L'Équipe that "the elements provided justified the decision that was reached."
According to Rabin, "Froome provided a number of elements, some of which were specific to his case, such as the increase in concentration [compared to the tests undertaken in the preceding days], for example. There was, it seems, a worsening in his asthma due to an infection.
>>> Tour de France boss: 'We needed an answer on the Froome case, but it's a pity it came so late'
"He took a certain number of medicines to treat it and other elements linked to his diet were also taken into account, as were dietary supplements. And other things too."
Rabin explained that the medical and scientific evidence provided by Froome's legal team led WADA's experts to the conclusion "that his situation was not incompatible with taking salbutamol in therapeutic doses."
He added that the details would be sent to the WADA's listing committee, which will assess whether threshold levels for the salbutamol test need to be adjusted. "We think the rules are right," he insisted.
Rabin also affirmed that all athletes are treated in the same way when anti-doping cases arise. "We take it case by case and treat everyone in the same fashion. The elements provided justified the decision that was reached," he said. "We have to avoid condemning an athlete and then finding out later that it was a mistake."
Although there have been widespread claims that the anti-doping process has been severely damaged by the Froome case, Rabin is adamant that anti-doping testing hasn't become irrelevant. Quite the opposite, he stated.
"Tests do have their limits and have to be combined with collecting intelligence and inquiries. However, if one single case cast doubt on a rule or a whole system that would be worrying," said Rabin.
Speaking to the Press Association's Matt Slater, Rabin underlined that Froome's case was not unprecedented.
"It's not a unique case but because it was Froome, a sporting celebrity, and it was put in the limelight, it appears to be unique," he explained.
"We deal with all cases on an individual basis and I have personally dealt with several in the past. Yes, there are elements of this case that are fairly unusual but I can assure you it is not unique."
Thank you for reading 10 articles this month* Join now for unlimited access
Enjoy your first month for just £1 / $1 / €1
*Read 5 free articles per month without a subscription
Join now for unlimited access
Try first month for just £1 / $1 / €1
Peter Cossins has been writing about professional cycling since 1993, with his reporting appearing in numerous publications and websites including Cycling Weekly, Cycle Sport and Procycling - which he edited from 2006 to 2009. Peter is the author of several books on cycling - The Monuments, his history of cycling's five greatest one-day Classic races, was published in 2014, followed in 2015 by Alpe d'Huez, an appraisal of cycling's greatest climb. Yellow Jersey - his celebration of the iconic Tour de France winner's jersey won the 2020 Telegraph Sports Book Awards Cycling Book of the Year Award.