Tour de France boss: 'We needed an answer on the Froome case, but it's a pity it came so late'
Tour de France race director Christian Prudhomme reacts after Chris Froome is cleared in anti-doping case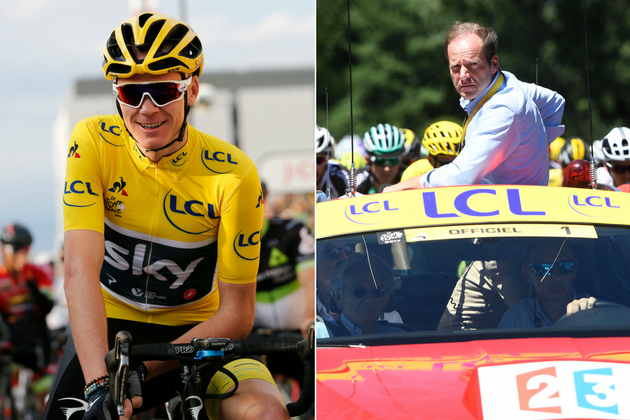 (Image credit: Yuzuru Sunada)
The Tour de France director says that an answer was needed in the Chris Froome asthma drug case, but that "it's a pity it came at the last moment."
The UCI cleared Team Sky's Grand Tour star of any wrongdoing, leaving him free to race the 2018 Tour de France without an anti-doping investigation hanging over his head. It comes just one day after news leaked ASO told Team Sky they had to leave Chris Froome home because he risked damaging the Tour de France's image.
"We were waiting for a decision," race director Christian Prudhomme told AFP. "We were told that he did nothing wrong, so we won't continue [trying to block him]. Especially after nine months of the best experts studying the case.
"It is really a pity that the decision arrives so late, especially in the aftermath of the leak in the media of our challenge."
>>> 'An important moment for cycling': Chris Froome ready to 'move on' after UCI closes anti-doping case
Sky and Froome were planning to challenge the ban in the French Olympic Committee court on Tuesday, something that is no longer necessary. The move by ASO had appeared strange, especially since Froome at the right to race under the UCI's rules.
"It was because we had no answer in the early days of June and that the president of the UCI was pessimistic about the possibility of having a decision before the start of the Tour that we decided three weeks ago to proceed with the challenge," Prudhomme continued.
"We did not do so to just throw oil on the fire in a climate where we could feel hostility rising."
The Froome case started on September 7, after stage 18 of the Vuelta a España when Froome tested over the allowed concentration for asthma drug salbutamol. He went on to win the race overall.
Over the nearly nine months, legal papers went back and forth and experts studied the data. Froome could race in the meantime due to the rules on specified substances. Froome raced and won, becoming the first British rider to win the Giro d'Italia in May.
>>> Everything you need to know about Chris Froome's salbutamol case
"I want to say: what a waste! All that time for that! From the outset, I expressed myself as director of the Tour and also president of the association of race organisers," Prudhomme explained.
"The rules must change, they are adapted to the legalities but not to the general expectations. In such cases, it is necessary to have a temporary suspension without prejudging the guilt in order to avoid these doubts and suspicion.
"Very important measures have been taken by the David Lappartient such as moving to ban tramadol and corticosteroids. We have to go further."