The Aerovelo Eta is officially the fastest bike ever (video)
It reached speeds of over 85 miles per hour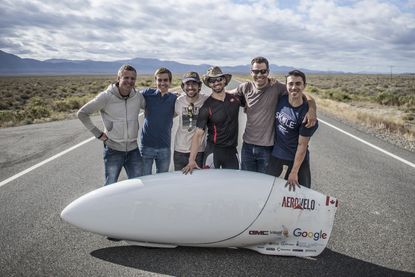 A team of Canadian engineers has broken the human-powered land speed record at the annual World Human Powered Speed Challenge.
The AeroVelo Eta bike reached 85.71 miles per hour on Thursday September 17, this is 2.58 mph quicker than the previous record set by a Dutch team in 2013.
In the next two days, the team went on to record speeds of 86.6 and 86.65 miles per hour.
The record run was completed by Todd Reichert who can now also claim the (dubious) title of fastest human alive.
>>> How to make the fastest skinsuit in the world
The bike was designed by engineers from the University of Toronto and features a recumbent riding position and aerodynamic shell that produces 100 times less drag than a modern car. The vehicle is surprisingly heavy - at 11 kgs - but it does go to show the effect of superior aerodynamics.
This is how much faster an aero bike can make you
The shell is completely enclosed so Reichart has to navigate using a camera hooked up to a television screen inside the cockpit.
The run was carried out over a five mile stretch of highway at Battle Mountain in Nevada, with the speed recorded over a 200 metre portion of the road. The Eta was designed to reach speeds of 86.992 mph (140kmh) and although the team didn't quite reach it this year, they will no doubt be keen to smash that barrier at next year's competition.
https://youtu.be/syJq10EQkog
The AeroVelo team is also responsible for the longest human powered flight. Its Atlas helicopter recorded a 64 second flight at an altitude of 3.3 metres.
Of course other cyclists have gone faster in the past. Most notably, Bruce Bursford reached 207.9 mph on his Millennium Cycle in 1999 but he was on a treadmill and had to be towed for the first 100mph.
Thank you for reading 20 articles this month* Join now for unlimited access
Enjoy your first month for just £1 / $1 / €1
*Read 5 free articles per month without a subscription
Join now for unlimited access
Try first month for just £1 / $1 / €1