The all new Cycling Active is out now
What's new for the October issue of Cycling Active.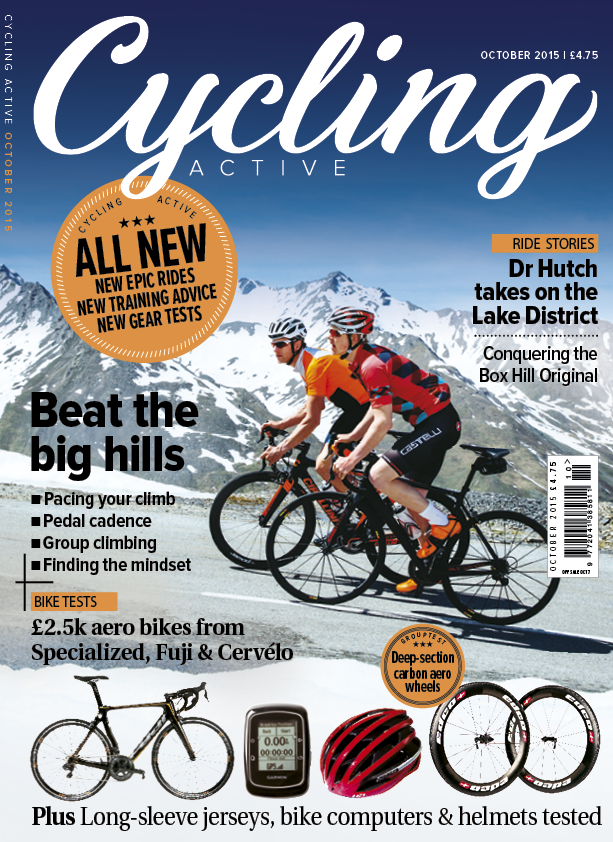 Dedicated to serious British road cyclists the new mag has the best road bikes, accessories and kit on test, the best ride stories in the UK and abroad, the best training plans and the most extensive knowledge for fuelling your ride.
Cycling Active magazine October 2015 is on sale from September, 09 at WHSmith, major supermarkets and all good newsagents priced £4.75.
Download the digital edition
What inside this issue…
Regulars
Big Picture: RideLondon 100
Event News
Your Rides
5 Things I've Learned: Sir Chris Hoy offers his pearls of wisdom
Hardware: 11 products to use
Software: 12 products to wear
N+1: Pinarello Dogma F8
Most Wanted: Oakley Jawbreaker
Great Moments: Les West wins the 1965 Milk Race
Bike Maintenance: How to clean your bike... properly!
Calendar: Dates for your ride diary
My Toughest Day: Marianne Vos
Columnists
Old School: How Simon Warren became addicted to cycling
New School: Why newcomer Brett Lewis is a slave to Strava
Event Rides
Ride of the Fallen Leaves: Michael Hutchinson takes on 2,159 metres of climbing in the Lakes
Box Hill Original: Surrey's most popular sportive route offers a real challenge
Road-Tested
Grouptest: £2.5k aero bikes: Fuji Transonic 2.1, Specialized Venge Elite and the Cervélo S2
Grouptest: £1.5k endurance bikes: Cannondale, Trek, Scott, Fuji and Specialized slug it out
Grouptest: Aero wheels: 7 of the best hoops fight it out
Grouptest: Helmets: 10 different lids assessed
Tech Investigates: Is it time to ditch the compact chainset, asks Henry Robertshaw
Grouptest: Long-sleeved shirts: Which is right for Autumn riding?
Grouptest: Cycle computers: Bar-mounted tech reviewed
Training + Fitness
Training + Fitness News: Heart rate insight, soft drink ban, and new Pain Cave column
October Training Plan: This month's plans explained
Your Challenge training plan
Your Epic training plan
Beat the big hills:Hill-climbing philosophy and technique explained
Nutrition: Nitrates explained plus two great beetroot recipes
Caffeine: Can it make you faster? Plus five caffeine gels on test
Interview: Behind-the-scenes with top Tour team chef
If you would like to receive more information on the all new Cycling Active click here
Cycling Active magazine October 2015 issue on sale from September 09 at WHSmith, major supermarkets and all good newsagents priced £4.75.
Download the digital edition here.