Riding the rolling hills of Tuscany on the Gallo Nero Grand Fondo
John Walsh previews the route of an Italian Gran Fondo, taking in the rolling hills of Tuscany along with some delicious regional sustenance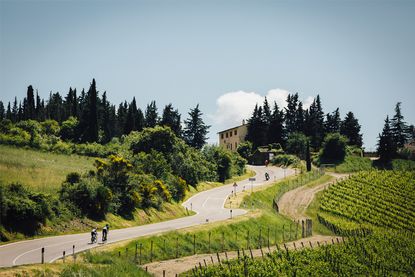 Looking at the route profile confirmed what I had seen from the car window driving to the start — it was going to be a day of multiple ups and downs. The scenery around Radda in Chianti is typically Tuscan: rounded hills dotted with olive groves and lines of cypress trees. Stunning to the eye but hard on the legs.
Today's ride is the route of the Grand Fondo Gallo Nero. It is a very hilly route with 3,384 metres of height gain in a little under 150 kilometres of riding and I am joined by some local expats.
>>> Five invaluable tips to help you step up from riding 60 to 100 miles
Sean is British, Kevin is American and Brett hails from Canada. Sean and Kevin have both ridden the Gran Fondo before.
Radda in Chianti is one of five main towns in the Chianti region. It is a pretty hilltop town with expansive views and many medieval features. It can be busy during the day at the height of the tourist season but is peaceful in the evenings once most of the day-trippers have departed.
It is a popular destination for cyclists. Numerous tours and cycling holidays come through here and it is also close to the route of L'Eroica, the vintage bike race that takes place every October and is now a permanently marked route, taking in the infamous strade bianche, the hallowed white roads of Tuscany.
>>> Eroica rides: The growing popularity of retro bikes
It also formed the start of the stage nine time trial in the Giro d'Italia this year. As we roll out I admire Kevin's bike, in particular the writing on the chainstay "Mangia. Beve. Bici." which translates as "Eat. Drink. Ride." Not bad advice.
The drink part is particularly pertinent to today's ride as our route takes us through numerous vineyards. I'm looking forward to the glass of Chianti that I'm hoping to sample and some hearty Tuscan food, but we have to earn it first.
As we hit the first climb of the day, within a few minutes of starting, it becomes apparent that living in the Tuscan hills has developed Sean and Kevin's talent for going uphill.
"You have to enjoy climbing if you live here," explains Sean. "It's virtually impossible to do a flat ride unless you cut through the hills and head for the coast." Kevin, it turns out, takes "enjoying climbing" to a whole new level.
>>> Should you hire a bike or take your own when you go abroad?
He has completed a series of 'Everests', and has the honour of being the first to successfully Everest Porlock Toll Road in Exmoor and both sides of Bealach na Bà in the Scottish Highlands.
If you are not familiar with this latest cycling craze it is where you climb the same hill repeatedly within a 24-hour period until you have climbed the total height of Mount Everest.
If I'm honest I can't entirely understand the desire to ride the same hill repeatedly. I would rather follow a route and enjoy the journey.
It is not that I am against climbing but I'd rather ride through changing landscapes to gain my vertical metres. Kevin explains that part of the fascination is seeing how your body and mind changes over time.
>>> Hot drinks can be better than cold drinks for cooling you down when cycling
"The road remains the same but how you feel and how you relate to it changes constantly," he says.
To Everest Bealach na Bà is barely short of insanity. I have done it once and that was hard enough. Kevin completed an Everest on one side, then went back to do the other.
"We had a headwind the first time we did it and we thought approaching from the other side, with the sea at our back, would give us a tailwind. We picked the wrong day and ended up with a headwind on the other side as well. The locals told us that there are only one or two days a year when the wind blows from that side, so we were really unlucky!"
Things to know
Getting there:
Radda in Chianti is a two-hour drive from Pisa airport, which is well served with flights from the UK, including BA and EasyJet. Florence airport is just over an hour by car, there are direct flights from London City Airport and London Gatwick with Cityjet, BA and Vueling. The final part of the journey into Radda in Chianti is winding and hilly so allow plenty of time to drive.
Accommodation:
We stayed in Il Boschetto, a three-bedroom detached villa, sleeping six, with private pool, set among the vineyards just outside Radda.
Bookings are now open for 2017 and the villa costs from £995 to £1,588 per week, depending on season.
To-Tuscany has a selection of handpicked villas in the area: 0121 286 7782 or to-tuscany.com (opens in new tab)
Bike shops:
It is possible to hire good road bikes near to Radda in Chianti. Tuscany Bicycle in nearby Gaiole
in Chianti offer a range from Bianchi (tuscanybicycle.com).
In Radda-in-Chianti there is a small shop offering some basic spares and a wide range of cycling souvenirs and kit.
A tale of two cockerels
The first part of our ride is far more wooded than I'd expected from Tuscany — deciduous trees crowd overhead providing some useful shade. It's hot but not unpleasantly so and the gradients allow us to slot into a steady rhythm.
I'm at the top of my cassette but spinning nicely; it's steep enough to require work but it's not biting, at least not yet.
>>> 16 ways to stay motivated through autumn and winter
We reach a stretch of road that seems quintessentially Italian, it has it all, the lines of Cipressa, a squat stone building in warm buttery tones and lines of vines.
At the end of each line an artist has painted imagery onto a large stone, there is a woman carrying a basket of grapes, a donkey and the ubiquitous black cockerel, the Gallo Nero that this event is named after and the symbol for the Chianti region.
Sean encourages Kevin to tell us his story of how the black cockerel gained significance in the area.
>>> Taking an end of season break from cycling: the effects and benefits explained
In the Middle Ages there was a huge amount of rivalry between Sienna and Florence. The Chianti region lies between the two and our route dips into both.
To bring an end to the battles with as little bloodshed as possible, the two cities decided to settle the disagreement of the boundary in a competition between two knights.
It was agreed that the knights were to set out on horseback from their respective cities at 'cock-crow' and where they met is where the frontier between the two republics would be.
>>> What's the next big thing in training?
The people of Sienna raised a large white rooster that they fed all the best food till it grew fat. The Florentines chose a black rooster and never fed him.
On the day of the race, as he was starving, the black rooster started to crow before dawn. The Florentine knight set out earlier than the Siennese knight and they met at Fonterutoli (where Kevin now lives) just 12km from Sienna, leaving almost all of the Chianti region under the rule of the Florentine republic.
The black cockerel has remained the emblem of Chianti since and now appears on bottles of Chianti Classico red wine.
>>> Is cycling the toughest sport?
Having told us the story of the cockerel Kevin took us on a slight detour of the route to ride through the old village of Fonterutoli.
Quaint and picturesque, there is little there besides the church and the enoteca — wine shop — but our flying visit through the narrow alleyways between old buildings was full of charm.
Gran Fondo etiquette
Having conquered the first loop of the figure of eight, we passed back through Radda in Chianti and took advantage of this opportunity for a quick lunch.
The perfectly cooked pasta al funghi and short, sharp espresso I hoped was enough to get me through the second loop of the ride, which we were warned started with a really tough, steep climb.
>>> What to pack for every sportive (video)
While eating we chatted about the difference between a British sportive and an Italian Gran Fondo. At the front of the field a Gran Fondo is very much a race with well-supported teams and sponsored riders fighting fiercely for the win.
There are cash prizes and huge amounts of prestige for successful riders. There are also rumours of doping programmes and cheating.
>>> Lose weight through cycling: Lighter and faster in four weeks
The second part of the field is more akin to the bulk of UK sportive riders, but you still need to be confident riding in a pack and be prepared for the hard, fast starts.
When I mentioned the leisure riders who do UK sportives, and how I occasionally see riders in football shorts and tennis shoes, the Italian riders were genuinely shocked; this would not happen in a Gran Fondo.
Cumbrian-style climbs
With the pasta and coffee tucked away and fresh water in our bottles, it was time to head back through Radda and out onto our second loop.
The first loop had a lot of climbing but at gradients that felt relatively easy. A very short descent takes you out of Radda and then almost immediately the road begins to climb.
It's steep, far closer to what I am used to in the Cumbrian hills than anything we'd ridden so far in Tuscany. And it goes on, and on.
>>> How to prepare for an overseas cycling event
We soon get split up across the hillside, but with the taste of pasta and espresso threatening to rise back up my throat all I can do is keep my nose to the front wheel. This is not a climb to tackle at any pace but your own.
Two big sweeping hairpin bends provide a brief respite and I pedal my way around the flattest outer edge but it barely eases the pressure. We regroup at the top where there is a left-hand turn and brief descent before it kicks up some more all the way to the true summit.
The shorter route avoids this — something at times I thought I should have done, my other advice is don't eat lunch first!
>>> Are you addicted to cycling?
With the climbing over we are rewarded with a long, lightly wooded shady descent. It's the longest of the day and enough to lull me into thinking the worst is over, but I am wrong.
We all ease off the pressure and the pace becomes more leisurely. There are a few places that my hosts want to show me on the final half-segment of our loop.
Chewing the fat
First of our tourist stops is Greve-in-Chianti and the finish line of the Giro d'Italia time trial. We stop in the wide cobbled square and take pictures of each other with pink bikes and bunting in the background.
Our route then starts to trace the time trial route backwards towards Radda in Chianti. As we leave the town on a wide road I note that the town has reined the budget in on its hosting duties by only laying fresh tarmac on the half of the road that the racers would have used — our half is still lumpy and furrowed!
>>> Can you buy your way to a fitter you?
The time trial had a downhill finish — in reverse this means we have a long climb back up towards Radda, it undulates slightly and there are sections of false flat but the trend is ever upward.
The road in this second half is busier, but also slightly wider and the scenery is less wooded. Brett points out to me the villa where Kenneth Branagh filmed Much Ado About Nothing.
As the road curves above we look down on its classical lines and formal tree plantings — this is one of the places that formed our perception of Tuscan looks.
Sean and Kevin pull ahead on the climb, leaving myself, Brett and Hannah to bring up the rear and admire the scenery.
>>> Listen to your body: don't ignore the warning signs of injury
As we pull into the village of Panzano, Kevin directs us off the route up a side street. It's late in the day and I'm not altogether keen on this extra detour but he assures me it is something I will want to see.
I suspect, and hope, for ice cream but instead I see Sean beckoning from inside a butcher's shop.
I am greeted by a larger-than-life butcher who shakes my hand, grabs Hannah for an embrace and enthusiastic smack of the lips on each cheek.
Sean hands me a glass of Chianti and indicates the table of dried meats to try. It is the strangest butcher's shop I have ever been into.
>>> 13 ways to increase your average cycling speed
The shop's stereo is pumping out rock music and there is a party atmosphere. While we are eating our dried meats — the best I have ever tasted, being both moist and deeply savoury — a tourist couple come in to grab their pictures with the mad butcher.
Dario Cecchini is passionate about food, an excellent butcher and welcoming host. Next door to his shop is a restaurant that serves pretty much meat and meat alone.
There is a drawing of a cow showing where each cut comes from and the names of dishes are blunt and to the point. Hannah giggles and points to the one where the meat is cooked with "Rosemary up the arse".
>>> Interval training: An essential guide for cycling performance
Brett comments that this sounds like the title of a Nine Inch Nails track. The meat we try is phenomenal; rich, dense fatty lumps of sausage are celebrated and drooled over.
Admittedly I am a dedicated carnivore but even vegetarians can be won over by the passion for meat in its tastiest and purest form.
Sean confirms this with a tale about taking a client for dinner who abandoned her vegetarian principles and announced it her best meal ever!
>>> Eat like you train: Periodised nutrition
I'd happily stay to drink wine and eat until I had to be rolled back onto my bike but unfortunately the rest of the group are suggesting it's time to head for home.
Panzano is luckily the top of the hill, giving me a little bit of descent to continue to savour the tastes before I have to start riding properly again.
A feast for the senses
With only a few kilometres to go, the road continues its upwardly undulating ascent toward Radda. We lose Kevin as he peels off back towards home and the remaining four of us take a few steady turns at the front but the long miles and sip or three of red wine has blunted any desire to go faster.
We still have the final sting in the tail to contend with, the very last little climb that takes us up into the town itself.
>>> Going the extra miles: how to train for and complete an ultra-distance sportive
For those racing the Gran Fondo this becomes a challenging sprint finish all the way into the old town. I'm happy to roll in gently at the back after a satisfying day in the saddle with my stomach rumbling.
The only thing now that could make the day even better is a big steak and a glass of Chianti Classico.
The motto on Kevin's bike is, "Eat. Drink. Ride." Today we have done all three.
Thank you for reading 10 articles this month* Join now for unlimited access
Enjoy your first month for just £1 / $1 / €1
*Read 5 free articles per month without a subscription
Join now for unlimited access
Try first month for just £1 / $1 / €1