Eroica rides: The growing popularity of retro bikes
Eroica Britannia's the perfect showcase for the burgeoning vintage bike scene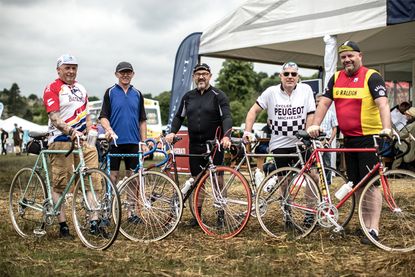 And they just keep coming, one carefully preserved or lovingly restored classic after another. Bikes with such lustrous paint, so buffed you can see your soul in them.
Glittering chrome, polished aluminium, bikes with history and pedigree from all over the world, each with a proud owner in heroic wool or period tweed.
This is Eroica Britannia in Bakewell, Derbyshire, and I volunteered to help judge the Best in Show. I just didn't expect there would be so many, and that they'd all be so good. Luckily, I've got help.
My fellow judges are collector, dealer and organiser of Eroica California, Wesley Hatakayama, and Dave Marsh, owner of the Universal Cycle Centre in Maltby, South Yorkshire and a man at the heart of the growing interest in retro bikes in the UK.
>>> Eroica Britannia: A weekend of retro bike fun in photos
But first, what do we mean by retro bikes? The Eroica definition is a good one.
There are a number of retro bike events around the world, but l'Eroica (the added l' confers its full Italian title) is the flagship. Eroica means heroic in Italian, and l'Eroica is held on the strade bianche (white roads) of Tuscany.
It harks back to an age when all roads were hard-packed stone or cobbles, and races on them were struggles that fired the imaginations of bike fans who, with the help of the press, endowed competitors with heroic status.
The spirit of Eroica, and therefore its definition of a retro bike, embraces racing up to the advent of clipless pedals, integrated brake and gear levers, and concealed brake cables.
Essentially it's steel with a scattering of aluminium bikes, and interest in these bikes has grown rapidly over the last few years.
The Eroica brand has been leased by its Italian owners to events in Spain, the USA and the United Kingdom, and there are many other retro events like Retro Ronde in Belgium and La Superba in Italy.
But when did interest in retro bikes start to grow in the UK?
Jumble roots
Dave Marsh says he saw it happen: "There were always a few people interested in retro bikes, but it started to grow in 2002 when cycle jumble sales popped up around Britain. They gave people the chance to build the bike they'd wanted as kids but couldn't afford to, bikes like the pros raced on, but the rest of us only dreamed about having."
As more bikes were restored — European marques like Bianchi, Gios, Colnago, or the many British ones like Raleigh, Carlton, Gillott, Hetchins or Holdsworth — more people saw them, and they liked them.
There's a romance about steel bikes that carbon-fibre doesn't have, according to William Alves. He hires out restored bikes through Glory Days in Bakewell, which he calls "a hobby that got out of hand".
He says steel bikes are practical, but that isn't the main reason interest in them has grown: "A steel bike is comfortable to ride, easy to repair and will last forever, but it's more than that. Every steel bike has a story, they were made by somebody, and often for somebody. The tubes were carefully cut by hand, joined by hand and finished by hand."
Alves has a fleet of steel bikes now, which are booked out well in advance for retro events. Does he have a favourite?
"Oh, that's like asking me to name a favourite child," he says, but adds, "Yes I have. We specialise in bikes from British frame builders, especially local ones like JF Wilson, Vernon Barker and Rick Powell, but my favourite is my Bill Nickson. It's so light and comfortable, and it works wherever you go."
Don't let age slow you down
Growing business
So now, as well as former club racers who've perhaps built the dream bike of their youth, newcomers to cycling, old and young, have got into retro bikes.
They like them for their aesthetics, for their history, and, in the case of many newcomers for their connection with the heroic past that's part of a marketing strategy a number of companies use.
Old racing bikes definitely have a 'Rapha factor'. And that more than anything has led to events like Eroica Britannia, where people can get dressed up, show off their bikes, buy retro kit and share a common interest.
>>> Icons of cycling: Reynolds 531 tubing
Retro bikes are not big business yet (and maybe that's part of their appeal), but they are an established phenomenon, and a growing one.
You can still pick up a cheap bike on eBay from somebody who just wants rid of it, but Marsh says his customers often "spend up to £1,000 on buying and restoring a lightweight frame, and maybe another £1,000 on getting the right equipment".
That's how a lot of people do it. "You don't often see a complete bike with all the equipment from the same era; something will have broken and been replaced by something new," Marsh explains.
"For me getting it authentic is an important part of the process, and it was certainly a factor when I judged the Eroica bikes this year.
>>> Cycling quiz: Name these nine riders from the 70s
"We've restored '40s and '50s bikes, but the most popular years are '60s and '70s, with a growing interest in the 1980s," Marsh adds.
Retro shop
Brian Reid is another who noticed the trend and got ahead of it — he's opened a retro bike shop in Banbury, Oxfordshire called Golden Age Cycles (opens in new tab).
"It's open two days a week at the moment, Wednesday and Saturday, while I'm still working as a teacher, but I'm hoping it will grow to be full-time," he says.
Recent experience suggests it might. "We took about £5,000 last week, but we only opened on January 19 this year, so I don't know yet if it's going to be a seasonal business," he points out.
Reid has identified two groups of customers. The first is interested in retro bikes for their look and their history.
"Old steel bikes look very different to modern carbon-fibre ones. There's such craftsmanship in them, and the colours are much deeper and brighter than you can get with carbon-fibre," he says.
The second group are after the bike of their youth. "You get people who are fiercely loyal to their local frame builder. It's a better identifier of where they come from than an accent."
>>> Eroica Britannia: A unique event
He's also identified three price bands, and thinks bikes in the middle and upper bracket could be great investments.
"A basic old steel bike, one that will be nice to ride day after day, will come in at about £150 to £300. Enthusiasts' bikes are between £600 and £1,200. And the show bikes, bikes that will be hung on office walls, can be anything between £2,500 and £6,000.
"I try to stick with British brands, and I've noticed Hetchins are going up in price at about 50 per cent per year. That's better than you can get from any bank," he adds.
It looks like interest in retro bikes is here to stay. Eroica Britannia is certainly not going away. It changes venue next year but promises to be bigger and better than ever, with maybe more than the record 4,000 riders who took part in the Sunday rides on their retro bikes.
Those who deal in retro bikes are experiencing a big upsurge in interest. Will it be long before 50 per cent returns on bikes like Hetchins encourage outside interest, making retro steel bikes very collectable indeed?
John Capelin's Falcon
"I've had this bike [left] since late 1982 when I joined the Hull Thursday cycling club, which was sponsored by Falcon Cycles. I joined a bit late in the year and all the other sponsored riders had ordered their stuff from Falcon, but I already had a Rossin frame, which is what this is, so they removed all the obvious Rossin marks and resprayed it as a Falcon.
"It's got all Campag Super Record equipment, and we were even given the Mavic SSC grey rims that weren't on sale at the time, only the pro teams got them. I was able to keep the bike because I stayed with Hull Thursday, off and on, for a while, and back then the value depreciated each year. I'm rubbish at selling bikes so it's been in the loft for years. I cleaned it and rode Eroica on it this year. I've been offered £3,500 for it, and I'm wondering whether to sell it."
Ian Faulkner's Carlton
"My bike is a Carlton Criterium made in October 1979 — you can tell that from the frame number. I bought it because it was the last bike I had as a teenager. I saw it advertised in Gloucester and I live in Essex, so it was a bit of a journey to get it. It cost £110.
"Coming up to my 50th birthday, my brother suggested we restore it. We stripped it down to nuts and bolts, and I spent another £500 getting it to look like it does now. I wouldn't get that if I sold it, but I won't sell it. I joined a couple of Facebook groups, Carlton Cycles of Worksop and Carlton Cycles Restorations, and they were very helpful in sourcing stuff and sorting any problems."
Derek Davis's Holdsworth
"This is the Holdsworth Pro that I had made for me when I was a schoolboy racer with the Southend and County Wheelers in 1972.
"It was yellow and black then, but when I decided to do it up, which was a few years before Eroica, I had it resprayed in the Holdsworth-Campagnolo pro team colours.
"I didn't follow a football team when I was young, it was pro cycling teams, and Holdsworth-Campagnolo was my favourite.
"It's got most of the original equipment it had, Campagnolo Nuovo Record and Super Champion rims, but I didn't have the Campag brakes.
"Then with the advent of eBay I could buy the bits I couldn't afford as a kid, and I got the Campag Record brakes for it.
"I've got a few more steel bikes, and in June this year I rode up Mont Ventoux on my Gillott."
Geoff Tatton's Gerber
"My bike is Swiss, a 1981 Gerber made in Oftringen with Columbus tubing and equipped with Campagnolo Super Record, all date-stamped 1981. I bought it in 2013 from Velociao in Berlin for 1,150 euros. I don't know what it's worth now.
"I raced during the 1960s and '70s and bought a Basso steel bike a while back because it looked like the bikes I raced on. Then I saw this one, and it's just so elegant I had to buy it. Thing is, it's addictive. I've now bought an old Carlton, and two friends have bought old steel bikes.
"We go out together and stop at a cafe, and you won't believe it but you can put a £10,000 carbon bike next to ours and nobody takes any notice, they all crowd around our bikes. The cafe owners told us recently that we'd got a lot to answer for because they've bought old bikes too and are doing them up, paying £100 for authentic pedals, and stuff like that."
Simon Head's Raleigh
"I was so shocked to win the Best Bike in Show prize at Eroica with my dad's Raleigh Record Ace (RRA). I'm not a bike restorer, but in researching and restoring the bike to what it was when my dad rode it, I suppose I've become one for this very special model.
"My dad was the youngest of three brothers who were all very keen cyclists. I think the bike was a hand-me-down from his brother Arthur, and it's one of the first RRAs, made in late 1947 or early 1948. RRAs had special components made for them.
>>> Read more about Simon Head's Raleigh (opens in new tab)
"After he stopped cycling, the bike followed my dad from house to house, and the frame always hung in the garage. After he died I decided to restore it. I found most of the components in a box in the garage, but had to source others like Conloy rims. I ride it a lot, and I have been offered £6,000 for it, but I won't sell because it's my bond with my dad who enjoyed riding it so much."
Thank you for reading 10 articles this month* Join now for unlimited access
Enjoy your first month for just £1 / $1 / €1
*Read 5 free articles per month without a subscription
Join now for unlimited access
Try first month for just £1 / $1 / €1
Freelance Journalist & Author
Chris has written thousands of articles for magazines, newspapers and websites throughout the world. He's written 25 books about all aspects of cycling in multiple editions and translations into at least 25
different languages. He's currently building his own publishing business with Cycling Legends Books, Cycling Legends Events, cyclinglegends.co.uk, and the Cycling Legends Podcast