Going the extra miles: how to train for and complete an ultra-distance sportive
The century ride is old news - distance-lovers have upped the ante to 150 miles and beyond. Simon Schofield explores the appeal of going very long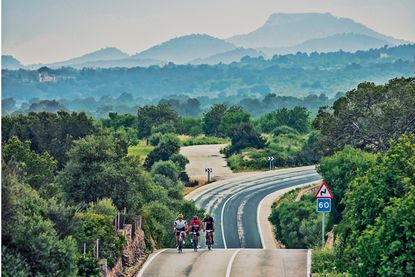 As the sportive scene matures, more and more riders are looking for a bigger challenge.
Organisers understand the value of marketing the magnitude of their cycling events, many focusing on the toughness of the route.
Often the chief selling point is the hills — their number, size and steepness — but a new trend is emerging where the challenge is not merely the climbs but also the enormous overall distance.
>>> Five invaluable tips to help you step up from riding 60 to 100 miles
What's the special allure of the super-long sportive, what extra demands does it make on fitness — and does it embody the 'step up' you have been waiting for? Some of these events involve up to 12 hours in the saddle.
Long, long rides are physically draining, psychologically gruelling and demand excellent planning skills, particularly on the nutrition and hydration front. And they're tough to train for, given the time commitment that comes with building up the required endurance.
Yet none of that appears to dim their appeal.
Going the distance
The Mallorca312 sportive, one of the most demanding events, is always oversubscribed, with riders desperate to take on the almost 200-mile route (which was altered for the 2016 edition); and the Dragon Ride Devil, which at 305km is only a fraction shorter, is among the most popular of domestic sportives.
>>> How to carb load before an event or race
Long rides demand more of everything. As well as a huge test of endurance and concentration, they magnify niggles and weaknesses. Robustness is a vital attribute. Contact points — hands, feet and seat — will hurt unless everything is set up and rehearsed just right. Any bike-fit problems will be painfully exposed as the miles tick towards 200.
Low-level injuries that can be ignored on shorter rides will flare up as the hours accumulate. Form on the bike will need to be given more attention than normal. And managing your mindset, the psychological aspect of the ride, is just as important too.
>>> Listen to your body: don't ignore the warning signs of injury
But riders who manage these huge distances speak in almost spiritual terms about the achievement. Some will even graduate to ultra-events such as the fabled Race Across America, a 3,000-mile ride that must be covered in a maximum of 12 days. The most popular landmark distance for those stepping up from 'normal' sportives is 200 miles.
We spoke to two riders who took on the double century challenge
Rider: Huw Spacey
Event: Mallorca312 (194 miles)
Target: 9hr 30min
Strategy: Ride as a team
Huw Spacey is a fit rider. At 44 and with a race weight of 76kg, he takes his cycling
seriously. He uses a coach, trains in a structured way and specialises in "smashing sportives".
He's recorded a time that would place him in the top 20 riders completing the Etape du Dales event, a very tough sportive in the Yorkshire Dales, spanning 112 miles and with more than 3,500m of climbing.
>>> Cycling training plan for spring fitness
"I'd been to Majorca the year before the event on a sort of loosely based training camp," he says. "On that trip, we decided to do the route of the 312 as a kind of last-day challenge. We were out for 14 hours, 11.5 of that on the bike.
"My longest ride up to that point had been the Cheshire Cat, at just over 100 miles. We did the 312 route after a night out the night before and after a fairly hard week, so we were tired — it wasn't ideal preparation, but I loved it and I decided I was going to do it the following year as a race."
How to ride one of cycling's best climbs
Spacey recruited four club-mates from Harrogate Nova and angled all of his training toward the 312 (see 'How he did it', below). Right from the off, he had a strategy for the event — riding as a group.
"We put a lot of planning into how we were going to stay together," he says. "It's such a lot of miles that we really didn't want to be doing it on our own."
>>> How to take care of your hip health for cycling
Spacey, a strong climber, realised that his time could suffer a little as a result of riding with his club-mates. He'd need to consciously back off in the early stages of the route, which is hilly, to keep the group together, but he felt the trade-off was worth it because of the benefits of riding in the company of like-minded, familiar riders.
As a result, he let the lead group go in the mountainous early section. "Part of me really wanted to go with them. But I had a time of 9:30 in mind and I knew that staying with my wingman through the hills was really important to achieve that."
Training off the bike to keep you riding longer
There were six feed stops en route; Spacey used only four, stopping at each for the minimum possible time. He set a timer on his Garmin to ensure he ate something every 30 minutes, and his body held up well to the demands of the event. He'd worked hard on core strengthening in the months leading up to the event because he has a long-standing lower back weakness.
>>> Sir Chris Hoy's golden training rules
"Your hands and feet are always going to suffer, regardless of how good your bike-fit is," he says. "You can minimise it to an extent by moving round, but on a ride of that length something is going to hurt at some time.
"I used a hell of a lot of chamois cream — half a tub before the ride. I don't like the little sachets because they're fiddly, but I did pack a couple in the jersey pocket."
The distance didn't prey on his mind: "For me, that was secondary because it was all about time."
Once into the flatter sections, Spacey and his team — now reduced to one fellow rider — latched on to big groups. "Between Palma Nova and Cap Blanc, we took control of a group and drove it at a hard pace. That was one of the best bits of the ride.
"I had one massive panic when I got dropped after shipping the chain. I had to work hard to get back on. It was a matter of minutes, but it was pretty much all-out. Once back on, I could hold my own — that was a real positive."
>>> How to use strength training to boost your cycling
Spacey finished in the second group on the road. "Getting over the finish line was brilliant. The camaraderie within the group and in our team was just amazing. It's easily the best thing I've ever done on a bike."
He finished in 9:29.07 — a fraction inside his target time. The fastest rider finished in 8:52.
Start your morning like a pro
How he did it: Spacey's training tips
Spacey trained for a minimum of 10 hours a week, under the guidance of a coach. Some weeks he would get in 15-16 hours. He concentrated on the quality of his sessions, and avoided any unfocused riding.
His nutrition strategy began a long time before the event, concentrating on weight management and reducing his body fat to a pro-level five per cent. "I didn't skimp on calories on the bike, but I began to weigh my food," he explains.
>>> How to keep riding in your 80s
Spacey did a few long-distance rides, including a home-based training camp where he clocked up 455 miles in a seven-day period. His longest single ride pre-event was 140 miles.
"I had racing aims, so not many of my rides were over four hours, and I concentrated more on doing a lot of short efforts within 40-minute rides, with some recovery periods in between."
>>> Dr Hutch: Why getting a cycling coach is like getting (unhappily) married
Spacey feels the money he spent on coaching paid dividends — with available time to train maximised to his specific needs.
As he was focusing on a target time as a goal for the event, he judged his training rides by time rather than distance.
Rider: Richard Gate
Event: Dragon Devil (188 miles)
Target: 11hr
Strategy: Solid, steady effort
Entering a 200-mile monster ride wasn't quite an accident for Richard Gate, but nor was it exactly by design. The 49-year-old got a call from a club-mate after someone dropped out of the Dragon Devil. "To be honest, I didn't give it a lot of thought," he says. "I only had a week's notice, but I just thought, 'Why not?'"
>>> Nine ways cycling changes when you're over 40
Gate, a lifelong cyclist and member of Leeds-based AlbaRosa CC, is perhaps not quite as blasé as you might expect. He'd been training hard for another big ride and had plenty of miles in the bank. "I knew I'd done the training volume," he recalls.
The plan had been to cycle a 'coast-to-coast in a day' route, starting at Seascale on the west coast, taking in the killer climb of Hardknott Pass, scaling several more big hills on the North York Moors and finishing in Whitby — a trip of 150 miles. Gate planned to garnish the achievement by riding from home in Guiseley, Yorkshire, to the start the day before and back home the day after — a full trip of over 300 miles in three days. "It seemed like a romantic idea," he muses.
>>> Why stress can make you fat – and what to do about it
That had been Gate's main target in 2014, but the Dragon Devil topped it off. His strategy for getting through big days was well-planned: "I like to maintain a steady, even pace. I don't bust a gut on the early climbs because I know it will come back to haunt me.
"On training rides I didn't have a power meter, though I do now, and I would gauge effort with a mixture of keeping an eye on heart rate/VAM [rate of climb] and perceived exertion.
"I pretty much know exactly where my limits are. There are no surprises in my rides — I don't bonk because I know I need to eat and I do it regularly."
Get your post ride routine right
Of his regular 80-90 mile hilly training rides in the Yorkshire Dales, Gate says: "I'll either carry what I need or stop where I can, even at supermarkets. One of my favourites is a pork pie, a banana and a packet of fig rolls. I'll eat the pie and the banana and stash the fig rolls in my jersey."
Gate has never had a bike-fit, but as a cyclist with stacks of experience he is very particular about set-up because he knows what works for him — and that's essential on very long rides.
>>> Jens Voigt: Life lessons from 30+ years of riding
"I like decent kit and I won't put up with a shoe rubbing. I guess I'm lucky because I don't really get problems with posture or position on a bike," he says.
His one concession to the bike-fit craze has been to fit orthotic insoles. "I've got really flat feet and [insoles] have made a big difference," he explains.
>>> How to ride faster up short, steep hills (video)
On the Dragon Devil, Gate stuck to the plan. He backed off on early climbs, broke the day down into eight manageable sections, and looked for groups to latch on to but didn't rely on them. "I'm a reasonable climber but, to be honest, not that great on the flat.
When I found groups, it tended to be on the flat and they were just pushing that little bit hard for me, so I let them go. There weren't quite as many riders as you might see on something like the Marmotte, so I had fewer options of finding a group whose pace suited me."
>>> Can delayed onset muscle soreness be avoided?
Despite describing the last 30 miles as "pure torture", Gate completed the ride in style, clocking a time of 10:52 for the 188-mile trip at an extremely respectable average speed of 17.3mph — and that included a massive 4,800m of climbing. Gate was happy to be passing riders on the final climb, a feat he feels was possible with good pacing over the rest of the ride.
He has few regrets about his strategy, bar stopping for too long at feed stations. "If I did it again, I'd probably do feeds as a smash-and-grab," he says.
How do you compare?
How he did it: Gate's training tips
Use a power meter. Gate now finds this an essential tool on training rides, especially in the closing stages, for keeping his effort level below the point at which he becomes susceptible to cramping, his only real Achilles heel.
Do the mileage — but not the whole distance: "I did plenty of long, hilly rides, some of them on successive days. They were around 80 to 90 miles. I think you only need to go up to about 75 per cent of the target distance and you don't have to do so that often."
>>> Back from the brink: riding again after a stroke
Learn to know your own body and its reaction to stress intimately. "It's a cliché but I really do listen to my body. I don't have surprises on my rides," Gate says.
Concentrate on the same steady, even pace in training that you plan to use on the event: "You just have to get used to keeping going."
In training — as in the event — make sure your clothing and bike is in top fettle and you can carry what you need to rescue the ride if you hit trouble: "For example, I always carry a pair of latex gloves, so fixing a puncture or a broken chain is easier if it's cold and wet."
>>> Buyer's guide to summer cycling gloves
Use training to hone the habit of regular eating and drinking. Many successful riders of monster miles set an alarm every 10 miles or 20 minutes as a reminder.
Also use training to get used to riding long periods without lengthy cafe stops or rest breaks — they're probably not going to be practical on the event, especially if you're pushing for a time.
Credit: Chris Catchpole
We have a look forward to some of the best British sportives to ride in the coming year
Four long-distance sportives to try
The Mallorca312 takes place around the last week of April - early in the season for such a long challenge. It circumnavigates the island and has the hilliest section early on. It sells out very quickly and if you want to tackle it, you'll need to be organised.
The Dragon Ride takes place in the stunning south Wales countryside in June. The Devil is the longest of several options, but this is another very heavily subscribed event but it's probably easier to get into than the Mallorca312 — and you don't need to get on a plane.
The Rapha Manchester to London Ride clocks in at a huge 220 miles and is in aid of the Ambitious About Autism charity. It usually takes place in
September, so at least you'll have close to a full season's training in your legs.
The GranFondo Milan-San Remo bills itself as the "longest amateur cycling event in the world", even though at 296km (183 miles) it fails to beat the Mallorca312 — but what's 16km between friends? It's been running almost 50 years and follows the course of the classic early-season pro race; the difference is, it's in June, when the weather is almost certain to be better.
Thank you for reading 20 articles this month* Join now for unlimited access
Enjoy your first month for just £1 / $1 / €1
*Read 5 free articles per month without a subscription
Join now for unlimited access
Try first month for just £1 / $1 / €1