Can delayed onset muscle soreness be avoided?
Vicky Ware assesses whether delayed onset muscle soreness is an avoidable part of training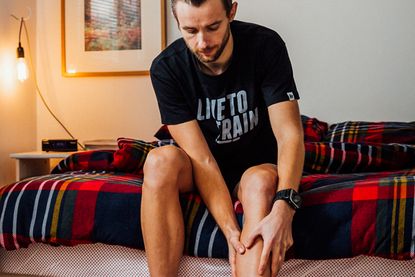 We've all been there: yesterday you rode an especially tough session, and today you're barely able to walk, such is the severity of the aches. I remember one painful day after a strength training session: my entire body hurt so much I was doubtful I'd be able to get out of bed.
Does this pain mean we've done too much, or is it just an unpleasant part of training that we have to learn to accept?
>>> Embarrassing cycling problems, and how to prevent them
This type of muscle pain is called delayed onset muscle soreness (DOMS) and results from exercise which your muscles are not used to doing — usually harder or longer than you've done before. Dr Jon Bartlett is a scientist researching the impact of sleep and nutrition on exercise at the Victoria University in Melbourne, Australia.
"Often following a bout of high-intensity endurance exercise or resistance training, there is a feeling of muscle soreness, which is understood to be due to micro tears in the muscle-fibres," he explains. "This is considered to be a central part of muscle adaptation, thus increasing protection following exercise bouts."
>>> Top tips for keeping warm on cold rides
This soreness is described as 'delayed' because it typically gets worse 24 hours after the exercise that induced it, peaking anywhere between 24 and 72 hours afterwards. It takes up to seven days to completely disappear. DOMS doesn't only hurt, it also stops muscle from functioning properly, affecting performance.
Experts have many theories on the cause of DOMS but currently there is no consensus. The strongest theory is that it is caused by a combination of factors: micro-tears in muscle tissue inducing inflammation, combined with leftover waste products and damage to connective tissue.
See how well you can do
Can the pain be eased?
Athletes use all kinds of techniques to try to mitigate DOMS. The vast majority are ineffective. Research has found that stretching, electrical current therapy and acupuncture have no discernible impact on pain or performance.
There is some evidence supporting the use of massage (although the associated pain relief is only temporary), ice baths and taking antioxidant supplements.
It's obvious why you'd want to alleviate DOMS, but some research has suggested that if the duration of pain were shortened, the result may be incomplete recovery.
Do we need DOMS?
Training makes you fitter because it stresses the body and results in adaptations. DOMS is a side-effect of this adaptation, making you feel sore as a way of making sure your body has time to repair itself.
>>> 13 ways to increase your average cycling speed
In this context, inflammation is not necessarily your enemy. In the case of injury, acute inflammation is part of the healing process — evidence that your immune system is doing its job and healing damaged tissue; redness, swelling and heat are caused by immune cells moving in, while pain reduces the chance of your doing further damage.
It's similar with DOMS, though of course the symptoms shouldn't be so severe.
>>> Top tips to recharge your body and mind this winter
If you were to cut this inflammatory process short, your body might be unable to finish the healing process, inhibiting adaptations. In other words, taking measures to reduce DOMS may work against you in terms of long-term fitness gains.
Feeling able to ride hard again sooner might limit the fitness rewards from all your hard work.
Do antioxidant supplements aid recovery?
Although the research results have been mixed, some studies suggest that supplementing with antioxidants might reduce adaptation to training.
Exercise produces reactive oxygen species (ROS) molecules whose chemical nature 'attacks' other molecules and causes cell damage. These molecules are soaked up by antioxidants, either consumed or made by the body. Production of ROS is a normal part of metabolism; the faster metabolism during exercise releases more ROS.
>>> Christmas eating: Festive food swaps (video)
Researchers initially thought this increase in ROS might lead to oxidative stress, i.e. if the production of ROS outstripped the body's ability to soak up antioxidants.
It was speculated this could lead to poor recovery from exercise and decreased performance, which led to the theory that taking an antioxidant supplement could improve recovery.
Antioxidant supplements may be beneficial if you exercise so much that you outstrip your body's ability to soak up ROS or if you have a diet low in naturally occurring antioxidants.
>>> How to ride faster up short, steep hills
However, it turns out ROS sets in motion a cascade of biochemical events that lead to the adaptive response to training.
If you soak up the ROS by artificially increasing the number of antioxidants in your body, you might not get as fit from training.
>>> Graeme Obree: why we need to talk about depression in sport
Antioxidant supplements commonly contain vitamins A and E or concentrated berry formulas, which give the body a super-boost of antioxidants. Though reducing DOMS may allow an athlete to return to hard training sooner, the recovery process may be compromised.
Avoiding supplements and simply resting during DOMS may yield just as much fitness gain — despite involving less exercise overall.
What you should and shouldn't do after every ride
Are ice baths beneficial?
Research into whether ice baths help or hinder recovery has shown mixed results. Some research suggests ice bathing slightly reduces post-exercise soreness, but only minimally.
Research published in the journal Medicine & Science in Sports & Exercise in 2014 looked into the effect of ice baths on endurance cyclists.
>>> How can osteopathy help cyclists?
National-level cyclists completed a 29-day block of training including long rides, high-intensity training and a maximum of 28.5 hours of riding per week. Some of the cyclists bathed in 15ºC water for 15 minutes four times per week, while others cooled down without a bath.
The study found no negative impact of ice baths, based on participants' power output in fitness tests. Some tests showed a small benefit from ice baths. Unexpectedly, ice baths seemed to increase the time it took participants to get to sleep, which could impact recovery.
>>> Is your adrenal system making you tired?
Research published in the Journal of Physiology in 2015 yielded strikingly different results. Participants partook strength training twice a week for 12 weeks and bathed in 10ºC water for 10 minutes after each training session, while others cooled down on a bike.
After 12 weeks, the non-ice bath users had greater increase in muscle size and strength compared to those who used the ice bath.
>>> How to tell whether you are overtraining, and how to avoid it
To delve deeper into why this was happening, the researchers looked at what happens at a cellular level in muscle tissue after a person does a single-leg squat and then either uses an ice bath (or doesn't).
In the ice bathers, the biochemical pathways needed to build strong muscles were blunted.
>>> How to use nitrate to boost cycling performance
There are some important differences that make comparing these studies difficult. The cyclists didn't use the ice bath after every training session, although this doesn't explain why there was still an improvement in ice bathers over non-ice bathers in the first study.
This study also used warmer water, which may have affected the results.
>>> Tips for cycling and training in the dark
One explanation is that cyclists don't need big muscles to improve performance. So long as other factors in fitness still improve, a cyclist's performance will improve.
One of these factors is the concentration of mitochondria in muscle. When you train, your muscle responds by increasing the concentration of these cellular powerhouses in muscle tissue.
Some research has suggested that bathing in ice improves the ability of muscle to build mitochondria, which then has a knock-on effect on performance.
What can we take from all this research? If you're looking to build muscle, it seems that using ice baths to recover isn't a good idea.
It's wiser to 'tough out' the DOMS, content in the knowledge you're reaping the rewards of your training session. If you're taking part in a long-distance bike race, ice bathing might actually improve your fitness gains in some areas while reducing DOMS.
Bearing in mind the apparent benefits of ice baths are very small, they may be the result of chance.
Training with DOMS
DOMS reduces muscle function, meaning you won't be as powerful on the bike, especially when trying to produce high torque in a high-geared sprint or climb.
This reduces your performance and might also increase risk of injury by resulting in an unusual pattern of muscle activation and unaccustomed strain on ligaments and tendons.
Therefore, it might be worth taking it easy on days when you have DOMS, or ensure you train using high cadence to ensure your painful muscles aren't overloaded.
How best to recover?
Taking all of the above into account, what is the best way to recover? It seems that using recovery aids such as antioxidant supplements or ice baths might not for the best.
However, ensuring your diet is high in antioxidant-containing whole foods is important to ensure you recover naturally and fully. In fact, some health authorities suggest endurance athletes should consume 12 portions of fruit and vegetables a day rather than the recommended five portions for normally active people.
>>> How to make your own recovery bars (videos)
Foods containing antioxidants include dark chocolate, grapes, berries, many other fruits and vegetables, as well as nuts and seeds.
Zinc, selenium and manganese are minerals needed to allow antioxidant enzymes to function. Top up dietary levels of these to maximise your recovery from exercise. Brazil nuts will give you a boost of selenium, while seafood and beef contain zinc, and sesame seeds and dark chocolate contain manganese.
>>> Tinkoff-Saxo chef Hannah Grant explains what it takes to fuel a pro rider
Foam-rolling is another technique that may improve recovery from DOMS. Research published in the Journal of Athletic Training in 2015 found that foam-rolling immediately after, and then 24-48 hours after strength training, significantly improved feelings of fatigue and ability to perform.
There isn't any research into foam-rolling for endurance athletes or whether this reduction in DOMS negatively affects long-term muscle-building.
>>> How gut health affects cycling performance
Research has shown that a sauna session may decrease the severity of DOMS and its debilitating effect on performance. The research was carried out on weightlifters and showed significant improvements, so it might be worth trying before a strength session.
Having a massage might reduce muscle soreness temporarily, but research has shown that pain is only reduced for the first 20 minutes after exercise and beneficial effects are gone after an hour.
>>> Five foods you should NEVER eat before a ride (video)
If you have a stage race or multi-day ride to do, a massage might be worthwhile just before you start. Going for a recovery ride has effects similar to massage, i.e. short-term.
A reliable way to ensure you don't suffer unnecessarily from DOMS is simply making sure your training regime builds at a reasonable pace. Don't go for a 12-mile run on your first cross-training session or squat your body weight on your first day in the gym. Build volume and intensity slowly, recover slowly and you'll see the biggest long-term benefits to your performance.
Eat right, recovery right
The experts' views
"Support for supplements is scant"
Dr Jon Bartlett, sports science research fellow at Victoria University, Australia, says research into DOMS-preventing supplements has been mixed
"In one study from Norway, [scientists] investigated vitamin C and E supplementation during 10 weeks of resistance training. It appears these supplements reduce the acute adaptive response. However, this didn't interfere with increases in muscle mass.
>>> How much speed can you buy? (video)
"In another study, this time looking at vitamin C and E supplementation during 11 weeks of endurance training, reduced cellular adaptations were apparent in the antioxidant group — but this didn't result in reduced performance.
"In contrast to these studies, vitamin C and E supplementation during endurance training was shown to reduce adaptations relating to production of internal antioxidant sources by the body — but this didn't have any effect on markers of mitochondrial adaptation to exercise.
>>> Seven simple steps to be a successful cyclist
"These findings suggest that in cases where there are no antioxidant deficiencies, there is little need to supplement in order to improve training adaptations. In fact, no studies have shown any enhancement in training adaptations with antioxidant supplementation, which may in some cases in fact reduce training adaptations."
"DOMS is a positive thing"
Physio Dr Graham Theobald, clinical director at The Body Rehab (thebodyrehab.co.uk), believes DOMS is both inevitable and necessary
"From a clinical perspective, I see DOMS as a positive thing. It is somewhat inevitable for cyclists, particularly after hard, intense efforts on the turbo-trainer in winter. It is part of natural process of muscle development and so unfortunately has to be endured sometimes.
>>> Should you really train like a pro?
"If managed well, DOMS can be minimised. The two things that work well at reducing DOMS are a good warm-up and warm-down, and optionally a cold/ice bath. Stretching and massage doesn't seem to have much effect, and foam-roller work simply adds to the pain.
"Cyclists suffer from DOMS less than runners but we still have to grin and bear it."
"Just get used to it!"
Team Sky's indefatigable Classics powerhouse Ian Stannard takes a no-nonsense attitude towards post-training pain
"You've just got to suck it up. In fact, you've got to learn to enjoy it. The first gym sessions I do I can barely walk down the stairs, but I see that as a good sign. The next time you go, it hurts a bit less, then a bit less. There's not much you can do — just get used to it!"
Thank you for reading 20 articles this month* Join now for unlimited access
Enjoy your first month for just £1 / $1 / €1
*Read 5 free articles per month without a subscription
Join now for unlimited access
Try first month for just £1 / $1 / €1