How often should I cycle to get fit?
Regular short rides are the fastest way to boost your fitness and improve your cycling performance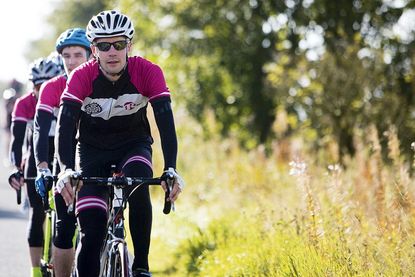 Whether you're a beginner or a professional, regardless of experience, the pursuit of greater fitness is a common theme among cyclists.
Training is a controlled way of challenging our bodies, and regular training allows the body to adapt and get fitter. To keep progressing we need to keep increasing the difficulty of those challenges. This can mean riding further, or riding harder. However, without stressing your body with new physical challenges, your fitness will stop improving or even go backwards.
Improving your fitness requires the right dosage of training. It needs to be frequent enough to apply some stress, but be balanced and with enough recovery to allow the adaptation process to take place.
Frequent short training sessions are more effective than infrequent long sessions. Over equivalent periods, interval sessions improve performance better than steady, continuous efforts.
If you only have three hours to spare per week you will be able to improve your fitness more with three one-hour sessions, or even several 30-minute rides, than just one long ride.
If you only ride once a week, you may be wondering why, despite your regular rides, you aren't improving. That's because, after just seven days without cycling, your body will start to lose some of the fitness gains you have made. To keep progressing and improving your fitness, you ideally need to be riding your bike every two to three days, even if it's just a short turbo trainer workout. The minimum you can get away with and still see significant fitness gains is three rides a week.
Cycling for fitness: essential cycling training sessions
Cover off at least one of each of these rides per week and you'll be on the quickest possible route to fitness.
Long Ride
60 minutes +
Long rides at a conversational pace are the bedrock for improving your endurance. At this pace your breathing is deep, rhythmic and regular, and should never feel strained or ragged. For these rides stick to flat or rolling terrain rather than hills. Focus on keeping a smooth high cadence, and use your long ride to get used to eating and drinking on the move.
This ride will train your body to get used to burning fuel efficiently. It will also help you to improve your riding posture and help you to get used to sitting on the saddle for extended periods of time.
Hilly Ride
30-60minutes
Long gradual climbs are ideal for this session, or they can be done on the flat in a big gear or with high resistance on a turbo trainer. After a good 10-minute warm-up, pedal for five minutes at a pace that feels hard but controllable. You should be breathing deeply and only able to say one or two words at a time. Recover for one minute and then repeat.
Aim for a minimum of 20 minutes at the hard pace per session. If you have more time, aim for 10 minutes at the hard pace before your one-minute recovery.
These sessions help to improve your muscular efficiency and will make climbing feel easier.
Hard Ride
30-60 minutes
High-intensity interval training (HIIT) has been shown to boost endurance, increase calorie burn and improve cardiovascular fitness. During the intervals you have to work very hard – it needs 100 per cent effort – but the intervals are very short. After a good 10-minute warm-up, spend five minutes alternating between 30-seconds' all-out effort and 30-seconds' recovery. Pedal easily for five minutes and then repeat.
If you are very limited on time then just three sessions of HIIT training a week is the best way to improve your overall fitness.
Thank you for reading 10 articles this month* Join now for unlimited access
Enjoy your first month for just £1 / $1 / €1
*Read 5 free articles per month without a subscription
Join now for unlimited access
Try first month for just £1 / $1 / €1
Hannah Reynolds interest in cycling started while studying for a degree in Sports Science at the University College Chichester. A number of students and lecturers were elite and even world class cyclists, many of whom went onto long-term careers in cycling. Despite being a complete novice she was taken under the wing of the experts and given a fast-track introduction to the world of road racing, cross-country mountain biking, time trials and cyclo-cross. A committed dabbler whose passion outweighed her talent Reynolds has competed across all disciplines of cycling bar BMX. In the very distant past she has been south-east road race champion, southern cyclo-cross champion and finished third in the European 24hr Solo mountain-bike champs in 2011. She was also the Fitness Editor of Cycling Weekly for 15 years.
In more recent times Reynolds has worked as a cycle guide in the UK and France. She is author of several cycling books, France-en-Velo (opens in new tab)a guide to the ultimate 1000 mile cycle route from the Channel to Med; Britain's Best Bike Ride. LEJOG1000 (opens in new tab); A 1000 mile journey from Land's End to John o' Groats and 1001 Cycling Tips (opens in new tab). Her cycling now is less competitive and more focussed on travel and helping her young son to experience the world by bike.