Ask a coach: 'How often should I ride my bike to get fit?'
First we need to reflect on what is meant by 'getting fit' - then, with that definite goal in mind, coach Alex Welburn takes us through the optimal volume of riding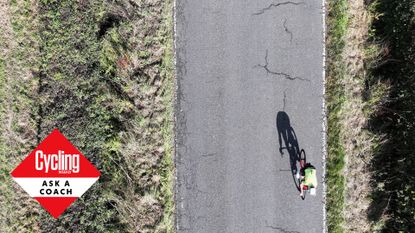 (Image credit: Future)
How many times a week should I cycle to improve and get fit? A common thought I'm sure we have all had at some point. It doesn't matter if it is the first time you have picked up a bike and are wondering how long it will take you to reap the rewards of your new sport, or if you are focusing on racing.
With these sorts of questions, context is very much key. What exactly does improving fitness mean? What does it depend on? In this article, cycling coach Alex Welburn will go over both these questions as well as give you a few tips on how to get the most out of your rides.
Performance cycling coach Alex Welburn is one of the experts who will be answering your questions in Cycling Weekly's Ask a Cycling Coach series, online every Wednesday. He's currently completing a PhD on Critical power and W' at Loughborough University whilst also managing the Performance Project, in which he coaches athletes and provides consultation.
How often should I ride my bike to get fit?
First and foremost, what do we mean by 'getting fit'? Is it the ability to go faster for longer? Is this being able to complete your first 100 mile ride? Hit that FTP goal of yours? Or simply to lose weight and feel healthier?
Whatever your goal may be, it is individual to you. Setting a cycling goal that is realistic and achievable - but personal to you - is vital in this case. It will help you tailor your rides to your ambitions, keep your motivation going and, perhaps most importantly, define what fitness means to you.
One you've chosen a goal, you can move on to using the framework below to tailor your weekly workload to that ambition.
Use this framework
The recipe to improving fitness, in the pursuit of your goal, will be a formula made up of the ideal balance of frequency, intensity, and time - for you. This is what we mean by each:
F = Frequency
This is very much at the core of your planning, and refers to the number of sessions I would like someone to do. But it isn't the only consideration - everything links together before I make a decision. Although you may want to ride every day, is this realistic? Will that just make you more tired so you can no longer hit the key sessions vital to your fitness goal? These are all considerations to keep in mind as we progress in creating a weekly training plan.
I = Intensity
There are various measures of this, often dictated by what training tools you have. We can go nice and simple with 'RPE' [Rate of Perceived exertion] either the 1-10 scale or the original scale of 6-20, which was originally developed to fall in line with your heart rate. While there is a plethora of power meters available, sometimes I like the good old basics and using feel. Of course, we can use % of Critical Power / Functional Threshold Power and cycling training zones, too.
T= Time
This covers how long sessions will be, and as mentioned the intensity and frequency will influence this as well.
Devising your own weekly volume
With all of these in mind, 'how often should I cycle' is going to be influenced by quite a few elements.
What is your goal? Are you aiming to complete your first 50km, maybe your first 100 km ride, or maybe it is your first sportive or race, or simply you just want to feel fitter and be more active?
How much time do you have to ride your bike? If you are a time-crunched athlete you may only have a few hours a week and maybe a few hours on the weekend, then the focus will really be on quality to get the most out of your time on the bike.
What do you enjoy? Is it the social group rides, is it battling it out on Zwift or enjoying the pleasures of the countryside away from the normal hustle and bustle? Remember, one of my favourite rules is to have fun and to enjoy it, so don't neglect that element, as you will want to look forward to riding your bike.
If your goal is endurance based, it's likely that you're going to need to complete a long ride, at least once a week. This will up your 'time', and likely decrease your 'intensity' and perhaps 'frequency', allowing time to recover.
If you're aiming to compete in 60-minute long crit races, then 'intensity' is going to be your key metric, reducing 'time', and - depending upon your training history and likely age - may reduce 'frequency' based on how often you can complete an intense session and recover for another.
If your goal is to enjoy riding your bike, lose weight or build up a base of cycling fitness from a complete beginner's level, you simply want to include enough sessions to provide a training stimulus, ensuring that there's time for recovery and variety to keep it interesting.
With all the above in mind, we now need to make sure it all aligns so that we can achieve and work towards our goals. Whether that is racing or fitness for healthiness, a balance between what we can do, what we want to do and what we need to do, will determine how often you should ride your bike.
What's the minimum I should be riding my bike to improve?
For general fitness – three times a week for general fitness across around 3-6 hours we will see early gains if you are new to the sport, but this will only keep you progressing for so long, but you will keep fit and healthy.
For those looking to progress their threshold power and racing ambitions, you are looking towards 6-10 hours and 3-5 sessions on the bike.
For those with ambitions further afield you are looking at around 4-6 sessions and 10-15+ hours a week.
Overall, there many things to consider in planning how many sessions you need to get fitter, context is always key as everyone is different. Don't forget to enjoy it as well!
Thank you for reading 20 articles this month* Join now for unlimited access
Enjoy your first month for just £1 / $1 / €1
*Read 5 free articles per month without a subscription
Join now for unlimited access
Try first month for just £1 / $1 / €1