55,500 Miles Going Nowhere: Confessions of an Unapologetic Zwift Indoor Specialist
I've logged more than 55 thousand virtual miles and my bike hasn't left the basement in months. Here's why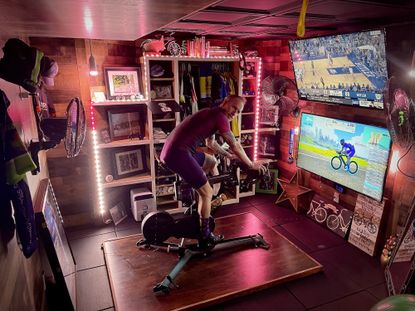 (Image credit: Christopher Schwenker )
Get The Leadout Newsletter
The latest race content, interviews, features, reviews and expert buying guides, direct to your inbox!
Thank you for signing up to The Pick. You will receive a verification email shortly.
There was a problem. Please refresh the page and try again.
My bike has been to the top of Mt. Washington. It's ridden in the shadow of glaciers along the Beartooth highway. It has viewed five states from the summit of Pike's Peak and taken the Golden Gate Bridge across San Francisco Bay. It has ascended Yosemite's 60-mile Tioga Pass and ridden between bison along Yellowstone's roads in the American Serengeti.
It's braved the crosswinds of Trail Ridge Road, seen the awe-inspiring grandeur of the Grand Canyon, felt the wet chill of the Pacific Ocean and heard the rush of the Atlantic.
For years it logged over 15,000 training miles and nudged the line of too many hilly New England stage races to recall.
Yet, despite its rich experiences and depth of perspective, my rig hasn't left my basement in six months. I rode across the country —Half Moon Bay, California to Jamesport, Long Island, NY— in 2022 and that was the last time I rode outside.
Why? Well, the sober truth—a confession that needs no intervention— is that for over five years, I've identified as an indoor specialist, the new breed of cyclist that embraces an exclusive passion for virtual cycling.
My platform of choice is Zwift. I've chosen to ride over 55,500 virtual miles and climb almost 1.7 million virtual feet in a total elapsed time nearing 100 days. I'm a Level 60 Zwifter, having level-maxed out three times already. And if history stands, I'll remain there for a few more years. The accumulating stats are almost staggering to me, but they're not unusual or extraordinary.
For comparison, the most prolific male Zwifter has logged over 286,000 km, and the most miles ridden on Zwift by a female stands at 216,500 km. At last count, there were thirty people with over 150,000 virtual kms.
There's a whole world out there of riders, like me, who've moved away from real-world riding in favor of the virtual worlds of Zwift, RGT or Rouvy. But why?
For me, it's all in the "C"s:
Climate
I Identify with the term 'weather-weenie' and Phil Gaimon when, in his sage wisdom, he said, "Suffering is a choice–not a rule. You're no more of a cyclist than someone else because you go faster or they stay home when it's raining."
He also shares my belief that you only have so many cards in your weather-weathering deck. Once you've used them, they're gone. I may not have started with a full deck, but there aren't any left. I only ever had so many wet and cold rides in me.
My "Gain Cave" —the pet name I gave my basement cycling space where I ride thousands of miles to nowhere—is always a comfy 61 degrees fahrenheit and dry, and the prevailing winds are predictable. It's the one place where I think the sun rises and sets on me because it does.
Convenience
My ride is also always in the same place. If that's not the definition, then I don't know what convenient means. Everything I need to ride, like my food, drink, towel, and kit, is also within arm's reach. So is a source of entertainment, my TV or speakers, which is optional, highly convenient and not an option when riding in the wild.
Indoor training is also conveniently efficient for the time-crunched cyclists among us. When I was building my private physical therapy practice the hours were long and my day started early. Riding and training meant getting out and back in the early morning's cold darkness before my young family knew I was gone. Virtual cycling made doing what I needed for my physical and mental fitness efficient and effective.
Comfort
Everything in life is a trade-off, a negotiation, and I've earned my stripes. I've watched the sunrise from my car driving to enough group ride meet-ups. Not to mention the 1:1 relationship between riding time and time to get covered in layers of kit as the temps fall.
My Gain Cave is my safe place, regardless of the self-inflicted shoves out of my comfort zone. When I push the envelope of my fitness, it comes with a cost, but I'm willing to allocate a high-risk portfolio, knowing that a crash in my nutrition stocks only means a step off the bike and to the fridge.
In the real world, we also face risks far greater than bonking: interacting with traffic.
Fellow indoor specialist Kim Avis says she rides primarily on Rouvy these days "because traffic in Miami Beach and the surrounding areas gets dangerous during the week. There are so many fatalities in my area. The disregard for human life is scary."
During my cross-country ride, the multiple near-misses, blatant buzzes and brake checks sobered me. I couldn't settle into my basement sanctuary's safety soon enough. And sadly, the Zwift community is filled with origin stories of fatal car-related tragedies and career-threatening injuries that led to the move indoors.
Cost
It's true that virtual cycling comes with a relatively high start-up cost. At the minimum, you'll need a trainer or a smart bike, a device to run it on, fans and other gadgets, and the space to set up shop. However, once you make the initial investment, you'll spend much less of your hard-earned money than you would riding and competing outdoors.
Since becoming an indoor specialist, my yearly expenditure on upgrades, entry fees, travel and hospital co-pays has decreased dramatically. The same goes for costly minimal gains aimed at buying a competitive edge.
Competition
After 650 races on the virtual platform, I've realized that Zwift racing is exactly like real-life road racing and, at the same, not at all alike. But this time in my cycling career, it's more than enough to scratch my competitive itch. I emerged from the primordial ooze of the shallow end of the athletic gene pool and flirted with my peak potential long ago.
For some, like Jay Vine and other Zwift Academy winners, Zwift racing is a pathway to real, WorldTour opportunities. But for most, Zwift racing serves as an accessible, less time-consuming and highly competitive outlet without the drawbacks of real life racing.
Theia Friestedt is an Illinois-based, age-group racer who began racing in 2017 but completed her indoor specialist transition when, "in Dec 2021, I broke my leg at Cyclocross Nationals and took 2022 off racing altogether. That event cost me a lot of money, but also it caused significant disruption in my family's life. I have two kids, so being out of commission was a big problem. I have since raced only on Zwift, and I don't have time to go to most local races—it's a 4-5 hour commitment to race for 35-45 minutes, so it's not worth it at the moment."
Time is also of the essence for Celine Griffin, a recent virtual cycling convert.
"As a mother of two young kids, leaving for race events is always tricky. Managing to parent alongside the training is hard enough, never mind adding leaving my house for days. The biggest plus for me of virtual cycling is the ability to get a little of the race experience at home, with minimal disruption to my family," she says.
" Is it the same race experience? No, but sometimes it's better than disrupting the entire family so I can get on my bike for a race effort."
No, it's not the same racing experience. However, for many devoted eRacers, that's a good thing. For the subset of elite cyclists who've realized their cycling potential on virtual platforms, the characteristics distinguish it as a unique and appealing discipline. The amateurs who've made the trade-off are happy to ride in the slipstream.
"Having been a former pro road cyclist, now 100% inside, I love everything about this virtual world—no more magpies, flat tires, broken clavicles, and fits in perfectly with family business life," says Australian Vicki Whitelaw, who races at Zwift's elite level.
Community
For all the reasons cyclists dip their toes into the virtual pool, the tangible and impactful community makes the biggest splash. It sounds strange, even to me, when I explain how the dynamic social aspect of virtual cycling far exceeds the kinship I've experienced on the road.
There's something strikingly compelling about sharing your passion with like-minded individuals daily. Open exchanges and commiserating conversations over the voice app, Discord, reveal life's ebbs and flow as a husband, a parent and a friend. When that emotional accelerant meets the incendiary match of vulnerability that pushing your body and mind to the brink on a bike brings, you form a special bond.
If the virtual cycling social experiment needs proof, I confirmed the hypothesis. It's counterintuitive to explain that I did it while riding in real life, but no less telling.
During my cross-country ride, I received messages from fellow Zwifters with whom I shared stories while riding virtually each morning. Some opened their homes to extend their gracious hospitality, and others traveled hundreds of miles to lend a wheel. In every instance, it felt like we were lifelong friends. When I parked my bike, and the virtual world reunited us, it was like we'd seen each other only yesterday.
No apologies
I'm indebted to my bike and am on a continual quest to give back for all the rewarding experiences it has given me. I have seen enough through my bike's eyes to know. The richness of relationships is a score I'll never be able to settle. For that, I am grateful I found real friends through virtual cycling. And cycling that's real enough for me.
Thank you for reading 20 articles this month* Join now for unlimited access
Enjoy your first month for just £1 / $1 / €1
*Read 5 free articles per month without a subscription
Join now for unlimited access
Try first month for just £1 / $1 / €1
Get The Leadout Newsletter
The latest race content, interviews, features, reviews and expert buying guides, direct to your inbox!
A physical therapist with over 25 years of experience, Christopher Schwenker is on a journey to give back to the cycling community for rewarding experiences and fulfilling relationships through the pages of his virtual cycling blog, The Zommunique, and his cycling-related non-profit, The DIRT Dad Fund.