Former pro Phil Gaimon goes hunting for more Strava KOMs in latest 'worst retirement ever' video
Mt. Diablo is the latest on Gaimon's hit list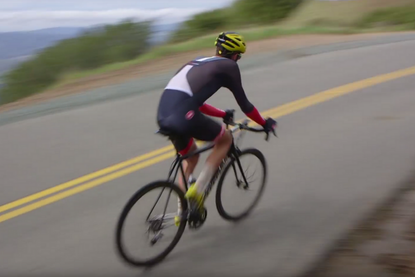 Former pro rider Phil Gaimon is back on the hunt for KOMs around the state of California.
Last month saw Gaimon attempt to take the title for fastest ascent of the Palomar climb in San Diego, narrowly missing the crown by eight seconds behind retired professional Chris Horner.
"It's really tough to admit this, but from when I uploaded to the file and I didn't know if I had it, I care. I can't believe I care. And it sucked to not get it. I thought this would be fun and entertaining. I didn't think it would move my emotional needle, but it did," Gaimon said during an interview at the Sausalito based, Above Category boutique bicycle shop.
>>> Nine things you wish you'd known before you joined Strava
For episode two, he travelled north to the Bay Area to tackle Mt. Diablo, a 10.1 mile long HC climb averaging 6%, gaining 3,069 feet, offering sweeping views of Oakland and the San Francisco skyline towards the Pacific Ocean.
Mt. Diablo has been featured in the Amgen Tour of California three times, most recently in the 2014 edition that saw Rohan Dennis take the win over the Portuguese climber Tiago Machado and young American Lawson Craddock, then in his first year on the WorldTour squad Giant-Shimano.
Dennis still holds onto the KOM with his stage three winning climb from May 13th, 2014 , but in a new segment created by Gaimon just for his attempt aptly titled "Phil Gaimon's Worst Retirement Ever - Mt. Diablo Gate to Gate" Craddock holds the crown from his seventh place ride during the 2013 race on stage seven.
>>> Tour of California to replace motorcycles with electric motos during time trial
"It's also funny to admit, but it's really fun. I"m having a lot of fun. I like the idea of taking something silly, very seriously. That appeals to my soul."
When pressed to talk more about his motivation for these attempts, Gaimon is honest, "I don't want to make this whole thing about doping or anti doping or beating dopers. The whole doping thing really like, was a cloud over my last decade of my life and my racing career and I'm not going to let it screw up my retirement too. I'm going to go to the mountains I want to go to and I'm going to do my best."
That being said, Gaimon's attempt on Diablo was unsuccessful. He sits over a minute down from Craddock's time and is not on the leaderboard for the 10.1 mile long segment, due to what appears to be snowy conditions in early March.
"We're 0-2 for worst retirement ever, which I guess, we'd be 2-0 if it was the best retirement ever. Hopefully I get one of these…"
Thank you for reading 10 articles this month* Join now for unlimited access
Enjoy your first month for just £1 / $1 / €1
*Read 5 free articles per month without a subscription
Join now for unlimited access
Try first month for just £1 / $1 / €1