Phil Gaimon's KOM-hunting YouTube makes for fascinating viewing
Ex-pro launches 'Worst Retirement Ever' series on YouTube to document his attempts to claim hill-climb records across California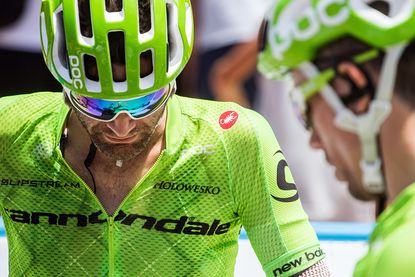 (Image credit: Graham Watson)
Phil Gaimon, the ex-pro who retired from Cannondale-Drapac last year, has launched a YouTube video series entitled 'Worst Retirement Ever' to document his new obsession for claiming Strava KOMs.
The native Ohioan turned Southern Californian made the jump from dominating the US domestic road racing scene to the WorldTour with Garmin-Sharp in 2014. He came back stateside in 2015 with Rally Cycling and eventually landed a contract with Cannondale for one last European swing.
That proved to be his final season, however, and his retirement has forced him to seek out a new direction.
"My climbing skills took me to the top level, but at the end of 2016, at 30 years old, I had to accept that I wasn't quite good enough to keep at it," Gaimon says in the introduction to 'Worst Retirement Ever'. "It was time to retire from the pros and get a job."
Clearly, though, letting go has been hard.
"I was probably top-50 in the world at a riding a bike up a hill, and while that wasn't enough to keep me in the pros, I doubt I'll ever be that good at anything again," he says.
The result is that while Gaimon works full-time for talent agency Wasserman, he continues to train in his own time with the stated mission of claiming Strava KOMs throughout the state of California – particularly if they belong to convicted dopers.
To achieve his goal, he has built a super-light Cannondale bike with the bar ends chopped off and no front brake. When he takes a KOM, he uploads screen-shots to his social media, and the comments go crazy.
In particular, Gaimon has targeted the best times of Strava user 'Thorfinn-Sasquatch', a prolific KOM-holder across California. The account is alleged to belong to Nick Brandt-Sorensen (opens in new tab), an ex-pro serving a lifetime ban for numerous doping offences.
In response to an Instagram user defending 'Thorfinn-Sasquatch', Gaimon wrote: "He was doping in master's races and selling EPO online. Both are deplorable and he deserves any shaming he gets. He should have the grace to stay off of an app that's meant for amateurs to have fun and healthy competition."
Working with clothing firm Castelli, Gaimon plans to produce ten episodes of his 'Worst Retirement Ever' series on YouTube.
Thank you for reading 10 articles this month* Join now for unlimited access
Enjoy your first month for just £1 / $1 / €1
*Read 5 free articles per month without a subscription
Join now for unlimited access
Try first month for just £1 / $1 / €1