Tinkoff-Saxo chef Hannah Grant explains what it takes to fuel a pro rider
Fitness writer Paul Knott caught up with Tinkoff-Saxo's team chef Hannah Grant back at the Tour de France in July to see what life was like on the road and how she ended up working for a professional cycling team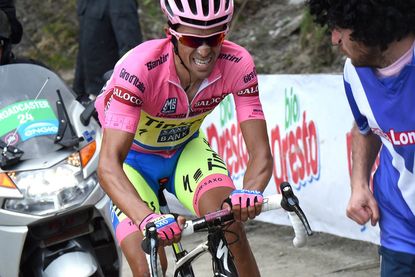 (Image credit: Watson)
Get The Leadout Newsletter
The latest race content, interviews, features, reviews and expert buying guides, direct to your inbox!
Thank you for signing up to The Pick. You will receive a verification email shortly.
There was a problem. Please refresh the page and try again.
The emphasis that is now placed on nutrition within cycling is increasing; this has become particularly apparent with the majority of professional teams hiring their own chefs to travel alongside the team to fuel the riders through gruelling races and training camps.
Despite Tinkoff-Saxo's team chef Hannah Grant's current career demanding that she feed a horde of hungry team members three meals a day, her cooking origins in Denmark were very different.
"I trained to become a chef at the culinary institute, which I graduated from in 2007 after a four-year course. I then went on to work for a kite-boarding exhibition for a year, which meant sailing around the South Pacific and French Polynesia cooking for professional kite-boarders.
>>> Detraining: The truth about losing fitness
"They are very different to cyclists as they aren't as focused on the super-correct nutrition content; however the importance of nutrition within cycling is massive. In basic terms the sport can be reduced down to how many watts a cyclist can pedal with the lowest possible body weight. So it is essential for a cyclist to keep their weight down without starving the body and missing out on essential nutrients."
Make your own recovery bars
Grant reinforces this belief in her book, The Grand Tour Cookbook.
"Almost half of the cyclists on the team find it difficult to lose the weight they need to, despite extreme physical activity and low calorie intake. We found that for these cyclists, radically cutting down on carbohydrate intake and increasing protein and healthy fat intake works best. Performance focused cooking takes care of this by providing riders with the option of avoiding carbohydrate-rich foods and offering alternatives in the form of meat, vegetables and healthy fats every meal."
>>> How gut health affects cycling performance
It was Grant's experience while working at world-renowned two Michelin star restaurant Noma in Copenhagen that turned out to be the catalyst for her shift to a career in cycling.
"I got into cycling completely by chance. I was planning on going to university to study food science and I needed a job on the side where I could work a lot and be off a lot. So I spoke to my old sous chef from Noma, who was doing triathlons at the time and I asked him if he knew anyone and he said this cycling team needed a chef."
Vital ingredients
Grant's appointment at Tinkoff shows the importance that nutrition and food now plays within a cyclist's performance.
"When you burn off 4,000-6,000 calories in the course of a day, it is easy to indulge oneself by eating whatever you feel like. But professional cyclists must be professionals 24 hours a day. A body's performance capacity in the long run depends on whether its building blocks are made from McDonald's and Mars bars or vegetables, meat and superfoods.
>>> Find your perfect pace to optimise cycling performance
"With the right diet, you can optimise recovery, reduce inflammation and increase energy. That is why we pay a great deal of attention to fruits and vegetables. They contain all the minerals and vitamins needed to keep a professional cyclist going."
Tinkoff-Saxo themselves have expanded their commitment to performance cooking even further since by hiring Rune Sørensen, Grant's apprentice. On top of this the team has funded the purchase of a food truck, eliminating the need to cook in different restaurants each night.
>>> Can amateur cyclists benefit from blood analysis?
Sørensen started at the beginning of the 2014 season at a pre-season training camp and the task of maintaining a strong relationship is vital. Grant explained the pressures of working in a close environment for a long time.
Try these foods for top performance and recovery
"Your instinct is that you want to work and show people that you are doing your job, but if you don't rest then you are going to die. So we're very focused on making sure we rest and work out and also take time away from each other because otherwise we would kill each other."
The constant travelling is a major part of a team chef's duties, but it's a challenge Grant seems to relish as she embarks on her 14th Grand Tour with the team.
>>> How to perfect your event day routine for a race or sportive
"Once you get used to it, it's really nice because we do 25 days in row during the Grand Tours, so we get into a routine. So whether it's the Giro d'Italia, the Tour or the Vuelta a España the system is the same. Obviously there is way more attention during the Tour, but you get used to the whole thing of living out of a suitcase and actually I relax more when I'm at work because I know I have a routine."
>>> How to ride with a power meter
Being just one of a few women within the Tinkoff-Saxo outfit, Grant often — and inadvertently — assumes the role of the mother figure in the team. A prime example of this was Danish rider Michael Valgren joking around in the food truck prior to a morning ride, looking to escape from the cycling bubble.
"The riders do come in [the truck] for a coffee or just a chat as it is a different atmosphere. There are no bikes in here so we can talk about different things and we have a laugh. You can tell when they are nervous on certain days as they are a bit quieter and you can just feel the atmosphere on some stages.
"Especially the younger guys, who like to have company, as they are not so used to being away. Like Valgren who did the Vuelta, but this is his first Tour de France and obviously it is crazy pressure, so for sure we'll see him for a chat or two. Especially as he is Danish so it's nice to speak your own language and it's the closest thing you can get to home."
One of the major benefits of having a personal chef in your team is being able to have nutritious, varied and tasty food every day, which can be adapted to each riders' taste and requirements. As Grant and Sørensen prepare the fresh chickens for tonight's dinner (marinated three different ways, purely for taste), they discuss the adaptability of their meal plans.
>>> Top tips to sleep better and ride faster (video)
"I haven't decided on the salads for tonight, but we will probably have some nice coleslaw or some cold soups as it is really warm today. Usually we do a cooked vegetable salad and a raw vegetable salad. So they can mix it depending on their taste. Some guys like the raw stuff and some guys like the cooked stuff. So it depends on each rider and how they digest things."
What to do (and what not to do) after every bike ride
Hannah's tips
Green vegetables such as broccoli, cabbage and spinach contain high levels of potassium and magnesium, which help relax muscles and are excellent for the metabolism and stabilise blood sugar.
Flaxseed oil contains omega-3 and omega-6 fatty acids which are good for regeneration of joints and a faster metabolism; omega-3 fatty acids are also important for the skin and brain.
For more information and to purchase The Grand Tour Cookbook visit musettepublishing.net
Thank you for reading 20 articles this month* Join now for unlimited access
Enjoy your first month for just £1 / $1 / €1
*Read 5 free articles per month without a subscription
Join now for unlimited access
Try first month for just £1 / $1 / €1
Get The Leadout Newsletter
The latest race content, interviews, features, reviews and expert buying guides, direct to your inbox!
Paul Knott is a fitness and features writer, who has also presented Cycling Weekly videos as well as contributing to the print magazine as well as online articles. In 2020 he published his first book, The Official Tour de France Road Cycling Training Guide (Welbeck), a guide designed to help readers improve their cycling performance via cherrypicking from the strategies adopted by the pros.