How to keep riding in your 80s
Octogenarian Brian Shaw averages 100 miles a week, and maintains a level of fitness that would put many 20-somethings to shame. How does he manage it?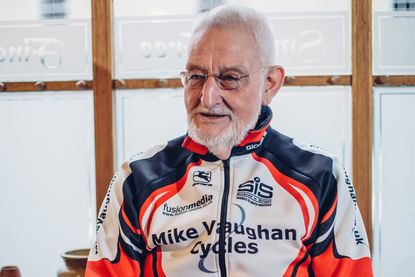 The more you learn about your body and how it works, the better you become at helping it out. You've got to keep moving with the times," says 80-year-old Brian Shaw.
We're sitting in a cafe opposite Kenilworth's Mike Vaughan Cycles, where Shaw works full-time. He still rides in each day, clocking up an average of 100 miles a week, including his Sunday ride.
I ask him whether he's had to modify his cycling as he's grown older, and he laughs: "Yes, my bikes."
Shaw's Specialized S-Works Roubaix no doubt serves him well, but more fundamental to the longevity of his cycling is the fact he has ridden almost every day of his adult life. Consistency has been key to keeping fit and injury-free, Shaw says, explaining that he has changed very little over the years.
>>> Listen to your body: don't ignore the warning signs of injury
"The only thing really is that I've got a more relaxed position on my bike now. At one time my bikes were out-and-out race bikes, but now I don't want to be flat-out all the time."
He first started cycling aged five, and before long his older brother Ted — a training partner of multiple track world champion Reg Harris — was taking him out for century rides.
"My first long ride out was to Blackpool and back, which was about a 100-mile trip. I thought nothing of it. The next time I tried 100 miles, it was a different story. Ignorance is bliss," says Shaw.
>>> How can osteopathy help cyclists?
He discovered racing aged 14. "I was still at school and I had a wreck of a bike that I'd put together, all sorts of bits and pieces on it. I went to see what time trialling was all about one evening. People were commenting on the bike being a heap, and I thought, 'I'm not having any of that,' so I entered on the line.
"I never told them my age; the bike was single-speed and fixed, and I did a long 28, my first ever, and it took me forever to reach that time again.
"In road racing I was always a domestique. Somebody would fall off the back and I would go back for them and tow them back on."
Don't let age slow you down
Shaw was forced to retire from racing in 1984. "I had a thrombosis in my leg which ended up in a blood clot on my lung," he explains. "The specialist had no idea how it had happened but assured me I'd get back to doing everything that I had been doing before."
>>> How to resume your training after a break
"But I lost the will to train. I enjoyed the riding but I didn't want that commitment any more. So I never raced after that."
Shaw may have hung up his race kit, but within six months he was back into regular riding — a habit that has endured.
>>> Five invaluable tips to help you step up from riding 60 to 100 miles
"If I miss a Sunday morning ride now, I feel that I've missed a meal; it doesn't seem right," he says. "The commute gets me about 40 miles a week and then I'm out on Sunday mornings doing 50, 60, 70 miles and more than that in the summer.
"I never stop. I'm not one of these guys who goes out on a coffee run, and I don't have an off-season. In the summertime I'm early away — up at 5am some Sunday mornings and home by midday, which leaves the rest of the day to do something else. That way, you don't run too foul of your family."
Not the retiring type
Shaw attributes his healthy lifestyle not only to cycling but the fact that he's never given up work.
"My most recent crash was over three years ago now," he says. "I was black and blue, smashed my helmet, and I had to go to hospital with a suspected broken collarbone. The x-ray was clear — I was off work for a day or so and then straight back on the bike. There's nothing like work to keep you going.
"I've been working at Mike Vaughan Cycles for 16 years. Before that, I'd retired but it only lasted three weeks. Retirement's not for me."
>>> Back from the brink: riding again after a stroke
Reminiscing on how the sport has changed in his lifetime, Shaw identifies one thing that has remained the same: "When we were kids, I remember trying to catch older boys, thinking, 'We can pass them, we can leave them for dead.' And then you'd try, and maybe you would, but then suddenly they'd put the hammer down and that was it, goodbye!
>>> Graeme Obree: why we need to talk about depression in sport
"That still goes on: on a Sunday morning, I see a pair of white socks up the road and I think, 'Yes, I'm getting nearer, I'm going to have you.' Or it can be someone doing that to me, in which case it depends what I feel like as to whether I accept the challenge or not." He pauses, laughs and concludes: "I want to live a bit longer."
How it worked for me
Shaw shares his advice on maintaining fitness as you age
There are doctors who take an interest in how the cyclist's body works. Their advice isn't always right, but you've got to make sure that you're aware of it.
If you're coming back from injury, you need to make sure that the bike you're riding is set up properly for you. Take advice on that; there are lots of people who can help.
If you've had a break from riding due to injury or illness, don't go out like we did in the old days and say: "Right, I'm going to ride to Blackpool." Do it gently. Five miles out, five miles back for a start, then gradually increase it. You can do yourself more harm by just getting back on thinking, "I can do what I did six months ago." You must accept that you can't.
Get your post-ride routine right
Riding into your 80s: doctor's orders
Dr Julian Widdowson, consultant in sport exercise and musculoskeletal medicine and medical director of Cyclism (cyclism.com), provides advice on looking after your body as you keep cycling through the decades.
The following health issues are important to assess:
Cardiovascular: your heart rate and rhythm. You should have at least yearly checks, as the likelihood of rhythm problems increases as you age.
Blood pressure: postural hypotension: a drop in BP when moving from sitting to standing, leading to dizziness and balance problems.
Respiratory: reduce the risk of respiratory tract infections by ensuring your immune system is improved through nutrition.
Musculoskeletal: there is an increased risk of osteoporosis and increased curvature of the spine in older cyclists, as well as an increased risk of low-impact fractures due to nutrition issues. Regular bike-fit assessments to ensure optimum position and prevent excessive curvature are important.
Skin: years of exposure to the sun increases the risk of skin cancer, so have a regular skin review with your GP.
Nutrition: monitor your weight to ensure it's stable, indicating a good calorie intake/usage balance. Ensure hydration balance and monitor urine colour.
Supplements: consider supplements to improve the immune system (e.g. vitamin C) and maintain bone health with vitamin D.
Thank you for reading 20 articles this month* Join now for unlimited access
Enjoy your first month for just £1 / $1 / €1
*Read 5 free articles per month without a subscription
Join now for unlimited access
Try first month for just £1 / $1 / €1