Back from the brink: riding again after a stroke
Cycling tours organiser Bob Griffin found himself on a herculean journey back to health after a life-threatening stroke. Caroline Sutton went to meet him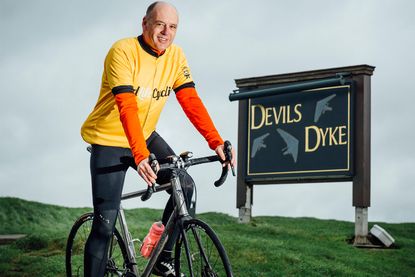 It was a bittersweet taste of success for Bob Griffin when he saw the hospital come into view one rainy day last May. Despite being just 20 miles from home, it had been the battle of a lifetime to cycle there. The ride would once have been a doddle for Griffin, 52, from Hove, but that was before he suffered, two years earlier, the shattering stroke that left him fighting for his life.
That day in May 2015, Griffin fulfilled his promise to the staff of the Sussex Rehab Centre who had coaxed him back to life.
"When I left, I vowed to cycle back to see them. I don't think they believed me. I'd been warned I'd never cycle again," says Griffin.
Photographer and father of two young children, Griffin was by his own reckoning pretty fit for his age prior to the stroke.
"Like many middle-aged men," he tells Cycling Weekly, "I'd caught the cycling bug. For eight years, I organised charity rides for the Who Cares? Trust for up to 60 riders at a time. We went on a range of routes such as London to Paris and Land's End to John O'Groats. My role was to recce the route and accommodation."
>>> 28 things you'll only know if you've done Lands End to John O'Groats
It was on one of those rides that Griffin and his friend Greg came up with the idea of setting up a cycle tour company, Mid Life Cyclist, aimed at cyclists just like them, who wanted to enjoy the social side of a trip as much as the actual journey. The venture quickly took shape.
But on January 9, 2014, just as the first Mid Life Cyclist trip was to launch online, Griffin's life was turned upside down.
"I've suffered from epilepsy since I was 15 but I've learned to know the warning signs," he says. "It was early in the morning; I was tired and a little stressed. I was dressing in the bathroom so I didn't wake my wife Jane when I suffered an epileptic attack. I fell, hit my head on a towel rail and suffered a major stroke."
Within minutes, Griffin was being blue-lighted to hospital, to the acute stroke ward where doctors battled to save his life.
"I dodged a bullet that day," reflects Griffin. "It was extraordinarily terrifying. I remember the paramedics asking me to smile, squeeze their hand. I'm not sure how, but I insisted on walking out of our house so I didn't scare the children. After that, I didn't walk for five weeks."
Facing the challenge
Griffin was transferred to the stroke rehabilitation unit at the Princess Royal Hospital in Haywards Heath for the long, slow battle towards recovery.
"When you have a stroke, certain areas of your brain don't work anymore, so you have to retrain the neural pathways to work around those areas," says Griffin. "It's like recalibrating a GPS system if you get lost.
"I'm stubborn and treated it as a job. I refused to even contemplate that I wouldn't walk out of there."
>>> Jens Voigt: Life lessons from 30+ years of riding
Griffin's recovery was not over when he left the centre, on his own two feet, to go home. He had to relearn simple tasks such as getting dressed and making a cup of tea. But his big target was always to get back on a bike for his 52nd birthday, on March 17, 2015.
"I set up a basic turbo-trainer, so I could cycle at home," explains Griffin. "My physio, Dulcie, was worried about my road safety as the left-hand side of my brain was compromised by the stroke. There's a lot to take in, such as other vehicles, pedestrians, road signs and simply controlling the bike all at once. I was not allowed to cycle outside alone until Dulcie gave me permission.
"To prove I could ride, she would cycle alongside me while I kept up a running commentary about what was happening in front of me and around me, to build up my road sense again."
>>> Nine ways cycling changes when you're over 40
By May, Griffin was ready to try the biggest challenge he'd set himself: to ride back to the Sussex Rehab Centre, alone.
"It took me two and a half hours over Devil's Dyke. It was raining, the road was greasy and I was probably riding the wrong bike. It was a very hard ride.
"When I walked in, head-to-toe in Lycra, it was an emotional moment. One nurse cried and another said my cycle ride was the highlight of her career. I was exhausted but so proud."
Credit: Chris Catchpole
We have a look forward to some of the best British sportives to ride in the coming year
Continental recuperation: sharing the struggle
Bob Griffin organises cycling trips to northern Italy for groups of fellow 'mature' riders. Mid Life Cyclist takes individuals or groups on a range of trips through the scenic and challenging routes of the Italian Lakes.
"It's the group dynamic that makes the trips so worthwhile," says Griffin. "Whether you are a judge or a plumber, you will find the cycling challenging at some point. Our motto is: no one mends their own puncture. You won't be left stranded on the side of the road.
>>> 3 ways to increase your average cycling speed
"Sometimes people fear they are not going to be tough enough but we say, 'You can do it,' and they can. There is a tremendous sense of achievement when you've finished each day.
"Our last trip had a range of cyclists, many coping with difficulties like illness, divorce or redundancy — the usual midlife problems. As a group, you work together, and that can form a bond to enable you to talk with each other too, which is extremely therapeutic.
>>> How can osteopathy help cyclists?
"I feel I'm a lot more compassionate since my health scare and I realise how inspiring a group challenge can be. Our trips offer an opportunity to test yourself but also to share that experience with others. It can be very powerful.
"The last few years have been tough but cycling has been crucial to my recovery. It's helped with my confidence and my general state of mind. It's given me my life back and I want to share that with other people."
'Bob inspired me to take the extra step'
Architect David Chetwin, 61, joined Bob Griffin on a Mid Life Cyclist tour of the Italian Lakes last year.
"I was amazed at what I managed to achieve on my trip, and I believe a lot of that is to do with the support I received from Bob. He's been through such a lot and it's an inspiration to see him cycling now after what he's been through. He pushes himself every day, and it encouraged me to go that extra step.
>>> Listen to your body: don't ignore the warning signs of injury
"Every day there was a cycling challenge — usually up a big steep mountain. I've not been cycling that long, and at 60 I was worried I wouldn't be able to keep up but I surprised myself. When you get to the top, there's always someone waiting to cheer you on and pat you on the back.
"Cycling gives you a chance to reflect on your life, which is good to do. It feels quite solitary. But at lunch and the evening meal, it can be sociable chatting to the other people in the group.
"Having been through what he has, Bob is very compassionate about other people and the challenges they face — particularly middle-aged issues."
Thank you for reading 20 articles this month* Join now for unlimited access
Enjoy your first month for just £1 / $1 / €1
*Read 5 free articles per month without a subscription
Join now for unlimited access
Try first month for just £1 / $1 / €1